Encourage Customers to Engage with Your Business Using Google AdWords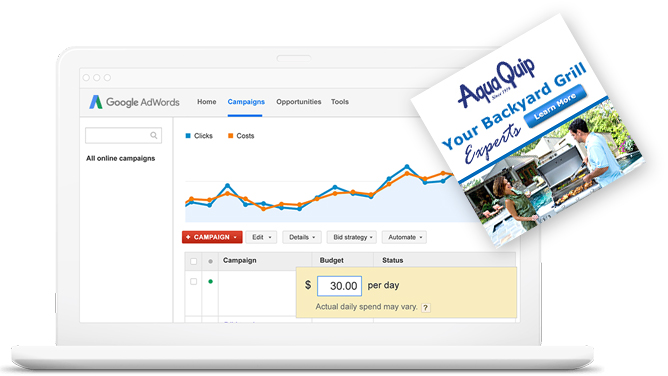 More and more, the sales funnel begins with Google. With more than 2.3 million Google searches every second, can you afford not to advertise there? Pool Marketing Site has the tools and expertise to tap into this powerful opportunity for your business to grow and achieve maximum visibility while increasing leads and sales.
The experts at Pool Marketing Site will create the perfect ad content and corresponding landing page to attract more customers and reach them immediately. Today's consumer is constantly attached to their mobile devices, so now is the perfect time to effectively leverage online marketing tools, and Pool Marketing Site can manage it all for you.
So how will your business benefit from Google AdWords? Not only will you attract more customers, but you'll also reach the right people at the right time. Your business will be found by people on Google precisely when they're searching for the services you offer. With Google AdWords, you'll also only pay for ads that pay off – with pay-per-click advertising, you pay only when someone clicks your ad, views your YouTube video or calls your business.
Call the shots on your online campaigns and start positioning your business for success with Google AdWords. And let the Pool Marketing Site professionals manage your campaign to help you save time and money in the long run. Contact us today learn more.