Important Facebook and Instagram Updates for April 2019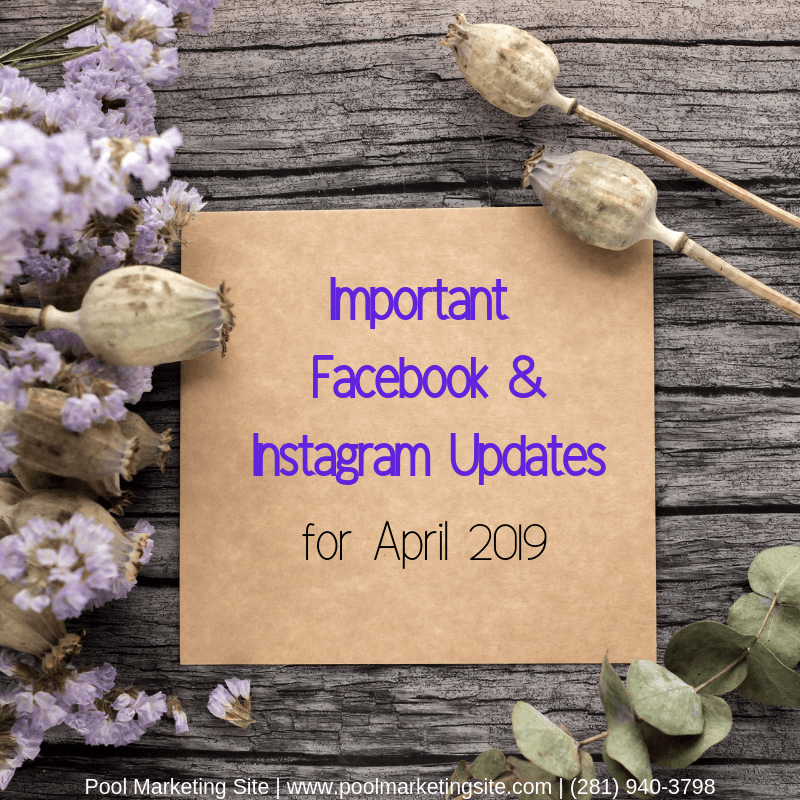 April has proven to be a busy one for Facebook and Instagram! Both social media networks introduced a number of exciting updates which allow marketers to significantly enhance their online ads.
Instagram Updates for April 2019
Marketers running Story Ads can now add a polling feature to their campaigns. This is a great way for pool and spa companies to engage with audiences, increase brand awareness, and get some valuable insights from both current and potential clients.
The network has also unveiled a number of products that are currently in-testing, including:
An interactive co-watching video function

A video "scrubbing" option (users can scroll to the part of a video they want to view)

A 14-day locking out feature for usernames (this is handy in case you choose to revert back to your old username within those two weeks)
Facebook Updates for April 2019
Facebook rolled out a number of updates, including an announcement that there will be an improved Business Manager and Ads Manager by the end of the year (some marketers can already see changes to their Ads Manager interface).
The network also introduced a new budget-friendly Cost Cap Bidding optimization strategy where marketers can maximize conversions while maintaining the predictability of cost.
Finally, the network gave a nod to the importance of 3D images by allowing all users to share 3D photos to Facebook Stories. The process isn't nearly as straight-forward as users would like and is time consuming, but it does highlight the importance of having engaging visuals if you want to gain and maintain the attention of your audience.
Take Your Social Presence to the Next Level with Pool Marketing Site
Pool Marketing Site's affordable Facebook and Instagram marketing solutions are perfect for expanding your pool company's brand, connecting with online audiences and growing sales.  We welcome you to call us today at (281) 940-3798 to explore your options.
About Small Screen Producer
Small Screen Producer is dedicated to create and optimize your company's total online presence. As a leading innovator of digital media marketing since 2008, we have the experience to capitalize on your unique strengths to help your business succeed. Our goal is to help you Position, Pursue, Promote, and Protect your business. We offer a complete line of digital marketing solutions to get this done. They include website design, Google Ad services, Facebook and Instagram Ad services ,website lead capture tools and automation, social media marketing, reputation management, technical services, , graphic design, video production and monthly service plans. We take your online marketing and advertising off your to-do list, so you can focus on your core business.
Contact us today to learn more about boosting your company's revenue through our four pillars of success that will Position, Pursue, Promote, and Protect your business.