Welcome to the
Reputation Management Program
What is Reputation Management?
Your business's online reputation consists of two parts — reviews and directory listings. Online reviews include customer feedback on sites such as Google and Facebook. Directory listings act as online phonebooks and are published as websites where your business information (name of the business, address, phone number, etc.) are listed. Pool Marketing Site is dedicated to keeping your star ratings high and your listing information accurate.
In order to help you easily maintain your online reputation, we would like to introduce you to our Reputation Management Dashboard. Here you can access a consolidated chronological list of your reviews from multiple listing sites, as well as send out review requests via email or phone to gather more reviews from your customers.
How to Use the Dashboard
Watch Our Video Tutorial Here
View Step by Step Instructions Below
Step 1
Access your dashboard by logging in at – https://small-screen-producer.smblogin.com
Step 2
Use your email and password to sign in.
Step 3
From the Home page of the dashboard, select Reputation Management from the menu on the left side of the screen. If you don't see this option, select My Products and the menu will expand to reveal Reputation Management.
Step 4
From Reputation Management, you will see plenty of information about how your business's online reviews currently stand on various websites. The initial Overview page will display some of the stats you may find helpful.
Step 5
To get a more detailed look at this information, select Reviews from the menu on the left. This will take you to a list of all of your reviews, with the most recent review first, from multiple sites.
From here, you are able to reply to Google and Facebook reviews by typing into the corresponding text box and selecting Respond to submit. Alternatively, you can select one of the three suggested responses located toward the bottom of the text box which will generate a stock 2 to 4 sentence reply to the review.
Step 6
To send out a review request to a customer to get more reviews, select the blue Request Reviews button at the top of the page. This will take you to the Customer Voice page where you can send out both email and text requests.
Step 7
To send out a review request, select Send Request, fill out the form and select Send.
Frequently Asked Questions
What do I do if I don't know my login information?
If you don't know or forgot your login information, please select the Reset Password button (located on this page – https://small-screen-producer.smblogin.com). You will receive an email with the option to change your password. If you continue to be unable to login, please contact us directly.
How do I get employees added or removed from the dashboard?
If you need to add a new employee or remove a former employee, please reach out to us and we'll get them added to or deleted from the dashboard. New employees will then have the ability to access the dashboard and receive instant updates of new reviews as they come in.
How do I remove a negative review?
Unfortunately, reviews cannot just be removed from sites like Google, Facebook, or Yelp. Those individual sites have the right to remove or keep reviews as they see fit. However, if a review violates the rules of the site to which it was posted, it can be reported. Generally speaking, to violate those terms, the written review must include offensive, dangerous, derogatory, or illegal content. Please keep in mind, any review can be "reported," that does not mean that the site will decide to remove it. If you see a review that you feel violates the terms, you're welcome to report the review directly from the site it was posted on.
A review that would violate the terms of Google would need to have, written within the review, that the person writing the review did not do business with your company (Example: "I've never been here, but my friend had a bad experience.").
A review that would not violate the terms of Google would be any review that was only a one-star rating without any text (Example: You may think that the "John Smith" is actually your competitor leaving a bad review, but if they only left a one-star rating without any written content to their review, this will not be viewed as violating the rules.).
Which review sites can I include a link to in my review requests?
There are a number of directory listings that can be added to the review request templates. We recommend selecting popular review sites and keeping the selection under four options. By default, your template will include Facebook and Google.
Yelp cannot be added to the template as the site has specifically requested that businesses do not ask their customers to leave reviews. If caught doing so, Yelp will likely remove the review.
If you'd like additional or different sites added to your template, please contact us directly.
How should I reply to a new review?
Replying to reviews can be tricky, especially when it's negative feedback. It's important to remember that consistently replying to all reviews creates the rapport your business really cares about the feedback it is receiving.
When replying to a positive review, thank the customer for taking the time to leave their feedback. Let them know how valuable it is to the business to receive this information.
When replying to a negative review, still thank the customer for taking the time to leave their feedback. If they have provided inaccurate information in their review, try your best to craft a response that explains the real situation without blaming the other party. Lastly, ask the reviewer to follow up with you personally via email or phone. This helps to avoid continuing the conversation publically and getting a solution offline.
If you get a review from someone that you don't have a record of doing business with, simply state that in your response. For example, "Thank you for your feedback. Unfortunately, we couldn't find any record of you in our system. Please reach out to us at [phone number], so that we can make this situation right."
Should I be replying to all reviews?
Yes, we recommend replying to all reviews that you receive — negative or positive. By doing so, potential leads see that your business cares about the feedback it receives from current and past customers. If you respond in a consistently timely manner, it always shows that you'll be easy to contact if they run into any obstacles with using your services along the way.
How do I boost my Yelp rating? Why do my Yelp reviews keep being hidden?
Yelp is a tricky directory listing which can cause a lot of stress when it comes to your online reputation. They often choose to hide reviews at their own discretion without much rhyme or reason. If they believe a review is not authentic or that the reviewer does not have a well-established account with them, they may choose to hide their review. If a review is hidden, it will not impact the overall rating of the business and it will not show in the featured list of reviews.
Boosting a Yelp rating can be very difficult. They do not allow review request platforms to ask customers to leave a review on Yelp. If a business is caught asking customers to leave reviews, Yelp will remove those reviews. Even if a business does not get caught directing customers there, oftentimes good reviews will be hidden by Yelp regardless.
Because of these obstacles, we recommend asking customers to leave reviews where it counts — on sites like Google and Facebook. Yelp simply isn't that important to most industries outside of restaurants. Most consumers rely on Google for review ratings.
Can I reply to reviews within the dashboard?
The Reputation Management dashboard does allow you to reply to both Facebook and Google reviews directly within the dashboard. Other platforms are not supported at this time.
If you find that your Facebook or Google accounts have disconnected from the dashboard and you are unable to reply, please let us know.
How do I send text message review requests from the dashboard?
The Reputation Management dashboard has the ability to send both email and text message requests to your customers. By default, your account comes equipped with the email requests already on the dashboard. If you have not already previously requested text message requests, please contact us so we can turn this option on for you.
To send out a text request, you'll follow the same steps as you would with email requests. Before selecting Send on the pop-up form, make sure you change the Template field to SMS and include a phone number in the corresponding field. When you select Send, this will immediately send out a request via text to the customer.
How do I update my review request templates?
If there is a template you'd like to update, or if you'd like to add more templates, please contact us directly.
I'm on the Monitor Only plan. Will I be able to access the same features?
If you've signed up for our Monitor Only package, you will still have access to the dashboard where you can see your reviews and reply directly to Google and Facebook feedback. However, you will not be able to send out review requests to your customers. Additionally, the Monitor Only program does not include the management of your business's directory listings.
A new review came in, but I didn't receive a notification for it.
The Reputation Dashboard sends out both instant notifications and end of day summary emails when a new review has been left on one of the directory sites. If you noticed a new review but didn't receive a notification for it, it's likely just a temporary outage in communication between the third-party website (ex. Google) to the dashboard. If this continues, please contact us.
Have any questions or need help troubleshooting? Contact us directly.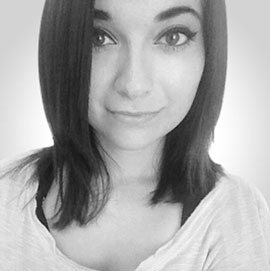 Candace Hathaway
chathaway@smallscreenproducer.com