3 Common Video Marketing Mistakes Pool & Spa Companies Make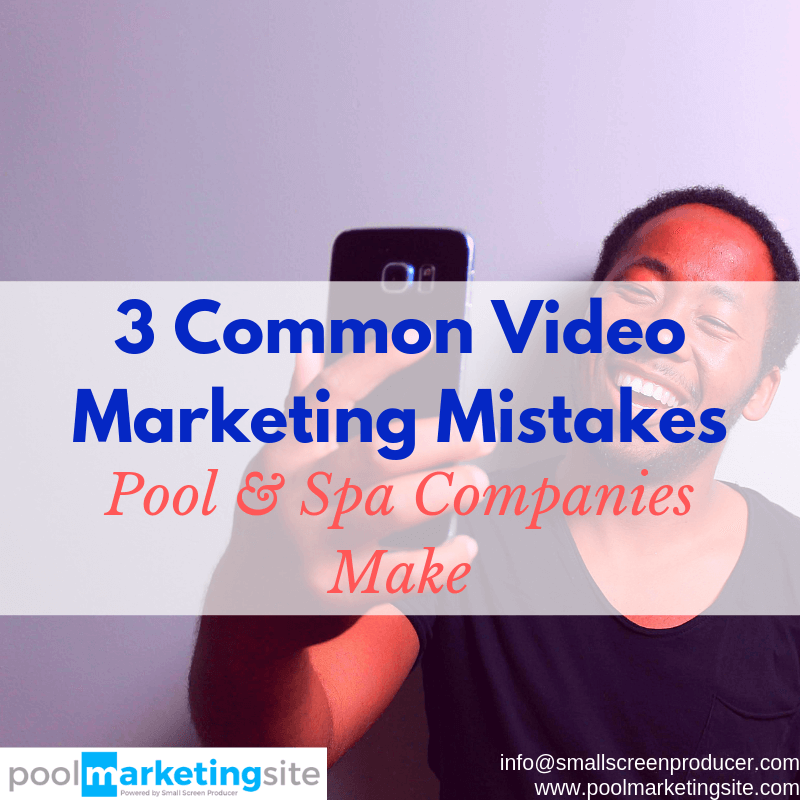 Nearly everyone may have access to a video recording device. But that doesn't mean that they're qualified to make quality video marketing content.
A quick browse through YouTube, Facebook and other video publishing sites makes one thing clear: Most people don't know what it takes to shoot a compelling video. We're not just talking about a lack of video quality, poor lighting and abysmal audio – we're talking about mistakes that can affect the whole purpose of video marketing.
1. Not Having a Purpose or Strategy for Your Video Marketing
So many people leap head-long into video marketing after hearing of the many benefits it brings. Without a sound strategy in place, however, their efforts go largely to waste or, even worse, their videos have a negative impact on their reputation.
Before starting a video marketing campaign, there are a few questions that need to be addressed, like:
What's the reason behind the video (explaining a product, brand proofing with a testimonial, demonstrating a service, etc.)?

Is there a problem your audience faces that your video will solve?

Who is going to be responsible for writing the script? How about producing, editing, and distribution?
2. Not Targeting The Right Audience
Who is watching your videos? More importantly, who do you want to be viewing your video marketing content?
Knowing who your audience is when creating videos is important. That way you can choose products, services and even language and visuals that best resonate with that group.
You can also use video marketing to start targeting a new or more desirable audience. For instance, some marketers still neglect to create video marketing content which targets the baby boomer generation because they think that they aren't tech-savvy enough to watch them. Google proved that wasn't the case, however, by showing that one in three baby boomers use YouTube to learn more about a product or service.
3. Selling Too Hard
Time and time again, statistics have shown that video marketing is one of the best ways to convert audiences into customers. But the type of videos that help brands do this might surprise you.
A sales pitch will have audiences clicking the "Back" button faster than you can believe. But more educational content – like tutorials, how-to videos and explainer videos – will go a long way in engaging audiences, impressing your viewership, and driving up sales.
Pool Marketing Site Video Marketing Campaigns
Need help with your video marketing campaign? Pool Marketing Site has got you covered. With several years of experience in video production and the pool and spa industry, we know what it takes to craft beautiful and engaging video content.
Contact us online or call us at your convenience at (281) 940-3798
About Small Screen Producer
Small Screen Producer is dedicated to create and optimize your company's total online presence. As a leading innovator of digital media marketing since 2008, we have the experience to capitalize on your unique strengths to help your business succeed. Our goal is to help you Position, Pursue, Promote, and Protect your business. We offer a complete line of digital marketing solutions to get this done. They include website design, Google Ad services, Facebook and Instagram Ad services ,website lead capture tools and automation, social media marketing, reputation management, technical services, , graphic design, video production and monthly service plans. We take your online marketing and advertising off your to-do list, so you can focus on your core business.
Contact us today to learn more about boosting your company's revenue through our four pillars of success that will Position, Pursue, Promote, and Protect your business.