APSP Partners with Small Screen Producer
APSP PARTNERS WITH SMALL SCREEN PRODUCER TO ENHANCE MEMBERS' ONLINE MARKETING CAPABILITY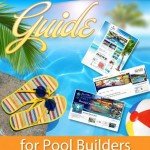 (ALEXANDRIA, VA) – The Association of Pool & Spa Professionals (APSP) announces a new business services partnership with Small Screen Producer, a Houston-based company specializing in interactive web based media solutions, to provide APSP members with preferred pricing on traditional and web based marketing services.  Through www.poolmarketingsite, APSP members will have access to affordable services to effectively enhance their web presence, provide lead generation, brand promotion, content marketing and digital engagement strategies.
"Because APSP is dedicated to the growth and development of its members' businesses, we recognize the need to offer our members an easy way to market to the new mobile-enabled, socially connected, tech savvy consumer," said APSP President and CEO Bill Weber.
APSP sponsored consumer research shows that today's pool and hot tub prospects begin their shopping with an online search to help determine which dealers to visit.  If a web presence is not up to par, consumers may never take the next step into a showroom. "A strong, professional web presence will help our members reflect success to today's customer," added Weber.
The Pool Marketing site is a division of Small Screen Producer, and has provided full service strategic marketing solutions to help the pool, spa and hot tub industry sell the backyard living experience to consumers.  Their professional web presence design teams can establish a complete online infrastructure to springboard internet marketing campaigns through the use of interactive, socially shareable websites, mobile websites, iPad friendly sales presentations, print design, exhibit design, social media marketing, video production, and search engine optimization services.
"We are honored APSP has chosen us to provide online and traditional marketing solutions to its members," said Pam Vinje, President and CEO of Small Screen Producer. "Our commitment to the membership is that we will seek to stay ahead of the technology curve through our ongoing commitment to researching the latest search engine, website design, social media, and mobile technology innovations and integrations.  Our partnership with APSP will grant many more manufacturers and small businesses the opportunity to develop a much needed total web presence strategy," says Vinje.
The Pool Marketing Site has provided digital media marketing services to APSP International Awards of Excellence recipients, Pool and Spa News Top 50 builders, along with many service professionals, retailers, and pool and spa industry manufacturers and agents.
In addition to marketing services to showcase members' products and services, APSP members will also have access to monthly marketing webinars, hosted by Small Screen Producer and sponsored by APSP.  Members can also get started with a free custom local SEO report card and a free online web presence marketing assessment.
APSP members interested in taking advantage of this members-only discount program can visit www.poolmarketingsite or call 281-569-4370.
With the addition of the Small Screen Producer's Pool Marketing Site, APSP introduces another business services provider to its Member Discount Program. APSP reaches hundreds of companies serving the pool, spa and hot tub industry and selects only those who provide the highest value and quality products, sales, and service to participate in the Member Discounts Program as an Affinity Partner.
About APSP
The Association of Pool & Spa Professionals (APSP) is the world's oldest and largest association representing swimming pool, hot tub, and spa manufacturers, distributors, manufacturers' agents, designers, builders, installers, suppliers, retailers, and service professionals. Dedicated to the growth and development of its members' businesses and to promoting the enjoyment and safety of pools and spas, APSP offers a range of services, from professional development to advancing key legislation and regulation at the federal and local levels, to consumer outreach and public safety.  APSP is the only industry organization recognized by the American National Standards Institute to develop and promote national standards for pools, hot tubs, and spas.  For more information, visit APSP.org.
About Small Screen Producer
Small Screen Producer, headquartered in Houston, TX is a full service interactive digital media agency developing targeted, branded, content marketing strategies. We specialize in creating interactive web based media solutions that are not only searchable and socially shareable but virally engaging. Small Screen Producer is recently honored as a  Houston Business Journal "Fast Tech 50" firm, a Hubspot Gold Certified Honors of Distinction firm and Goldman Sach's 10,000 Small Businesses award recipient.  For more information visit www.smallscreenproducer.com
About Small Screen Producer
Small Screen Producer is dedicated to create and optimize your company's total online presence. As a leading innovator of digital media marketing since 2008, we have the experience to capitalize on your unique strengths to help your business succeed. Our goal is to help you Position, Pursue, Promote, and Protect your business. We offer a complete line of digital marketing solutions to get this done. They include website design, Google Ad services, Facebook and Instagram Ad services ,website lead capture tools and automation, social media marketing, reputation management, technical services, , graphic design, video production and monthly service plans. We take your online marketing and advertising off your to-do list, so you can focus on your core business.
Contact us today to learn more about boosting your company's revenue through our four pillars of success that will Position, Pursue, Promote, and Protect your business.