Why Pool & Spa Companies Need Customer Text Messaging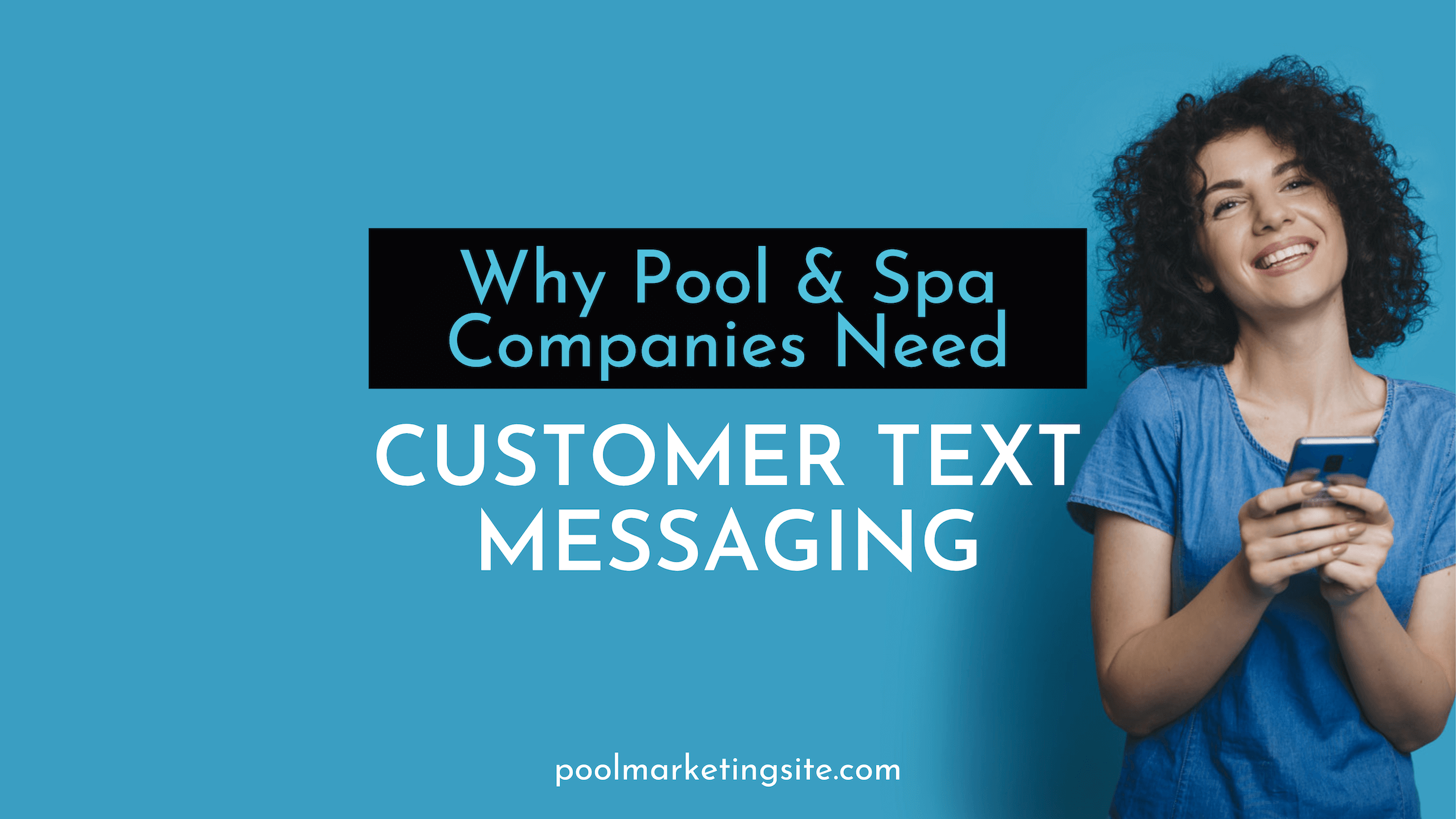 Unlike Fortune 500s and other big companies that can get away with pumping a lot of resources into their marketing strategies, pool and spa businesses need to use a more cost-effective approach. One such method is Customer Text Messaging.
Text messaging can be an excellent way for small businesses to directly reach their customers and promote their company without spending a fortune. With affordable bulk texting services now available, pool and spa companies can easily text some or all of their clients at once with specials, promotions, updates, and more.
Pool and Spa Marketing for 2021
Pool and spa/hot tub business owners have something great going for them. That is the awesomeness of the products they sell. Almost everyone would love to have a pool or spa in their home.
However, every business needs a way to get the word out and attract more customers. While most companies already use Google and social media marketing, text messaging is a quickly growing marketing tactic that could put you as #1 in your niche in 2021 and beyond. 
Text Message Marketing for Pool and Spa Companies 
It's a no-brainer that any marketing strategy should be mobile-friendly. Nowadays, a cell phone is like an extension of our bodies. 
Why not capitalize on your customers' habits to market your business? Text messages are among the most effective ways a pool and spa company can put their brand out there and spread the word. 
SMS messages have an opening rate of 98%, and 75% of customers are OK with receiving text messages from businesses. Numbers like these show us that every business should incorporate text messaging into their marketing plan.
Why Should Pool and Spa Businesses Utilize This Strategy? 
The figures above are some pretty good reasons already. But customer text messaging is also an excellent way to connect with and relate to your clients. 
Texting is perfect for the pool and spa industry, from sending maintenance tips to promotions and discounts. It's also an instant means of communication and can be used to notify your customers of urgent information. 
Here are five ways you can use text messaging to your advantage 
Remind your customers about timely sales, events, and promotions.
Send service reminders or schedule appointments via text.  
Get feedback from your customers.
Get referrals, increase customer loyalty, and generate new customers. 
Texting enables you to add details that phone calls don't allow, such as links to websites or promotion codes. 
Ultimately, texting as a marketing strategy for pool and spa businesses is more than just a way to stay in touch with customers.
When done right and combined with quality products and services, bulk texting can generate new customers and help take your business to the next level.
Contact us today to start connecting with your customers directly with text messaging, webchat, and more!
About Small Screen Producer
Small Screen Producer is dedicated to create and optimize your company's total online presence. As a leading innovator of digital media marketing since 2008, we have the experience to capitalize on your unique strengths to help your business succeed. Our goal is to help you Position, Pursue, Promote, and Protect your business. We offer a complete line of digital marketing solutions to get this done. They include website design, Google Ad services, Facebook and Instagram Ad services ,website lead capture tools and automation, social media marketing, reputation management, technical services, , graphic design, video production and monthly service plans. We take your online marketing and advertising off your to-do list, so you can focus on your core business.
Contact us today to learn more about boosting your company's revenue through our four pillars of success that will Position, Pursue, Promote, and Protect your business.