3 Marketing Lessons Pool Companies Can Learn from Amazon Prime Day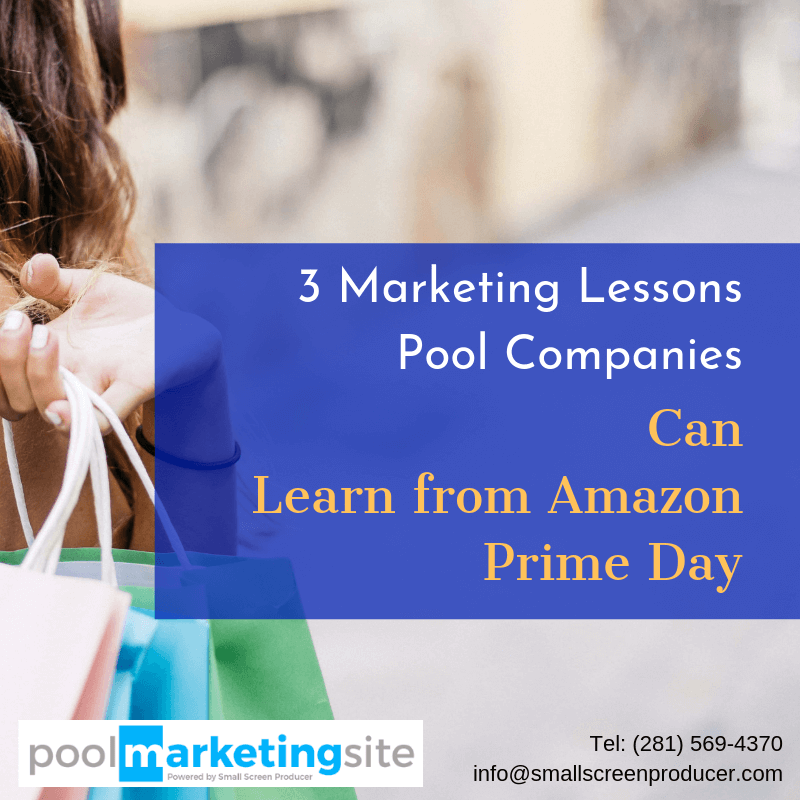 Amazon Prime Day was welcomed by all once again on July 15, 2019, promising amazing deals and sales during the two-day event. Now that nearly two months have passed, there are a few marketing lessons we can take away from what actually happened during this 48-hour spectacular sales event.
1. More Traffic Doesn't Mean More Sales
There is undoubtedly going to be a surge in traffic during Amazon Prime Day. The thing is, while companies may see more traffic, they didn't necessarily see more conversions or cost per clicks on their ads.
The conversion rate by category varies, though in almost every industry they either remained steady or they actually dropped by well over 5 percent. This is with average ad spend increasing by 33 percent and revenue rising to 540 percent.
What's are the marketing lessons here? First, advertisers need to increase their ad spending budgets during events like Prime Day. While you may be increasing your ad spending, you'll be driving massive increases in your visitor volume while spending a nominal amount on cost-per-click advertising.
Another important lesson is to create ads, websites and product descriptions that clearly define what it is you or your product does and how it can help. The more clear and concise you are, the better you will be able to vet your visitors and have only the warm, qualified leads stream through.
2. Organic Sales Material Still Matters
Pay-per-click (PPC) advertising is an extremely effective way to target and acquire leads and customers. But that doesn't mean that organic content doesn't have its place.
As researchers discovered from their Amazon Prime Day data, organic sales outperformed ad-derived sales. Organic factors like keywords and metadata continue to provide important clues to all search engines to help them determine when and why they are relevant and in what context.
With that said, this also highlights the importance of having a more aggressive paid advertising strategy during important "sales" events, like pool closings or the holidays. Focusing on unbranded terms and putting more of your budget towards this during such events can increase organic sales.
3. Discounts Aren't Always Necessary
Far too many great companies have sunk because they over discounted themselves into bankruptcy.
Discounts are appreciated by everyone. Even on Amazon Prime Day, discounted products had the largest average period-over-period revenue increase of 820 percent. During this same time, however, 59 percent of products included in this same sample were not discounted and still, there was revenue growth of nearly 500 percent.
Some people are bargain hunters. But as the data indicates, a large number of folks online are purchasing full-priced items. They are simply in the mood to shop.
What These Marketing Lessons Mean for Pool & Spa Companies
Pool and spa companies are usually selling higher-priced items, from above ground pools and spas to inground poolscapes with landscaping and additional features. How you advertise will differ from how other retailers in different industries would – though you may be surprised to learn what the most effective tactics for your business are.
Pool Marketing Site works exclusively with pool and spa firms. Based out of Houston, our digital media marketing firm has taken small "mom and pop" pool companies to the next level with our online marketing solutions – and we'd love to do the same for yours.
For more tips, tricks and marketing advice, we welcome you to contact us at info@smallscreenproducer.com or give us a call at (281) 569-4370.
About Small Screen Producer
Small Screen Producer is dedicated to create and optimize your company's total online presence. As a leading innovator of digital media marketing since 2008, we have the experience to capitalize on your unique strengths to help your business succeed. Our goal is to help you Position, Pursue, Promote, and Protect your business. We offer a complete line of digital marketing solutions to get this done. They include website design, Google Ad services, Facebook and Instagram Ad services ,website lead capture tools and automation, social media marketing, reputation management, technical services, , graphic design, video production and monthly service plans. We take your online marketing and advertising off your to-do list, so you can focus on your core business.
Contact us today to learn more about boosting your company's revenue through our four pillars of success that will Position, Pursue, Promote, and Protect your business.