Majority of Consumers Rely On Online Marketing Videos for Purchases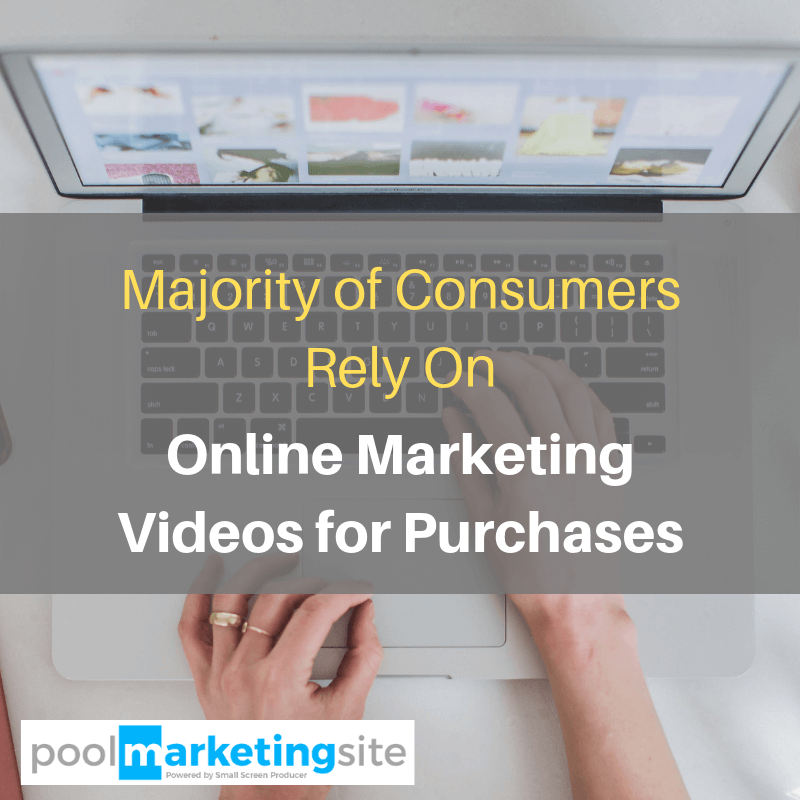 Recent Google research has confirmed what we already know: A growing number of savvy consumers are using online marketing videos to decide what to buy.
It's the number of consumers using them, however, which is surprising.
According to Google, well over half (55 percent) of consumers are now using online marketing videos to investigate potential purchases, including everything from pool chemicals to pool and spa designs.
Google has listed three ways in which videos are helping consumers out when shopping both online and out in the real world:
* Videos Act as a Shopping List
People are "liking" and "saving" videos to remind themselves of things they are interested in purchasing or need to purchase. Something like a step-by-step educational video on how to properly care for your pool or spa with cleaners and chemicals, for example, could be found on such a list.
* Videos Make Consumers Feel Confident and Educated
Videos can be used to empower consumers. After watching your video, they leave feeling confident in their choice since you've armed with everything they need to know in order to proceed.
* Video Reviews and Testimonials are Social Proof
On-site video testimonials and reviews of your pool and spa company's work are compelling and powerful. Research has shown that people will trust the opinion of an independent third party just as much as someone they know well and trust.
Why Aren't All Pool Companies Using Online Marketing Videos?
Being in this industry for several years, we've reached out to and worked with several pool and spa companies both as a local Houston digital marketing firm and as a global online marketing company. Here are some of the reasons why your competition (and possibly yourself) isn't using video marketing and how Pool Marketing Site can help:
1.They Don't Have the Budget
Traditional online video marketing firms can be very costly. Fortunately, here at Pool Marketing Site, we've found ways to slash the expense so that online video marketing is more accessible to everyone in the industry we love.
2. They Don't Have the Time
A lot of people put in a 40- hour workweek. For managers and owners of pool companies, however, your workweek may easily run up to double that.
You have enough on your plate. Rather than fiddle around with your smartphone or sink thousands of dollars in video recording equipment which will be out of date within a couple of years, take advantage of our affordable video marketing services.
3. They Don't Have the Skills
Running a pool company requires a lot of skill. Apart from having working industry knowledge, there are management skills, customer service skills, and many other talents necessary for your company to survive and thrive.
The most successful businesses are those which hone in on the best skills of their staff and themselves. For everything else, they outsource.
This is where Pool Marketing Site can take the reigns. We partner with our clients and give them peace of mind in knowing that at the end of the day, they will be left with a beautiful, insightful and professionally produced branded video that will surpass their expectations – and all done within the original budget.
Interested in learning more? We welcome you to contact us for a hassle-free discovery call today at (281) 569-4370.
About Small Screen Producer
Small Screen Producer is dedicated to create and optimize your company's total online presence. As a leading innovator of digital media marketing since 2008, we have the experience to capitalize on your unique strengths to help your business succeed. Our goal is to help you Position, Pursue, Promote, and Protect your business. We offer a complete line of digital marketing solutions to get this done. They include website design, Google Ad services, Facebook and Instagram Ad services ,website lead capture tools and automation, social media marketing, reputation management, technical services, , graphic design, video production and monthly service plans. We take your online marketing and advertising off your to-do list, so you can focus on your core business.
Contact us today to learn more about boosting your company's revenue through our four pillars of success that will Position, Pursue, Promote, and Protect your business.