How to Un-Complicate Your Marketing Strategy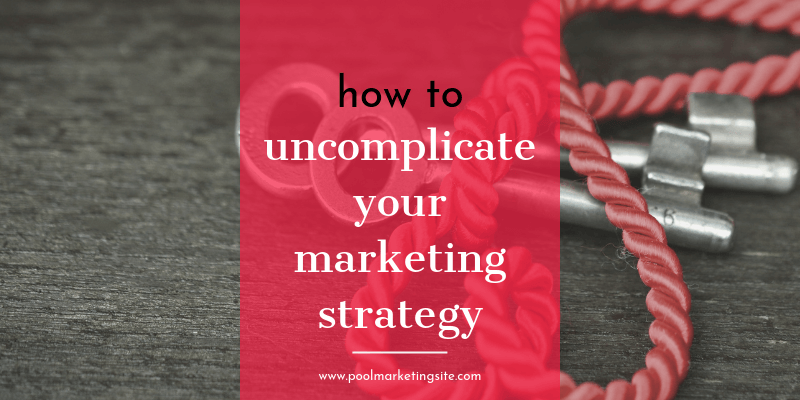 Digital marketing can seem like an overwhelming space. The term itself is incredibly broad with a number of different aspects linked to it like website design, social media, SEO and SEM.
Because it seems so densely packed, small businesses tend to do one of two things:
Intimidation causes a small business to ignore most if not all online marketing entirely; or

Small businesses will overthink and over-complicate their marketing efforts
Having an marketing strategy is crucial for the health and success of your pool and spa business. The good news is that it doesn't have to be confounding or complicated. 
Here's how you can start untangling your marketing efforts.
Know Who Your Customer Is
Start off by focusing on your primary ideal "customer" rather than all of the many different "customers" you have. What traits do the majority of your customers have in common? What are they looking for when they visit your website or showroom (Is it to build a brand new luxury pool? To purchase a portable hot tub for hydrotherapy?).
Once you have that "person" in mind, think about how you can best communicate your products, services, and other offerings to them (don't forget, this could also include offline marketing, like postcards and text messaging!).
Start Small with Your Marketing Strategy
Digital marketing campaigns have many moving parts involved – but you don't have to have all of the gears up and running in a day.
Focus on one type of digital marketing you think will have the greatest impact on your ideal customer. This may be:
Creating shareable content

Opening up a company Facebook page

Starting a Google Adwords account and making an ad
Build on What You Have
Once you get started, it will be easier to build stronger campaigns based on what you have. For example, if you have a website you can then add a blog. Each blog you post can then be shared on your personal and company Facebook page. If your audience likes it, they'll share it and organically increase awareness of your pool and spa company.
Test and Measure Your Success
It's worthwhile to have a way to capture information on how effective your marketing efforts are. This way you'll know what works, what doesn't work, and you will eventually save a lot of time and money on your advertising.
Let Someone Else Do It for You
Here at Pool Marketing Site, we offer an array of customizable Marketing Campaign in a Box solutions designed to take the headaches out of the online marketing strategy process. We offer three tiers of campaign options for different products, services, and events that make delivering a personalized and effective marketing campaign as easy as it is affordable.
About Small Screen Producer
Small Screen Producer is dedicated to create and optimize your company's total online presence. As a leading innovator of digital media marketing since 2008, we have the experience to capitalize on your unique strengths to help your business succeed. Our goal is to help you Position, Pursue, Promote, and Protect your business. We offer a complete line of digital marketing solutions to get this done. They include website design, Google Ad services, Facebook and Instagram Ad services ,website lead capture tools and automation, social media marketing, reputation management, technical services, , graphic design, video production and monthly service plans. We take your online marketing and advertising off your to-do list, so you can focus on your core business.
Contact us today to learn more about boosting your company's revenue through our four pillars of success that will Position, Pursue, Promote, and Protect your business.