Online Marketing Shifting Towards Interactive Ads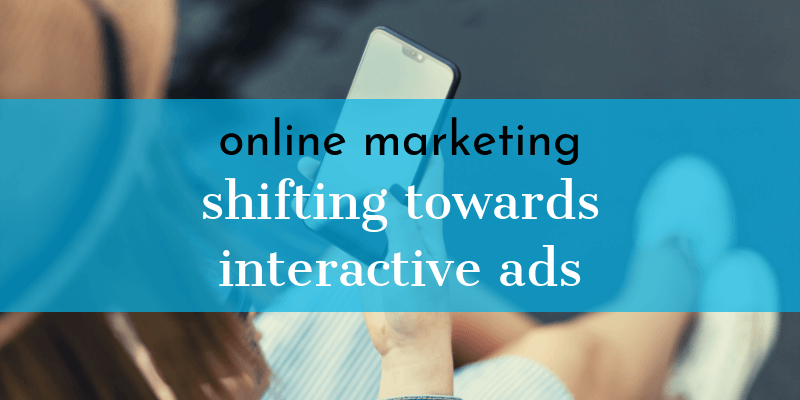 The world is going full-on digital. From entertainment and real estate to healthcare and banking, those who dare to ignore technology are taking the tremendous risk of being ignored and forgotten.
Advertisers are likely the most acutely aware of the importance of incorporating technology into their marketing efforts. Television, radio and print advertisements are out and online digital advertising is the place to be.
The problem with this reality is that, while advertising online is paramount, there are now so many ads online that it can be difficult to stand out and get noticed. This is one of the reasons why advertisers are shifting their focus from standard online ad campaigns to interactive ads.
An Immersive and Engaging User Experience
Unlike typical online ads, interactive ads draw audiences in with their engaging features. What an interactive online ad will look like will vary from industry to industry and company to company. But when well executed, they can:
Increase brand awareness and memorability

Leave a positive impression on audiences

Boost conversions and sales
An interactive ad is more attractive to audiences because they're fun and dynamic. Apart from the above benefits, a well-thought-out interactive ad tells your audience that you're an innovator and that you care about their experience when engaging with your company.
Social Media Is the Place to Be for Interactive Ads
When it comes to publishing your interactive ads, social media networks are your go-to. Pew Research Center reported that 69 percent of American adults used at least one social network in 2017, and Statista revealed that as of April 2019, nearly 3.5 billion people were active on social media platforms.
This is one of the reasons why Pool Marketing Site offers a variety of customizable Facebook and Instagram ad options. Our team of digital advertisers combines our technical expertise with our experience in strategically managing social media campaigns when creating interactive ads to drive business awareness, engagement, and growth.
We work with our clients to come up with an effective interactive ad campaign that can involve a number of components including stand-alone ads, videos and even automated Messenger Bots. But one of our most popular interactive ad options is Facebook Instant Experiences.
What Are Facebook Instant Experiences?
Pool Marketing Site's Facebook Instant Experiences services are a comprehensive advertising option that bridges the gap between your company's message and your audience. Fast to load and mobile-optimized, it's a cost-effective way for pool and spa companies to get the attention they deserve.
Some features of Facebook Instant Experiences include:
Videos

Images

Swipe-able carousels

Tilt and pan options

Product tagging
Clients who opt for our Facebook Instant Experiences are assigned a dedicated Account Manager and have exclusive access to a number of assets including graphic designers, copywriters, data-tracking tools and more.
Tell your pool and spa company's story your way. Click here to learn more about Facebook Instant Experiences and call us for more information about whether this is the right fit for your company at (281) 940-3798.
About Small Screen Producer
Small Screen Producer is dedicated to create and optimize your company's total online presence. As a leading innovator of digital media marketing since 2008, we have the experience to capitalize on your unique strengths to help your business succeed. Our goal is to help you Position, Pursue, Promote, and Protect your business. We offer a complete line of digital marketing solutions to get this done. They include website design, Google Ad services, Facebook and Instagram Ad services ,website lead capture tools and automation, social media marketing, reputation management, technical services, , graphic design, video production and monthly service plans. We take your online marketing and advertising off your to-do list, so you can focus on your core business.
Contact us today to learn more about boosting your company's revenue through our four pillars of success that will Position, Pursue, Promote, and Protect your business.