5 SEO Tactics to Ditch in the New Year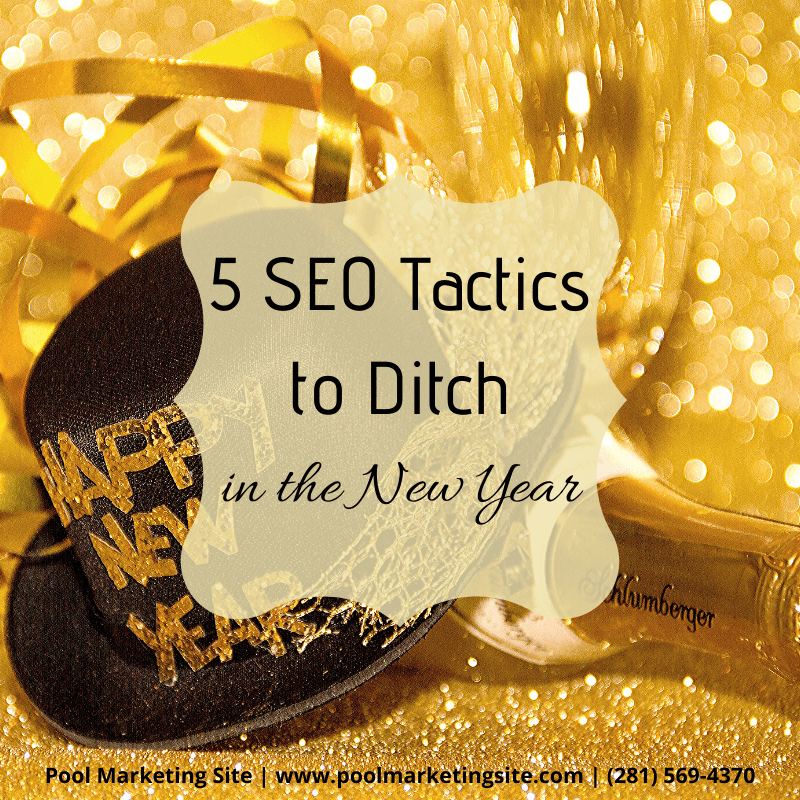 It's almost time to say "goodbye" to the first decade of the 21st Century. As it turns out, there are likely a few SEO tactics your pool company should be leaving behind as well.
The best case scenario is that the SEO tactics you have been relying on simply aren't working. Worst case scenario is that you are or will be penalized for continuing them.
Listed below are our top 5 online marketing habits that you should toss out in 2020, starting with:
1. Uploading Marginal or Inferior Content
At the start of the decade, content was everything. The more content you had, the better. The more keywords you had jammed into that content, the higher you could rank.
This has changed a lot over the past 10 years. While it is still important to optimize content for search engines by using keywords and key phrases, how you do is a whole lot different than at the start of the century.
Your content has to be high quality from top to bottom. This means that it must be well-written, relevant, and focused on your readership. Publish anything less on your website and you are doing your pool company a grave disservice.
2. Not Taking Advantage of On-Page Optimization
On-page optimization is an SEO tactic that continues to be important in today's online landscape. Title tags and rankings do go hand in hand, whether or not you are a believer of search engines caring about this or not.
A great title can make or break a website visit or even a conversion. Take the time to research keywords and include them in your titles, but more importantly ensure that the headline you end up with is engaging for your readers.
3. Web Pages Featuring Same or Similar Content
Similar pages or pages considered to be duplicates by search engines is a big "no-no" in today's world. Back in the day having multiple pages with similar content could give your pool website a healthy boost. Today this translates into a website loaded with low-quality pages that can very well sink your pool and spa company's ranking in every search engine.
4. Not Fixing Website Technical Issues
The user experience is taking over in the online world. Websites with technical issues can have a negative impact not only on how you're perceived by visitors, but by the search engines as well.
Some of the most common technical issues are:
Slow page loading times

Mobile loading errors

Improper redirects
If you don't have the time to conduct a full website audit, enlist in the help of someone (including your own employees!) to give your website a good, in depth look and to report back with any troubles they encounter.
5. Using Generic Email Templates
Modern day consumers expect some level of customization if you want to make a sale. Just as you likely don't appreciate sales staff immediately trying to coerce you into a sale, consumers don't want to feel as if they are instantly being sold the latest hot tub or being strong armed into signing a pool building contract.
Personalization is everything, even if that means sending fewer emails. Using the individual's name right off the bat will get you off to the best start possible. Then continue to create a "buyer's journey" by sending targeted emails methodically throughout your interactions with them. This way you can gently coax a still-warm lead to the final action you want them to take.
Pool Marketing Site has made this incredibly easy with our variety of email marketing solutions for pool and spa firms. To learn more, we welcome you to give the digital marketing team at Pool Marketing Site a call at (281) 569-4370.
About Small Screen Producer
Small Screen Producer is dedicated to create and optimize your company's total online presence. As a leading innovator of digital media marketing since 2008, we have the experience to capitalize on your unique strengths to help your business succeed. Our goal is to help you Position, Pursue, Promote, and Protect your business. We offer a complete line of digital marketing solutions to get this done. They include website design, Google Ad services, Facebook and Instagram Ad services ,website lead capture tools and automation, social media marketing, reputation management, technical services, , graphic design, video production and monthly service plans. We take your online marketing and advertising off your to-do list, so you can focus on your core business.
Contact us today to learn more about boosting your company's revenue through our four pillars of success that will Position, Pursue, Promote, and Protect your business.