What It Takes to Build a Strong Web Presence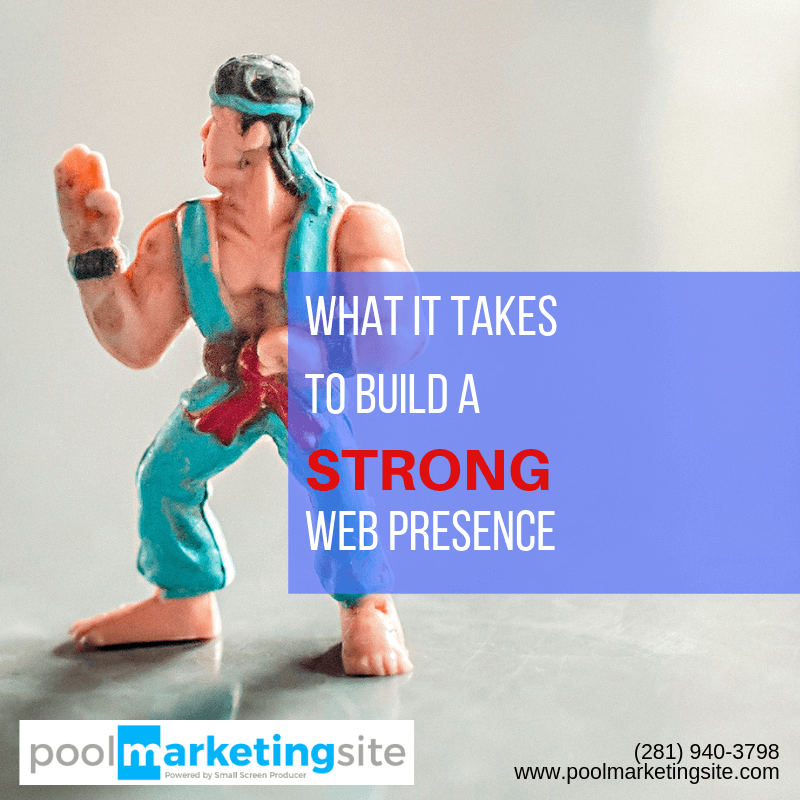 Over a month ago leading pool industry media outlet, Pool and Spa News, released their list of the Top 50 Pool Builders of 2019. A lot of factors are taken into account when deciding who will rank on this prestigious nation-wide list, and you may be surprised to find out that your pool company's web presence is part of the equation.
What Does a Strong Web Presence Look Like?
The first part to having a strong web presence is to have a high quality well branded website. Your website doesn't have to be loaded with multiple web pages, but it should include fundamental information like:
Your hours

Your location

Your contact information
Your social media presence is also taken into consideration. Pool and spa companies who engage regularly with their online community on Facebook, Instagram and other networks tend to have a much stronger web presence than those who don't.
The final component to having a strong web presence is search engine optimization (SEO). Without SEO, finding your website and other content online is incredibly difficult for search engines and, therefore, website visitors.
How to Boost Your Pool Company's Web Presence
You can start taking major strides towards improving your company's presence online by doing the following:
Create A Plan
Setting goals for your company will give you direction and help you create a step-by-step strategy for how you'll improve your web presence.
Learn SEO
We can't stress this one enough. If you aren't an SEO expert (like most pool companies out there), the experts at Pool Marketing Site can help. We design and build websites that will take your pool company from being non-existent online to becoming a front runner on Google.
Be Present
If you aren't on Facebook, now's the time to open up a business account. Instagram is another leading network for pool and spa companies, so consider starting an account and sharing images of your gorgeous poolscapes on this channel.
Be Patient
With consistency you'll see results – but chances are you won't see them overnight. Be patient, keep track of your efforts and the results, and make tweaks and adjustments as needed.
About Small Screen Producer
Small Screen Producer is dedicated to create and optimize your company's total online presence. As a leading innovator of digital media marketing since 2008, we have the experience to capitalize on your unique strengths to help your business succeed. Our goal is to help you Position, Pursue, Promote, and Protect your business. We offer a complete line of digital marketing solutions to get this done. They include website design, Google Ad services, Facebook and Instagram Ad services ,website lead capture tools and automation, social media marketing, reputation management, technical services, , graphic design, video production and monthly service plans. We take your online marketing and advertising off your to-do list, so you can focus on your core business.
Contact us today to learn more about boosting your company's revenue through our four pillars of success that will Position, Pursue, Promote, and Protect your business.