Latest Google My Business Updates for Online Listings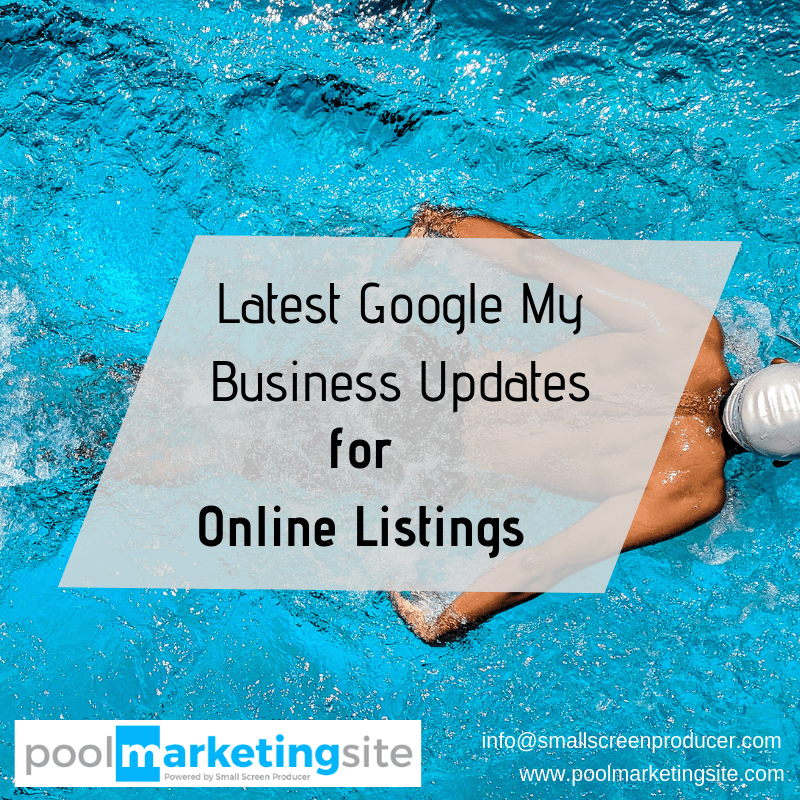 Google My Business is making it easier than ever for local pool and spa companies to get the most out of their online listing.
Kim Spalding, a Product Management Director at Google, says that these advancements were made after hearing many small businesses say that they want to save time at work and have access to easy-to-use promotional tools. Not only can businesses answer a series of questions to have Google develop a personalized plan for your company, there are now local Grow with Google workshops being hosted across the country.
Other Online Listing Updates for Google My Business
Google My Business revealed a number of changes in its most recent update, including:
Greater control over photos
Pool and spa companies can now set a preferred cover photo for their profile. Logos are also more prominently displayed, and the new "photo display" option allows you to quickly show company photos to online audiences.
Welcome offers for consumers
Local businesses can display incentives to encourage visitors to "Follow" their business and claim offers.
Automatic content generation
Google has now created tools which allow pool and spa companies to easily print and display online information offline such as customer reviews, follows, and star ratings.
"Local Favorites" option
Businesses who are tagged as being a "local favorite" will receive both digital and physical badges acknowledging how great they are.
Build the Best Online Listing with Pool Marketing Site
Want to make the most out of your Google My Business online listing? Click here or give us a call at (281) 940-3798 to learn more about how Pool Marketing Site can help.
About Small Screen Producer
Small Screen Producer is dedicated to create and optimize your company's total online presence. As a leading innovator of digital media marketing since 2008, we have the experience to capitalize on your unique strengths to help your business succeed. Our goal is to help you Position, Pursue, Promote, and Protect your business. We offer a complete line of digital marketing solutions to get this done. They include website design, Google Ad services, Facebook and Instagram Ad services ,website lead capture tools and automation, social media marketing, reputation management, technical services, , graphic design, video production and monthly service plans. We take your online marketing and advertising off your to-do list, so you can focus on your core business.
Contact us today to learn more about boosting your company's revenue through our four pillars of success that will Position, Pursue, Promote, and Protect your business.