3 Holiday Marketing Strategies for Pool and Spa Companies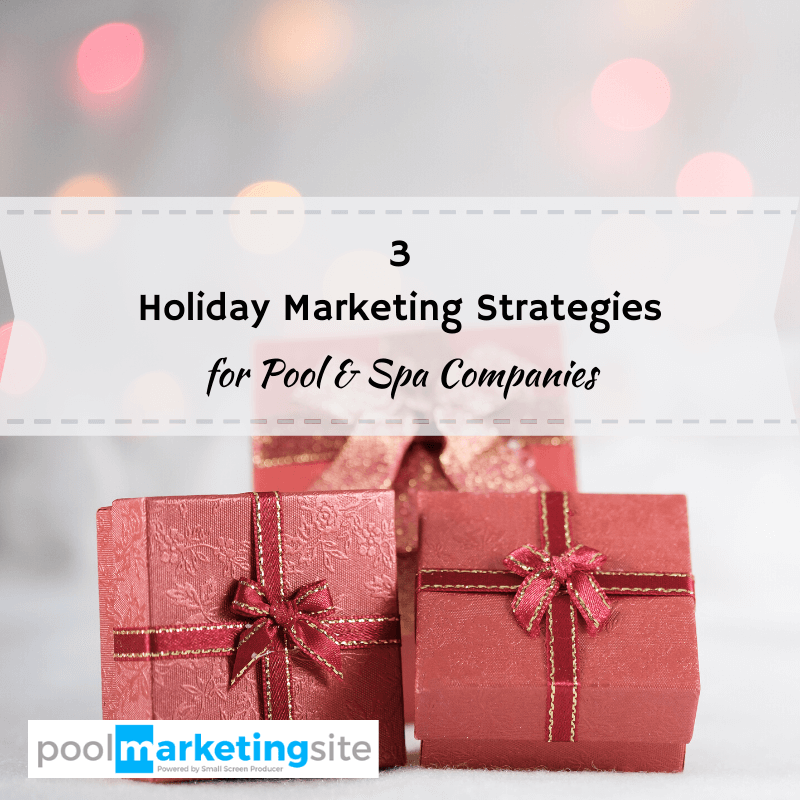 The holidays are officially here with Thanksgiving kicking off the season this week. We here at Pool Marketing Site thought it would be a good time to share some great holiday marketing strategy ideas that pool and spa companies can put into action during this special time of year. Let's start with one of our favorites:
1. Retargeting With Gift-Worthy Keywords and Terms
If you're not already retargeting, the time to do so is now. Retargeting regularly proves itself to be a leading holiday marketing strategy because it shows consumers products that they have previously shown an interest in. In fact, it has been shown that retargeting can increase your pool company's ad response rates by up to 400 percent!
The key here is to mix in festive or holiday-centric terms when sending your retargeted ads out into cyberspace. "Holiday hot tubs" or "swimming pool for Christmas" are both potentially effective key terms to use during the holidays.
2. Create a Gift Guide
Gift guides are a great holiday marketing strategy to encourage sales during the holiday season. The search for online gift guides rises dramatically on Google every year at the start of December and doesn't slow down until Christmas has come to a close.
Keep in mind that as a pool company the gifts you suggest don't have to be products only Offering a pool maintenance package for a loved one or a gift certificate towards the purchase of a new pool or hot tub also make great, thoughtful gifts.
3. Make Video Marketing a Priority
It's a well-known fact that video content regularly generates a higher return on investment than any other type of content. Here's another fact:
Video is a fantastic way to showcase your pool projects, your hot tubs, and even your pool and spa showroom.
Pool companies can get pretty creative when it comes to video content. You can create a teaser video for when holiday specials will be announced and then promote a date and time when it will be shared live on your social media.
Keep in mind that specials don't have to be mega sales. Holiday-themed products, free shipping, and even complimentary gift wrapping are all worthwhile of a teaser video (though match the excitement in the teaser video with the special you're promoting).
Once you have a viewership of that content, you can actually retarget those same viewers with sales ads on YouTube and Facebook (did we not mention we love retargeting?).
Happy Thanksgiving from Pool Marketing Site!
We hope that you and your loved ones enjoy a fun-filled and relaxing holiday season this year! Be sure to stay tuned for more great and helpful content on how you can improve your holiday marketing strategy this year, and give our digital media marketing team a call to discuss any of your marketing needs at (281) 569-4370.
About Small Screen Producer
Small Screen Producer is dedicated to create and optimize your company's total online presence. As a leading innovator of digital media marketing since 2008, we have the experience to capitalize on your unique strengths to help your business succeed. Our goal is to help you Position, Pursue, Promote, and Protect your business. We offer a complete line of digital marketing solutions to get this done. They include website design, Google Ad services, Facebook and Instagram Ad services ,website lead capture tools and automation, social media marketing, reputation management, technical services, , graphic design, video production and monthly service plans. We take your online marketing and advertising off your to-do list, so you can focus on your core business.
Contact us today to learn more about boosting your company's revenue through our four pillars of success that will Position, Pursue, Promote, and Protect your business.