Are You Retargeting Your Ads? Why You Should Be!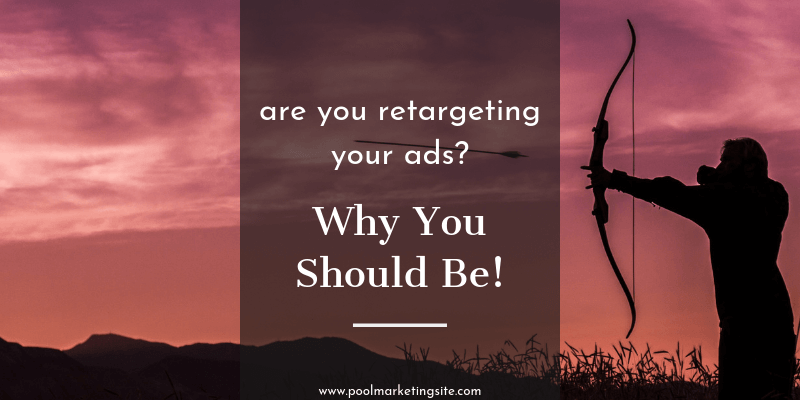 We've all experienced it. When after searching for a product or service, ads for the very same or related products start popping up in every corner of the World Wide Web. This is known as ad "retargeting," and it can be an effective marketing strategy for pool and spa marketing companies.
When someone visits your website, for example, their computer stores a unique "cookie" which tells the Internet that they have visited your site. Our ad technology is able to locate these cookies and then determine which ads will be the most effective depending on where a visitor is in the buying cycle.
Retargeting saves you from having to start the sales process from scratch every time someone looks up your product, services or company name. This time-saving technology gently guides them along a purchase journey, allowing you to nurture a prospect and increase your chances of making a sale or getting a contract signed. 
Retargeting ads goes beyond simply nurturing leads and generating more sales.
1. A Cost-Effective Solution
Your retargeted ads are being sent to those who have already visited your website, engaged with your brand or similar products. These people are a lot more likely to take action, giving you the strongest return on your investment.
2. Gain Valuable Insights
Retargeting gives advertisers a clear view of where your retargeted customers are being recaptured once they leave your site. This goes a long way in helping us road map future marketing campaigns and it will drive more qualified traffic to your pool and marketing website.
3. Make Your Brand More Memorable
The more someone sees your pool and spa company name, the more likely they'll remember you when it comes to digging in and moving ahead with their outdoor living project.
Explore Your Retargeting Ad Options with Pool Marketing Site
Here at Pool Marketing Site, we offer an array of ad retargeting solutions that are tailored to meet the needs of our clients.
Site Retargeting: Puts your company name in front of those who have already visited your website
CRM Retargeting: Expands your reach by targeting both existing and similar audiences
Search Retargeting: Hones in on potential customers already on the hunt for products/services in your industry or category
Event Retargeting: Extremely relevant retargeting which sends messages to event attendees through advertisements on their mobile devices
Specialized Facebook Retargeting: A custom-made advertising strategy that introduces your brand to interested and relevant audiences
Interested in learning more? Check out our website or give us a call now at (281) 940-3798.
About Small Screen Producer
Small Screen Producer is dedicated to create and optimize your company's total online presence. As a leading innovator of digital media marketing since 2008, we have the experience to capitalize on your unique strengths to help your business succeed. Our goal is to help you Position, Pursue, Promote, and Protect your business. We offer a complete line of digital marketing solutions to get this done. They include website design, Google Ad services, Facebook and Instagram Ad services ,website lead capture tools and automation, social media marketing, reputation management, technical services, , graphic design, video production and monthly service plans. We take your online marketing and advertising off your to-do list, so you can focus on your core business.
Contact us today to learn more about boosting your company's revenue through our four pillars of success that will Position, Pursue, Promote, and Protect your business.