Are You Wasting Marketing Dollars?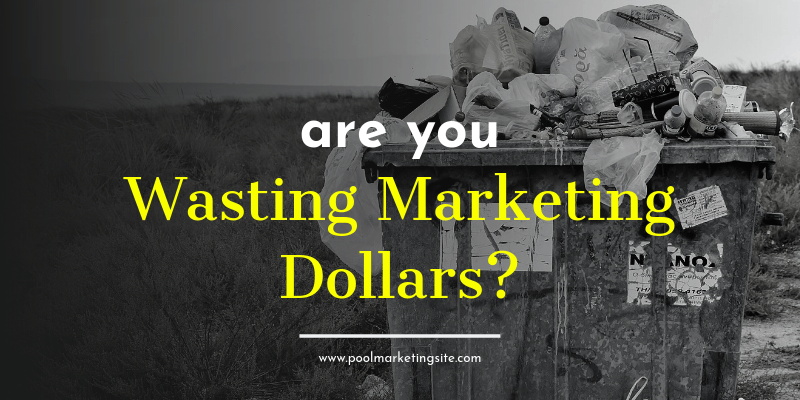 There are so many different avenues you can choose to spend your pool marketing dollars. But are you investing your money in the right places?
If you haven't taken a holistic view of your marketing efforts over a year, it's time to revisit your plans. Over time, many companies fall into a rut where their marketing becomes routine rather than revisited, boring rather than bold, and ineffective rather than optimized.
Should you be experiencing any of the following, you can be sure that your marketing money isn't working nearly as hard for your business as it could be:
1. You Have No Idea If It's Working
You're spending a lot of your  marketing dollars advertising online. You deserve to know whether or not your marketing efforts are actually leading to valuable, tangible results.
At Pool Marketing Site, we make sure that your investment pays off. We work with our clients to develop multi-channel ad strategies that will set your pool and spa company directly in front of the eyes of your ideal audience and deliver the highest ROI possible.
2. Your Sales Team Is Bored
Do you see your sales staff aimlessly wandering about the pool showroom on a regular basis? Your marketing efforts may be to blame.
Your marketing campaigns should be feeding qualified leads to your sales team's pipeline. If your sales team is complaining about having little to do, then it's a clear sign that you have an ineffective advertising strategy.
3. Your Website Isn't Generating Leads or Customers
We have all heard that every business needs to be online these days. But putting up a boring website isn't going to help convert leads and customers (in fact, it can have a negative effect on your business!).
If your website isn't generating leads and customers, it's time for an overhaul. Pool Marketing Site specializes in building dynamic websites for pool and spa companies so that you can give your visitors the ultimate user experience. From online calculators to the interactive MyStaycation Builder and more, we have proven strategies that will send warm leads to the doors of your pool showroom.
You Don't Need a Mega Budget for Marketing!
One of the greatest misconceptions about online marketing is that you need to have a substantial budget to make it work.
As we at Pool Marketing Site have experienced first-hand, you can generate top quality leads without spending a small fortune. We offer a variety of affordable lead generating solutions for pool & spa companies, including location based marketing, social media marketing, and our selection of comprehensive Marketing Campaigns in a Box options.
Let us help you plan the right advertising strategy for your goals and budget. Call us today at (281) 940-3798 to speak with an accomplished online marketing strategist!
About Small Screen Producer
Small Screen Producer is dedicated to create and optimize your company's total online presence. As a leading innovator of digital media marketing since 2008, we have the experience to capitalize on your unique strengths to help your business succeed. Our goal is to help you Position, Pursue, Promote, and Protect your business. We offer a complete line of digital marketing solutions to get this done. They include website design, Google Ad services, Facebook and Instagram Ad services ,website lead capture tools and automation, social media marketing, reputation management, technical services, , graphic design, video production and monthly service plans. We take your online marketing and advertising off your to-do list, so you can focus on your core business.
Contact us today to learn more about boosting your company's revenue through our four pillars of success that will Position, Pursue, Promote, and Protect your business.