5 Top Tips on Creating Pool Promotions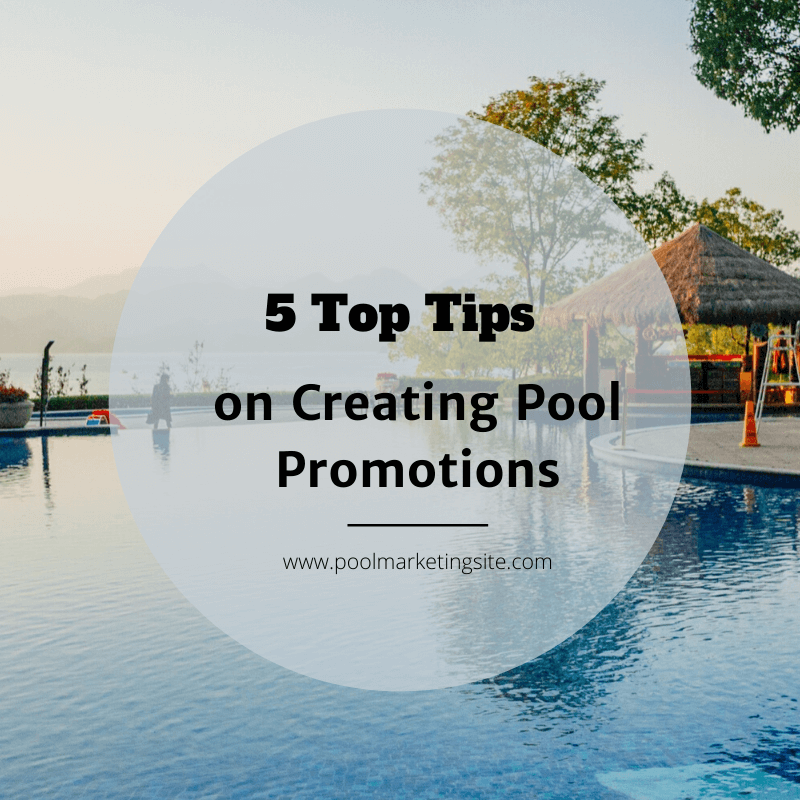 Pool promotions, sales, and deals are beneficial for pool firms and their customers alike. While customers are able to take advantage of deep discounts, pool companies are given the opportunity to clear out excess or older inventory and introduce brand new clients to their brand.
Pool promotions encourage customers to buy "right now" rather than sit and think on it. This is particularly beneficial in the winter months when businesses can come to a grinding halt. We're sharing our top tips on how to do pool promotions the right way, starting with:
1. Track Trends But Always Be Watching
If you have been tracking your pool deals and promotions over the past few years, you've likely noticed a number of trends emerge. This is a great way to start planning your promotions, deals, and sales. But being seasonal in many parts of the country, it's also important to keep your eye on exactly that – the seasons.
For example, your pool closure promotion may have done exceptionally well in October or November for the past several years. But if there is an early cold snap in the forecast, plan to scale that back a bit and start promoting that deal in September or even as early as August or July.
2. Keep Pool Promotions Consistent
Over time your customers will come to expect deals and promotions at certain points throughout the year. For example, while January may be a time when people are least thinking about pool chemicals and accessories, if your existing customers are accustomed to there being a sale on such products during that month, you can expect to sell a lot of product during simply because your customers know the hot deals are going to be offered around this time of year.
3. Understand the Needs of the Customer
Understand what it is your customer needs and at what time of the year. In areas where pool owners must close their pool due to weather, offering a promotion of this service is a must in these areas. Those living in a warmer climate like Arizona or Texas, however, may keep their pool open – but they'd sure appreciate a promotional discount on a pool heater to make themselves more comfortable.
4. Keep Your Promotions "Fresh"
Customers may expect promotions on certain products during different points throughout the year. But this doesn't mean that you should run the same stale pool deal year in, year out.
By regularly switching up your marketing schemes during each promotion, you keep things fresh and interesting for your existing customers while attracting new customers by using timely promotional strategies for your campaigns. One year clearing out a lot of older hot tubs, for example, may be advertised as such while another could be advertised as a "truckload sale."
5. Set Goals and Measure the Results
At the end of each and every promotion, it's important to have a system in place where you can track the success of a campaign. You want to look at engagement, revenue and which products sold during which deal or sale you held.
There are also a number of other online statistics you will want to keep your eye on such as lead and customer acquisition, which pages on your website were visited, which landing pages were the most popular and more.
Don't have the time to do it yourself? Leave it to Pool Marketing Site. Having worked in this industry for the past several years, we know exactly what it takes to attract, maintain and retain pool and spa company customers. Call us to discuss your next series of pool promotions, deals or sales at (281) 569-4370 or contact us today. 
About Small Screen Producer
Small Screen Producer is dedicated to create and optimize your company's total online presence. As a leading innovator of digital media marketing since 2008, we have the experience to capitalize on your unique strengths to help your business succeed. Our goal is to help you Position, Pursue, Promote, and Protect your business. We offer a complete line of digital marketing solutions to get this done. They include website design, Google Ad services, Facebook and Instagram Ad services ,website lead capture tools and automation, social media marketing, reputation management, technical services, , graphic design, video production and monthly service plans. We take your online marketing and advertising off your to-do list, so you can focus on your core business.
Contact us today to learn more about boosting your company's revenue through our four pillars of success that will Position, Pursue, Promote, and Protect your business.