Are You Geotargeting/Geofencing Your Ads? Why You Should Be!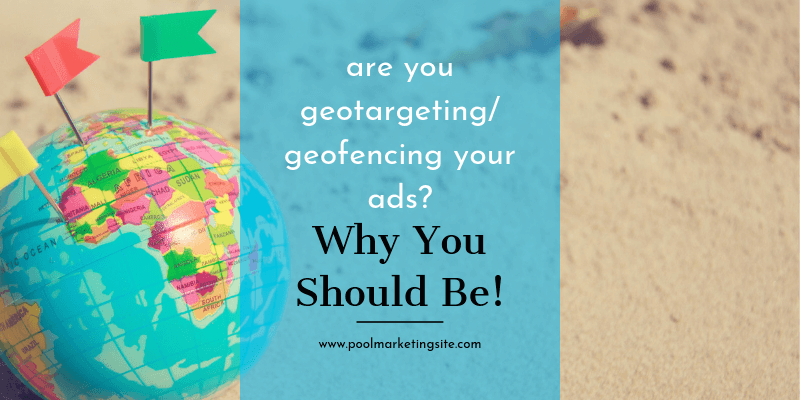 As a pool and spa company, there's a good chance that you don't need your advertisements to reach halfway around the world. If you're like most companies in the industry, your target market is fairly local and involves a handful of communities.
This is what geotargeting and geofencing is all about. You can target specific locations where your ideal audience resides rather than have your advertisements sent out across the globe.
Geotargeting Vs. Geofencing: What's The Difference?
Geotargeting allows you to send ads to people who are within a pre-set radius and who meet specific targeting criteria (like behaviors, keywords, demographics, interests, and location). You can also exclude certain areas where your audience is unlikely to reside.
Geofencing gives you the opportunity to create an invisible "fence" around certain areas using the IP address of a user. You can create virtual barriers around neighborhoods, universities and even trade show locations if you believe the audience in these areas will be interested in your business, service or deals offered.
Benefits of Geotargeting and Geofencing
If you aren't already geotargeting and geofencing your advertisements, you should be. Here's why. 
Enjoy a healthier ROI.

Advertising your pool and spa business to someone thousands of miles away is a waste of your advertising budget. By targeting nearby residents, you are sure to get a better return on your investment.

Provide a better user experience.

Geotargeting and geofencing allow you to customize your website and offers, leaving audiences with a better user experience.

Share real-time promotions and deals.

Because you know where a user is located, you can send alerts suggesting where that user should buy what they're looking for (like pool chemicals or outdoor living accessories) in addition to any company related offers and discounts.
Get Ahead of the Competition
Pool Marketing Site offers competitor targeting. This option allows you to put your brand name in front of the eyes of anyone who has visited a competitor's store or showroom.
Maximize your ad spending through precise ad targeting with Pool Marketing Site! We welcome you to visit our website to learn more about our geotargeting and geofencing solutions or give us a call today at (281) 940-3798.
About Small Screen Producer
Small Screen Producer is dedicated to create and optimize your company's total online presence. As a leading innovator of digital media marketing since 2008, we have the experience to capitalize on your unique strengths to help your business succeed. Our goal is to help you Position, Pursue, Promote, and Protect your business. We offer a complete line of digital marketing solutions to get this done. They include website design, Google Ad services, Facebook and Instagram Ad services ,website lead capture tools and automation, social media marketing, reputation management, technical services, , graphic design, video production and monthly service plans. We take your online marketing and advertising off your to-do list, so you can focus on your core business.
Contact us today to learn more about boosting your company's revenue through our four pillars of success that will Position, Pursue, Promote, and Protect your business.