How Pool Companies Can Find Profit During the Off-Season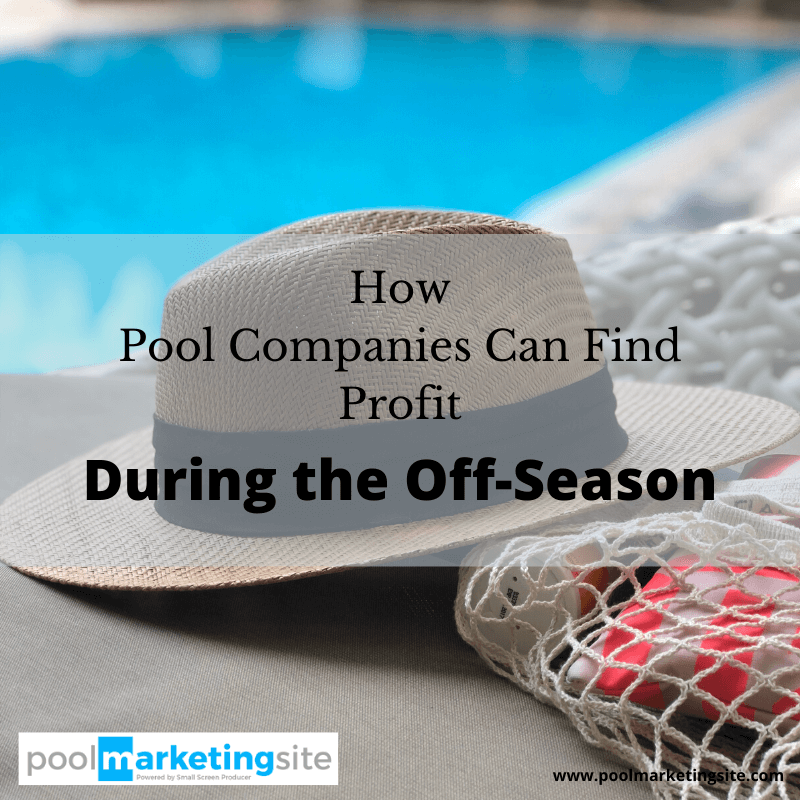 Now that November is here and the temperatures continue to fall across the country, most pool companies are finding themselves entering into their slowest time of the year. With the pool industry being seasonal in many parts of the United States, it can be difficult to keep revenue flowing and to find profit during the off-season.
Having worked in the pool industry for several years, Pool Marketing Site has picked up some great ways pool companies can continue to improve and make some gains before business picks up again in the spring. We love all things digital, so our first tip should come as no surprise:
Implement New Software Solutions to Streamline Operations
Whether that is choosing a software program yourself or hiring a digital media marketing firm like us, now is a great time to familiarize yourself with state-of-the-art software that will help you keep business operations running smoothly in the new year. Our solutions help pool companies with every aspect of running the marketing for their firm, including:
Marketing

Lead tracking

Conversion analysis
Once you become familiar with the software, you can train others on your marketing team how to use it and how to translate this data so more effective advertising decisions can be made.
Follow Your Leads to Profit During the Off-Season
Following up with leads when business gets busy can be incredibly difficult for pool and spa companies. Work on separating your current clientele from your sales leads and build follow-ups to track your progress. Try to create a strategy that simplifies this process so that you can continue to stay in touch with these potential customers even when spring and summer arrive.
Deep Dive Into Your Marketing Strategy
Who are you marketing to and how is it working out for you?
Many pool and spa companies think that marketing means trying to sell themselves to brand new customers. But you may be surprised to find that the most profits during the off-season lie among your existing customer base.
Pop open your customer database and look at who you could potentially reach out to during the winter. Look for things like:
Purchase history (is there a customer who hasn't purchased chemicals lately?)

Service calls (is a regular pool owner no longer calling you for maintenance?)

Age of equipment (is there a pool owner with an older and ineffective heater? How old is the spa owners' spa?)
You can then send targeted messages to these individuals through a variety of channels including postcards, email, social media, and targeted pay-per-click (PPC) marketing campaigns.
Consider Promoting New Products
Take a look at what your customers like about your company, what they're purchasing and why they are purchasing those products. Then look at current market trends and start to investigate new up-and-coming products that customers may be interested in purchasing from you. If you choose to include a new product to your shelves or showroom floor, you now have the time to educate both your staff and your existing customers about the product before the spring rush hits.
Let Pool Marketing Site Take Care of the Marketing For You
Make the most out of every season with Pool Marketing Site! We not only help pool companies find profit during the off-season – we make sure that pool companies get the most exposure, engagement, and revenue throughout the entire year.
Call us today to arrange for a discovery call with a talented digital media marketing strategist at (281) 569-4370!
About Small Screen Producer
Small Screen Producer is dedicated to create and optimize your company's total online presence. As a leading innovator of digital media marketing since 2008, we have the experience to capitalize on your unique strengths to help your business succeed. Our goal is to help you Position, Pursue, Promote, and Protect your business. We offer a complete line of digital marketing solutions to get this done. They include website design, Google Ad services, Facebook and Instagram Ad services ,website lead capture tools and automation, social media marketing, reputation management, technical services, , graphic design, video production and monthly service plans. We take your online marketing and advertising off your to-do list, so you can focus on your core business.
Contact us today to learn more about boosting your company's revenue through our four pillars of success that will Position, Pursue, Promote, and Protect your business.