3 Local PPC Tips to Help You Outrank Pool Companies on Google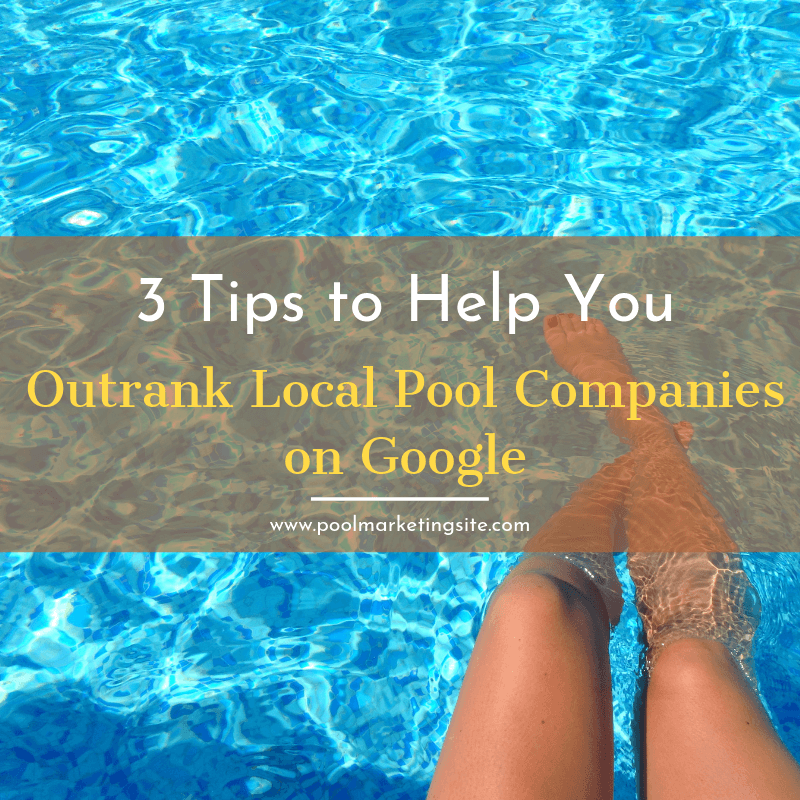 Attracting the attention of local audiences who are interested in building a pool or spa is no easy feat. With the majority of consumers being completely unaware of what unique offerings each pool company in your community can deliver, it can be difficult to stand out in your community as well as through local PPC (pay-per-click advertising) on something as massive as Google.
As a marketing company that has partnered with pool and spa firms for a number of years, Pool Marketing Site and our expert digital media marketers understands what it takes to stand out online when it comes to local PPC. 
Our first tip for every pool company is:
1. Get On Google My Business
It's free to claim and easy to use. Google My Business also continues to evolve throughout the years (with the company now also allowing for free instant quotes). There are other benefits too, like:
Claiming placements on Google's search engine result page

Being able to view and respond to Google reviews about your businesses

Having the ability to share deals and promotions
The only caveat is that your business has to have a physical address, a requirement which the vast majority of pool and spa companies can easily fulfill.
2. Carefully Determine Who You're Up Against
As you know, not all pool and spa companies are created equal. Some may be targeting young families on a budget by offering above ground pools and affordable decking while others may be offering the promise of a luxury inground poolscape coupled with exquisite water and fire features.
When thinking about your competition, consider this:
Is this competitor offering the same level of pricing?

Do they provide a better service or are they lacking in that area?

Are they a well-known pool company in your area?

Are they targeting the same audience as you?

Is the name of your competitor something that could also be a general keyword (Houston Inground Pools, Katy Best Spas, etc.)?
Generally, the best approach is to pick five competitors that are an equal threat to your company. Build an ad group for those competitors and then set them as negative keywords throughout a campaign. This will go a long way in helping you make the most out of your ad spend.
3. When Using Local PPC Let Your Local-ness Shine!
What may be the most important tip of all when it comes to local PPC is to use your distinct knowledge of your community to your advantage.
Creating ads that are aimed at your community is important. You want to make it clear in your ad that you are servicing a specific area.
But there are other ways you can support your "local-ness," including:
Create content which highlights events that are happening around the neighborhood

Integrate local expressions and characters into your content

Include images of community landmarks and highways to orient your audiences and to make your pool company seem more familiar
Once an excited pool or spa owner recognizes that you're a member of their community, you drastically increase the chances of them walking through your doors and exploring their pool ownership options.
There's a lot to learn and know about local PPC. For more guidance and practical online advertising solutions, we welcome you to contact Pool Marketing Site at (281) 569-4370.
About Small Screen Producer
Small Screen Producer is dedicated to create and optimize your company's total online presence. As a leading innovator of digital media marketing since 2008, we have the experience to capitalize on your unique strengths to help your business succeed. Our goal is to help you Position, Pursue, Promote, and Protect your business. We offer a complete line of digital marketing solutions to get this done. They include website design, Google Ad services, Facebook and Instagram Ad services ,website lead capture tools and automation, social media marketing, reputation management, technical services, , graphic design, video production and monthly service plans. We take your online marketing and advertising off your to-do list, so you can focus on your core business.
Contact us today to learn more about boosting your company's revenue through our four pillars of success that will Position, Pursue, Promote, and Protect your business.