Google My Business Is Introducing Instant Sales Quotes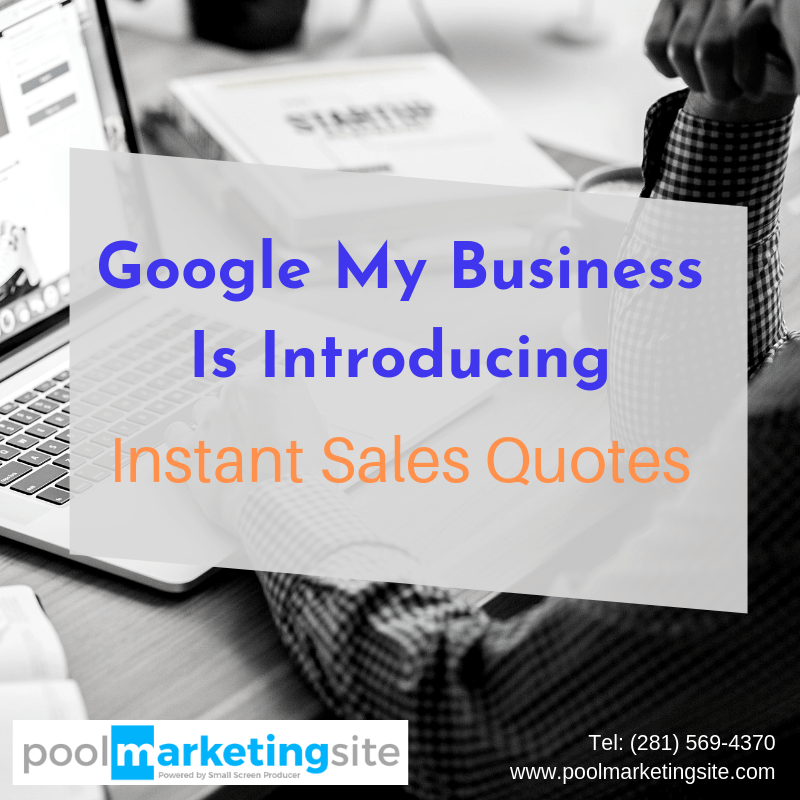 Last week Google made a major announcement that will impact any pool company which has the messaging function turned on through their Google My Business app: Consumers will now be able to receive instant sales quotes through Google Search.
Google hinted that the instant quote function may become available on Google My Businesses listings back in May. Now a "Get a Quote" button will show up beneath the heading of your company name in the Knowledge Panel whenever a consumer searches for your pool or spa firm. The quote button will appear on both desktop and mobile devices.
Why Instant Sales Quotes Through Google My Business Matter
When consumers are in the initial investigative stages of building a pool, a spa or purchasing a hot tub, one of the leading questions they have is how much it will cost. Having the instant quote available to users increases the likelihood of them contacting your business. It's quick, easy and hassle-free.
Shouldn't The Quote Be More Personalized?
One concern you may have about the instant quote function through Google My Business is the lack of personalization which goes into it. Requesting a quote in this matter means that your quotes and messages will be delivered by the same AI as your competition, so the quote will lack your branded personal touch.
Increase Sales & Offer Instant Customer Quotes Through Your Website!
Once a user receives a quote from your pool company, he or she will either choose to explore your company further or continue to search elsewhere. The Google My Business instant quote function can serve as a valuable way to vet users, meaning warmer and more qualified leads will be heading to your website.
This is why having a "quote" function on your website is also important. The visitor will likely reach out again through your website "quote" page with a more detailed query about their dream pool design, features, and functions.
With Pool Marketing Site's web page quote options, you can deliver customized quotes to potential clients while sending hot leads to your sales team. From inground pools and above ground pools to pool remodels and hot tubs, we have a sales quote estimator that is perfect for your pool company
To learn more, contact us online or give us a call at your convenience at (281) 569-4370
About Small Screen Producer
Small Screen Producer is dedicated to create and optimize your company's total online presence. As a leading innovator of digital media marketing since 2008, we have the experience to capitalize on your unique strengths to help your business succeed. Our goal is to help you Position, Pursue, Promote, and Protect your business. We offer a complete line of digital marketing solutions to get this done. They include website design, Google Ad services, Facebook and Instagram Ad services ,website lead capture tools and automation, social media marketing, reputation management, technical services, , graphic design, video production and monthly service plans. We take your online marketing and advertising off your to-do list, so you can focus on your core business.
Contact us today to learn more about boosting your company's revenue through our four pillars of success that will Position, Pursue, Promote, and Protect your business.