Is Video Content Killing Test-Only Posts?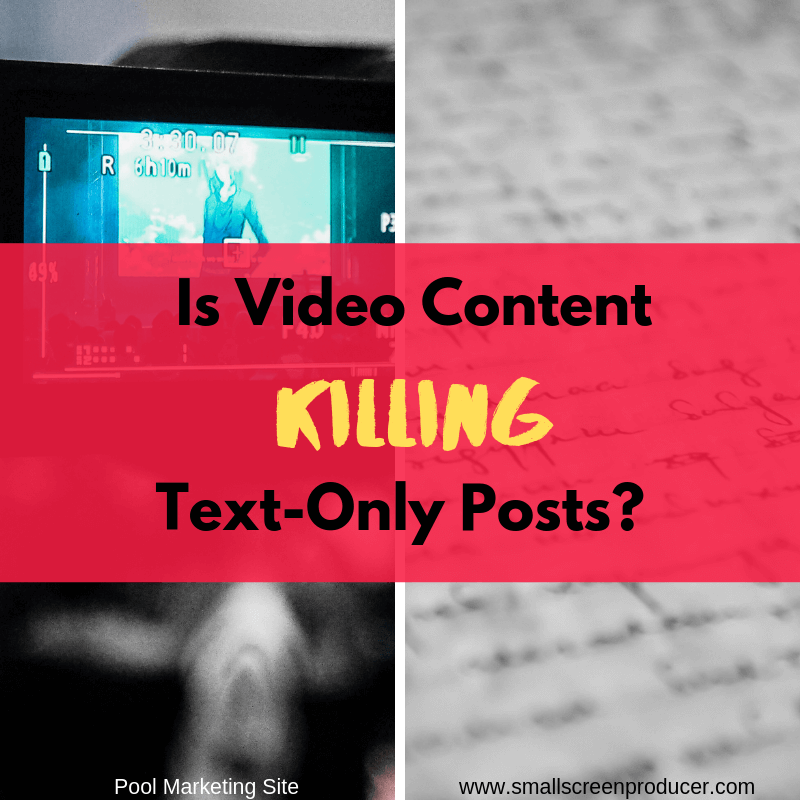 Chances are that as a pool and spa company, you've heard all about the benefits of adding video content to your marketing campaigns. But the question remains. Do you know just how important video marketing is? And should you abandon text altogether?
Here are a few points to consider. 
* YouTube Video Content
This one is undeniable. Everyone is watching YouTube. With currently over one billion users (nearly one-third of all Internet users), 45 percent of people on the Internet are watching "one or more" YouTube or Facebook videos each week.
Here's another stat: Over 500 million hours of YouTube videos are being viewed every day.
Another pointer: 85 percent of the American Internet audience is viewing videos online.
YouTube presents a major opportunity for pool and spa companies.  With more than one billion people visiting the channel and viewing video content, it's a network every pool company should be present on.
* Brand Engagement
Video is the ultimate engagement tool. In fact, over 50 percent of marketing professionals around the globe know that video has the best ROI of all other types of content.
Some other points to consider:
Branded video content views on Facebook have increased by 258 percent on Facebook (Tubularinsights, 2017)

Sixty-four percent of people make a purchase after watching a branded social video

Social videos drive

12x more shares

than images and text combined
The fact that you can also use GIFs on Facebook may help your video marketing efforts in an affordable and effective way.
* Mobile Devices
No one will tell you that trying to read a pile of text on a phone, tablet or other mobile device is a dream.
It's obvious why mobile users prefer video content — it's easier to consume. But apart from that, there are some other spin-off benefits like over half of all video content is being watched on a mobile device and 92 percent of people viewing mobile video share videos.
The Argument for Text Content
Video content is clearly important and should be a part of every marketing endeavor. But that doesn't mean that we should be kicking text to the wayside. For example:
* Some People Prefer Text
No matter what you do, some consumers will prefer one type of format over another. While some may prefer a video "how-to," others will appreciate one that is written out and which can be printed and saved in a binder.
* Some Prefer Video With Captions (Sound Off)
As much as people love video, a lot of people like viewing videos with subtitles, or at least a transcript provided below.
* Search Engines Still Like Text
Evidence has pointed towards search engines like Google giving more points to websites with video. But one thing which cannot be denied is that quality written content with appropriate keywords will work towards boosting your pool and spa company website amongst the ranks.
Choosing the right approach for your company depends on your location, budget and business goals. Let the experts at Pool Marketing Site help by chatting with an accomplished online marketer now at (281) 569-4370.
About Small Screen Producer
Small Screen Producer is dedicated to create and optimize your company's total online presence. As a leading innovator of digital media marketing since 2008, we have the experience to capitalize on your unique strengths to help your business succeed. Our goal is to help you Position, Pursue, Promote, and Protect your business. We offer a complete line of digital marketing solutions to get this done. They include website design, Google Ad services, Facebook and Instagram Ad services ,website lead capture tools and automation, social media marketing, reputation management, technical services, , graphic design, video production and monthly service plans. We take your online marketing and advertising off your to-do list, so you can focus on your core business.
Contact us today to learn more about boosting your company's revenue through our four pillars of success that will Position, Pursue, Promote, and Protect your business.