More Facebook Ads Now Appearing in Facebook Search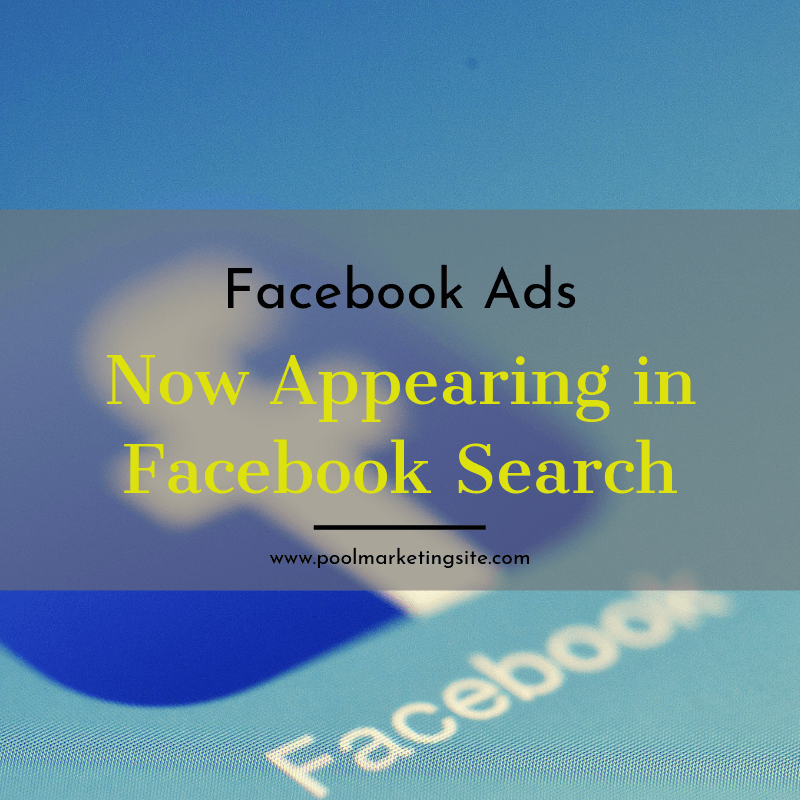 Facebook has made it no secret that they are investing heavily in their advertisement options. Ad placements have already been added to Stories and Marketplace, and now more Facebook Ads will now also be making an appearance on Search.
Unlike other advertising channels (like Google Ads), Facebook ads cannot be targeted through keywords. Instead advertisers can choose "Search" as an additional placement option.
Ads in Search have been available since 2018 for a finite number of industries. With it now being offered to more businesses, you can be sure that you will be seeing more ads in Search in the near future.
Why Facebook Ads in Search Matters
In a word: exposure. Having the potential to show up in Facebook Search, a tool which is increasingly being used by the network's users, gives your pool company all the more opportunity to reach new audiences and to re-engage with past leads and customers.
Facebook Ads in Search Means Understanding Keywords
One major concern advertisers have about Facebook Search ad placement is lack of control. Can we trust the social network algorithm's to determine when your pool company's ad does and does not appear?
Keep in mind that the network is always checking out your page and uses queues from that page to determine where your ads will show. When proper measures are taken, you can influence when and where Facebook will display your Facebook Ads.
This is why keywords are critical. Know which keywords you should be using and incorporate these words and phrases in your ad copy, landing pages, main headlines, and as part of your image's alt text.
Tap Into a Network of 2.41 Billion People with Pool Marketing Site
Facebook Ads give your pool company a distinct advantage by offering direct access to millions of active consumers each and every day. Make the most of your presence on the network with Pool Marketing Site's Facebook advertising options! Learn more by clicking here or we invite you to give us a call at (281) 569-4370.
About Small Screen Producer
Small Screen Producer is dedicated to create and optimize your company's total online presence. As a leading innovator of digital media marketing since 2008, we have the experience to capitalize on your unique strengths to help your business succeed. Our goal is to help you Position, Pursue, Promote, and Protect your business. We offer a complete line of digital marketing solutions to get this done. They include website design, Google Ad services, Facebook and Instagram Ad services ,website lead capture tools and automation, social media marketing, reputation management, technical services, , graphic design, video production and monthly service plans. We take your online marketing and advertising off your to-do list, so you can focus on your core business.
Contact us today to learn more about boosting your company's revenue through our four pillars of success that will Position, Pursue, Promote, and Protect your business.