3 Reasons Why Your Pool Company Needs a Digital Marketing Consultant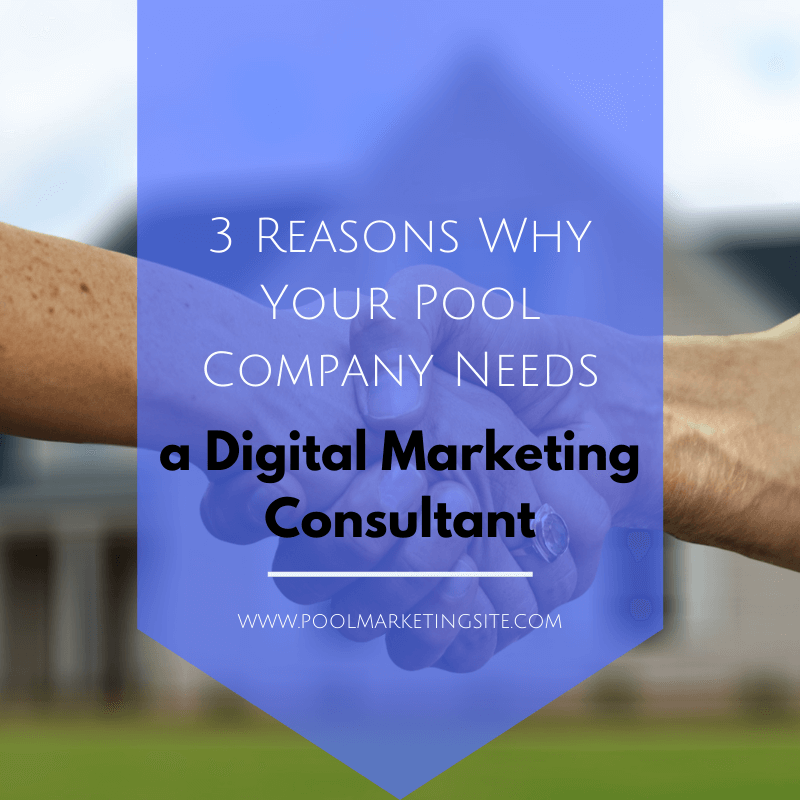 The need for a strong online presence is more important than ever. But running a full-time company leaves little time for digital marketing, which is why more pool companies are turning to a digital marketing consultant to take the reigns and boost their business online while protecting their brand reputation.
Not sure if a digital marketing consultant is right for you? Here are 3 reasons why you should consider hiring a digital media marketing consultant like Pool Marketing Site.
1. Get More (And Better!) Leads
The digital media marketing consultants here at Pool Marketing Site are renowned for attracting warm, qualified leads which result in greater revenue for our clients. We do this through a variety of methods including:
Strengthening

your social media presence

Creating optimized websites and landing pages

Protecting how your brand is perceived through proven reputation management

methods

Formulating effective email campaigns
2. Harness the Powers of Optimization
Our digital media marketing team will uncover the most effective ways to optimize your content so that you get the most mileage out of your online resources. We offer online optimization services which also keeps the user experience in mind including keywords, responsive website design, and intuitive content topics.
3. Create Effective Online Ads
Paid and organic advertising can work in conjunction with one another to create a strong and effective advertising campaign for a pool company. Here at Pool Marketing Site, we focus on the best channels for pool companies which include Google Ads, Facebook Ads, and Instagram Ads. We then determine your target market and make sure that your online ads reach those who are most receptive to your brand and what you have to offer.
The Pool Marketing Site Difference
What sets the digital marketing consultants at Pool marketing Site apart is our experience in this industry. Unlike other marketing consultants, we have worked largely with many pool and spa firms throughout North America. We know what works, what doesn't, and we are continually upgrading our skills and knowledge to best serve our clients.
Discover your opportunities for growth and receive an evaluation of your company's presence by arranging for a discovery call with one of our digital marketing consultants. Contact us online or call us direct at (281) 569-4370.
About Small Screen Producer
Small Screen Producer is dedicated to create and optimize your company's total online presence. As a leading innovator of digital media marketing since 2008, we have the experience to capitalize on your unique strengths to help your business succeed. Our goal is to help you Position, Pursue, Promote, and Protect your business. We offer a complete line of digital marketing solutions to get this done. They include website design, Google Ad services, Facebook and Instagram Ad services ,website lead capture tools and automation, social media marketing, reputation management, technical services, , graphic design, video production and monthly service plans. We take your online marketing and advertising off your to-do list, so you can focus on your core business.
Contact us today to learn more about boosting your company's revenue through our four pillars of success that will Position, Pursue, Promote, and Protect your business.