Customer Reviews Impact Where (And If) You Show up on Google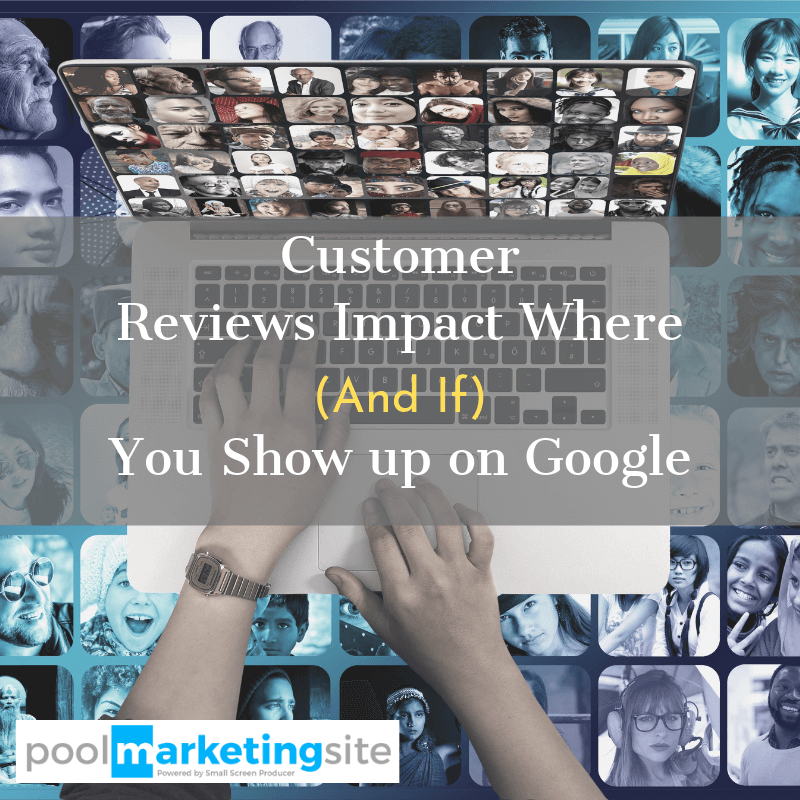 Since Google's September 2019 algorithm update, the question of customer reviews and how they impact search performance has been a hot topic. Google has now made it no secret that the reviews your customers leave for you certainly do have an effect on how and where you show up on Google search.
"Should I" Questions On The Rise
Google reported that the number of "should I?" questions have increased by 80% for mobile search. This means that users are looking for subjective answers (such as opinions, recommendations and reviews) from past and current customers about your company.
While your pool company can't directly control these types of responses, you can influence these subjective answers through thorough and effective reputation management.
Customer Reviews and Reputation Management
Reputation management is a system your pool company can implement to encourage, monitor and respond to any and all customer reviews across all of your digital properties. This also means responding to negative reviews and ultimately delivering the best customer experience through quality and consistency.
Don't have the time? The question pool companies have to ask themselves is if they can afford to not perform regular reputation management. Google and other search engines can pre-filter search results, favoring companies with reviews that include words like "best" and "recommend" and they are more likely to show businesses with a rating of 4 stars or more.
It's also important to consider the fact that only 40% of businesses are responding to customer reviews. This means that your pool company may have a substantial untapped opportunity to usurp competitors simply because you're replying to the comments and concerns of your customers.
Why Hire Pool Marketing Site for Your Company's Reputation Management
Pool Marketing Site combines its years of experience in digital marketing with state-of-the-art technology to deliver top-notch reputation management services to pool companies. Our solutions include online monitoring, customer review monitoring, brand preservation, enhanced online listings and more.
We offer reputation monitoring services as a stand-alone package. Or you can take advantage of one of our affordable tiered marketing plans to enjoy more of our online marketing services! Call us today to learn more at (281) 569-4370.
About Small Screen Producer
Small Screen Producer is dedicated to create and optimize your company's total online presence. As a leading innovator of digital media marketing since 2008, we have the experience to capitalize on your unique strengths to help your business succeed. Our goal is to help you Position, Pursue, Promote, and Protect your business. We offer a complete line of digital marketing solutions to get this done. They include website design, Google Ad services, Facebook and Instagram Ad services ,website lead capture tools and automation, social media marketing, reputation management, technical services, , graphic design, video production and monthly service plans. We take your online marketing and advertising off your to-do list, so you can focus on your core business.
Contact us today to learn more about boosting your company's revenue through our four pillars of success that will Position, Pursue, Promote, and Protect your business.