3 Tips for Pool & Spa Companies to Get Started with Local SEO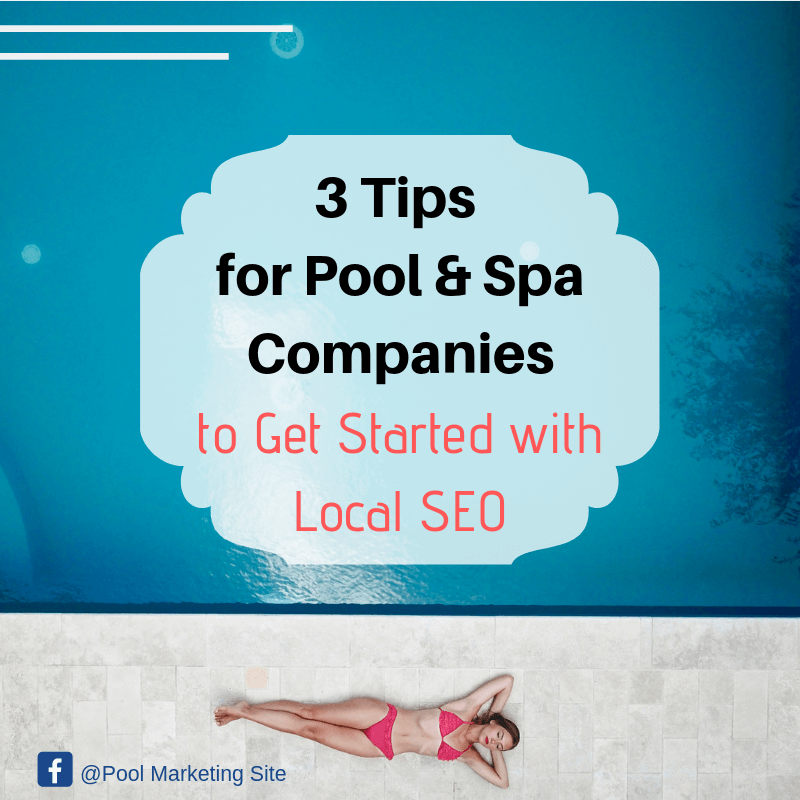 Google has uncovered a correlation between the number of "near me" searches and a consumer's purchasing behavior.
According to Google's data, there has been a 500% increase over the past two years in "near me" searches, which also contain variations of the phrase "To Buy" or "Can I Buy." Other studies have found that 97 percent of consumers search online to find a local business, and 88 percent of mobile users who look up a local business either call or visit that company within 24 hours.
This is a clear indication that proximity and local SEO are becoming all the more important for pool and spa businesses.
How Pool Companies Can Get Started with Local SEO
It's never too late to boost your presence in your community. Here's how you can get started today!
1. Claim and Optimize Your Google My Business Listing
Enter relevant and specific data detailing exactly what your pool and spa company has to offer while sprinkling in relevant keywords and search phrases. This will help both Google and consumers find you.
Another important step is to make sure that the operating hours of your business are accurate. For example, if you have different hours during the winter than during the spring and summer, take a moment to make sure this information is up to date.
Finally, include photos. According to Google, listings with photos receive 35 percent more click-throughs to their website and a 42 percent increase in driving direction requests on Google Maps.
2. Have Your Business Listed on Local Business Directories
A pool and spa company listed on more than one online business directory significantly increases its chances of being found. Directories provide useful backlinks to your site which can give you a major boost when it comes to local SEO.
Being on a directory will also strengthen your reputation. This is because directories are often viewed as being a reliable source for trustworthy and relevant companies.
3. Gather and Monitor Customer Reviews
One bad review can cause irreparable damage to your pool and spa company. By having a system in place to both check and reply to customer reviews – both the good and the bad – you go a long way in protecting your brand locally and globally.
Need Help With Your Local SEO?
Pool Marketing Site is here to help! We offer an array of local SEO solutions, including Google My Business listings, directories, reputation management and more!
Feel free to check out our website and reach out with any questions you may have at (281) 940-3798.
About Small Screen Producer
Small Screen Producer is dedicated to create and optimize your company's total online presence. As a leading innovator of digital media marketing since 2008, we have the experience to capitalize on your unique strengths to help your business succeed. Our goal is to help you Position, Pursue, Promote, and Protect your business. We offer a complete line of digital marketing solutions to get this done. They include website design, Google Ad services, Facebook and Instagram Ad services ,website lead capture tools and automation, social media marketing, reputation management, technical services, , graphic design, video production and monthly service plans. We take your online marketing and advertising off your to-do list, so you can focus on your core business.
Contact us today to learn more about boosting your company's revenue through our four pillars of success that will Position, Pursue, Promote, and Protect your business.