Are Online Brand Mentions Helping or Hurting Your Pool Company?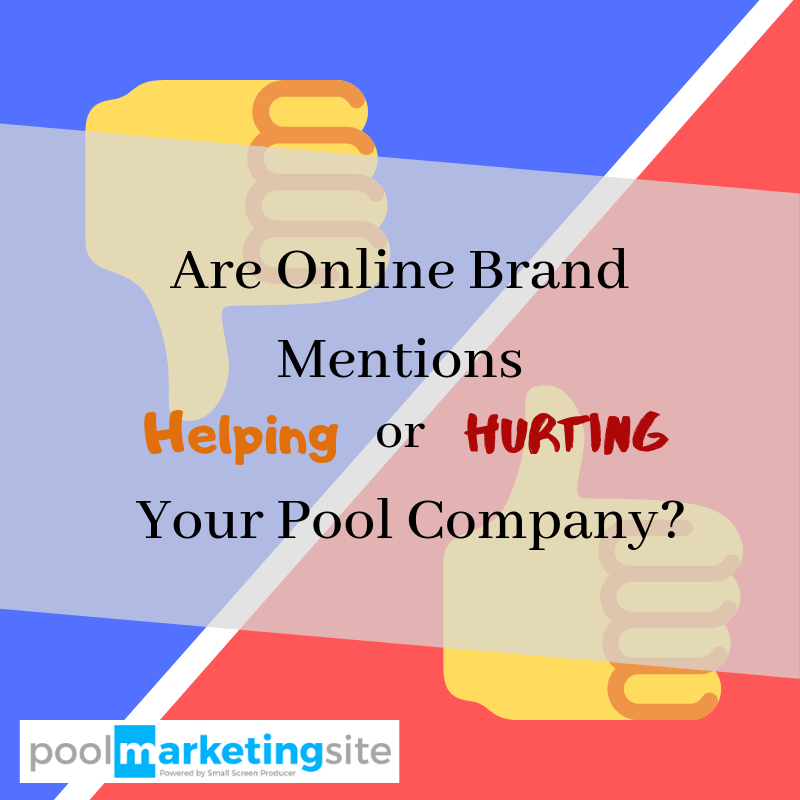 Online brand mentions are becoming increasingly important to pool and spa companies.
Google recently announced that it has incorporated online brand mentions into its search algorithm. The more positive brand mentions a company receives, the better your company is going to perform in the search results.
The opposite can also be true, with negative reviews having the potential to knock your pool and spa company down a few pegs and below your competitor's online listing.
Online Brand Mentions Will Affect Your Pool Company
Google takes a number of factors into account in terms of brand mentions, such as:
Advertising

How much customers trust your company

How well your company resolves online complaints
There are several ways your pool company can increase the number of times your business name is mentioned online. Creating content is one way, and engaging with customers through reviews and comments is also a great way to give your company a nice boost.
Google has made one thing abundantly clear. The businesses who are able to monitor and respond to reviews are going to have a key advantage over those who don't.
Partner with a Trusted Reputation Management Strategist
With a strong reputation management strategy almost any company can bounce back from a PR nightmare.
Here at Pool Marketing Site, we go beyond tracking your company listings, online brand mentions and reviews. We go the extra mile for our clients by adding promotional links and CTAs right in your listings, we ensure that your business listings are accurate and up to date, and we provide insightful executive reports which tell the story of how your pool company is perceived online.
We offer three different levels of protection based on your needs and budget. To learn more about our reputation management solutions, click here or give us a call at your convenience at (281) 940-3798.
About Small Screen Producer
Small Screen Producer is dedicated to create and optimize your company's total online presence. As a leading innovator of digital media marketing since 2008, we have the experience to capitalize on your unique strengths to help your business succeed. Our goal is to help you Position, Pursue, Promote, and Protect your business. We offer a complete line of digital marketing solutions to get this done. They include website design, Google Ad services, Facebook and Instagram Ad services ,website lead capture tools and automation, social media marketing, reputation management, technical services, , graphic design, video production and monthly service plans. We take your online marketing and advertising off your to-do list, so you can focus on your core business.
Contact us today to learn more about boosting your company's revenue through our four pillars of success that will Position, Pursue, Promote, and Protect your business.