How Pool & Spa Companies Can Improve Video Content Performance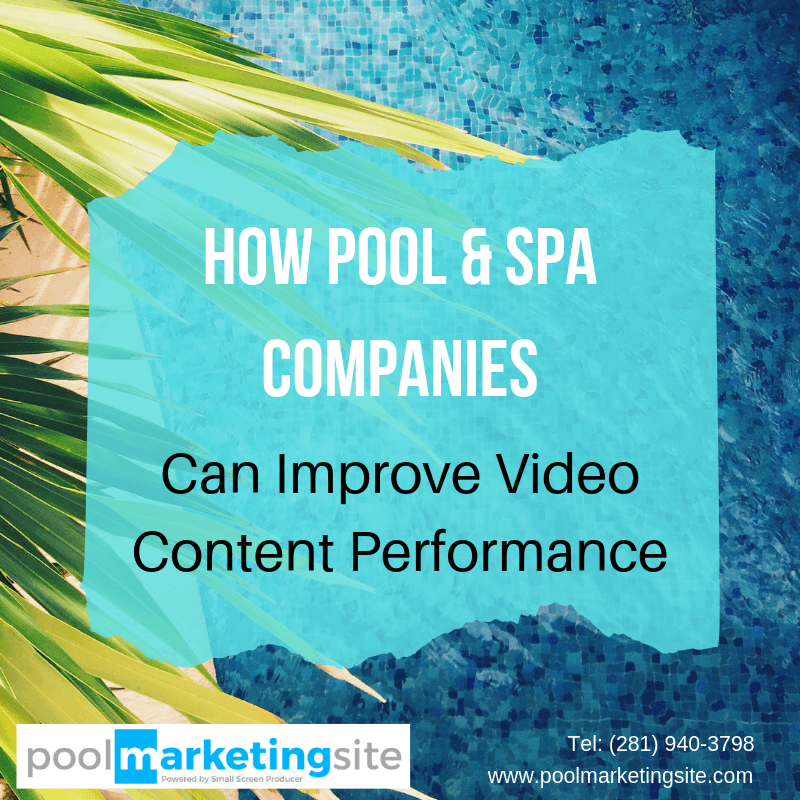 We may not always be able to predict the future. But recent research from HubSpot makes it pretty clear that video content is here to stay. People want to see more videos from the brands they love, and pool and spa companies are no exception.
Like many companies in this industry, you've likely already produced and published at least one or more videos online. If your videos aren't getting as much traction as you'd like, here are some things to consider.
Check the Thumbnail
A bad thumbnail image for your video can make or break its success. It's the first impression people get of your video and it's responsible for telling viewers what your video is about.
Wistia recently reported that having a custom human thumbnail results in an average 30 percent higher play rate. So take some time to make sure that your video is accompanied with a high quality thumbnail image.
Check the Script
Different types of content require a different approach. While, for example, the overall message in a blog post may be the same as your video content, how that message is delivered should be a lot different.
Research has shown that people prefer shorter videos. On average you'll retain about 75 percent of viewers if your video is within the one to two minute range. This number continues to decline as time goes on.
Unlike blog posts where you can provide extensive examples and analysis, your video script should be short, sweet and right to the point. The tone used will likely also be quite different from a blog post with a friendly more conversational tone typically going over better with viewers.
Check the Quality
Low quality video content can do irreparable damage to your pool and spa company. Poorly shot footage, audio and editing can leave viewers with a negative impression of your brand.
Quality video can be shot with a camera you have at home or even your smartphone. This a lot of pool and spa companies have been able to master. Where they tend to struggle are with audio and the editing process.
Piecing video content together takes a lot of time, talent and experience. This is why Pool Marketing Site offers affordable video editing services to pool and spa companies. We take whatever it is you want in your video – such as raw footage, screen captures, images, 3D project renderings and GoPro footage – and transform this media into a captivating story for your audience.
For more information on our cost-effective video content editing services, we invite you to contact us online or give us a call today at (281) 940-3798.
About Small Screen Producer
Small Screen Producer is dedicated to create and optimize your company's total online presence. As a leading innovator of digital media marketing since 2008, we have the experience to capitalize on your unique strengths to help your business succeed. Our goal is to help you Position, Pursue, Promote, and Protect your business. We offer a complete line of digital marketing solutions to get this done. They include website design, Google Ad services, Facebook and Instagram Ad services ,website lead capture tools and automation, social media marketing, reputation management, technical services, , graphic design, video production and monthly service plans. We take your online marketing and advertising off your to-do list, so you can focus on your core business.
Contact us today to learn more about boosting your company's revenue through our four pillars of success that will Position, Pursue, Promote, and Protect your business.