New Display Advertising Stats Your Pool Company Should Know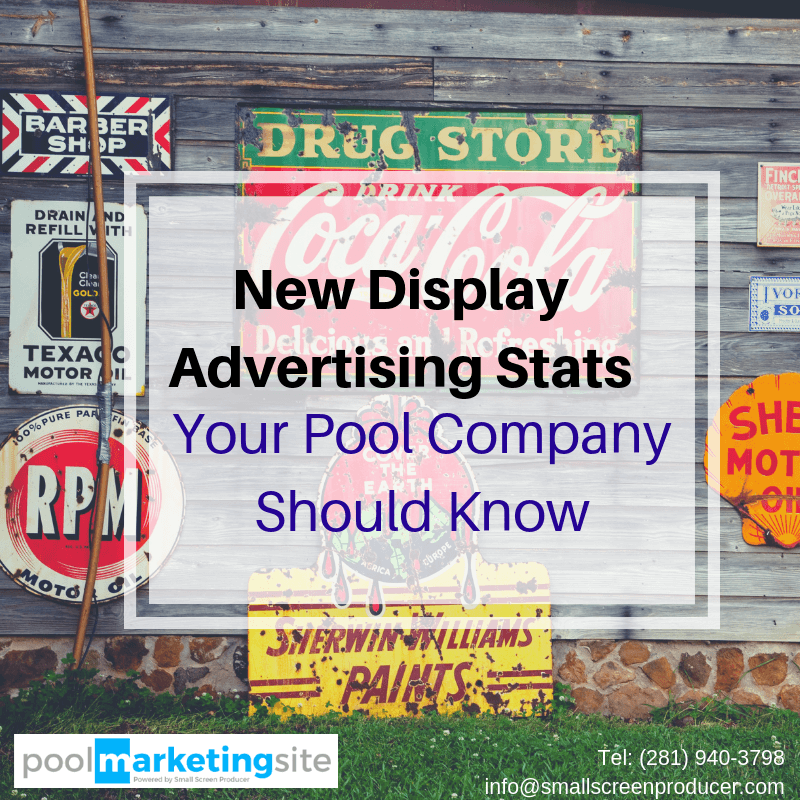 Advertising on social media, websites and apps through video, audio, text and images (also known as display advertising) has become one of the most effective methods for expanding a brand's reach and attracting visitors. Some industries tend to fair better when it comes to display advertising, and pool companies are one of those leading the pack.
SEMrush recently released their Display Advertising Stats 2019. The research was based on more than 23 million impressions from leading GDN ecommerce publishers from around the globe and over 40 million impressions from many of the top GDN ecommerce advertisers.
Below are some of the highlights.
Display Advertising on Other Ecommerce Sites Has Profit Potential
Based on research findings, 5.51 percent of ecommerce website visitors are also likely to be interested in the home and garden industry. This means that having display advertising for your company appearing on or alongside other ecommerce websites can help you snag the attention of new potential leads.
Cross-Device Targeting an Effective Strategy
The research also found that the impressions of the ads produced from top advertisers were fairly evenly distributed across all devices. The range, from desktop at 16 percent to Android tablets at 22 percent, indicates that advertisers are able to use cross-targeting to capture audiences at each stage of their ad campaign.
What does this mean for you? Having an easy-to-navigate website, which translates well onto any device. Responsive web design is one of the best ways to ensure that your website is always looking its best.
Leaderboard-Style Display Advertising Most Popular
Not too surprisingly, the so-called "leaderboard" ads (728×90) which sit at the top of Google's search results are currently the top performers when it comes to ad sizes. The next most popular were the 300×250 ad size (also known as the "medium rectangle") and the 336×280 ad size (also known as the "large triangle").
With the right ad strategy, any pool and spa company can find success on the World Wide Web.
Save yourself stress, eliminate unnecessary spending, and streamline quality traffic to your website's doorstep with Pool Marketing Site. Our digital marketers know what it takes to optimize display advertising campaigns so that they will perform their best for your company.
To learn more we welcome you to give us a call at (281) 940-3798.
About Small Screen Producer
Small Screen Producer is dedicated to create and optimize your company's total online presence. As a leading innovator of digital media marketing since 2008, we have the experience to capitalize on your unique strengths to help your business succeed. Our goal is to help you Position, Pursue, Promote, and Protect your business. We offer a complete line of digital marketing solutions to get this done. They include website design, Google Ad services, Facebook and Instagram Ad services ,website lead capture tools and automation, social media marketing, reputation management, technical services, , graphic design, video production and monthly service plans. We take your online marketing and advertising off your to-do list, so you can focus on your core business.
Contact us today to learn more about boosting your company's revenue through our four pillars of success that will Position, Pursue, Promote, and Protect your business.