Case Study: Platinum Pools' Facebook Success
Can you imagine having over 1,600 Facebook fans, i.e. leads? Today we're going to examine Platinum Pools' excellent use of Facebook marketing. To help shed some light on how Facebook can be an effective tool, we'll focus on branding, engagement and interaction.
Branding
First, let's take a look at their custom Welcome page.  What is a Welcome page? It's a custom, designed doormat for a business page where a business can essentially brand themselves and deliver any communication message they want.  You can do more than one custom tab page too, but let's focus on the Welcome page for now. Take a gander!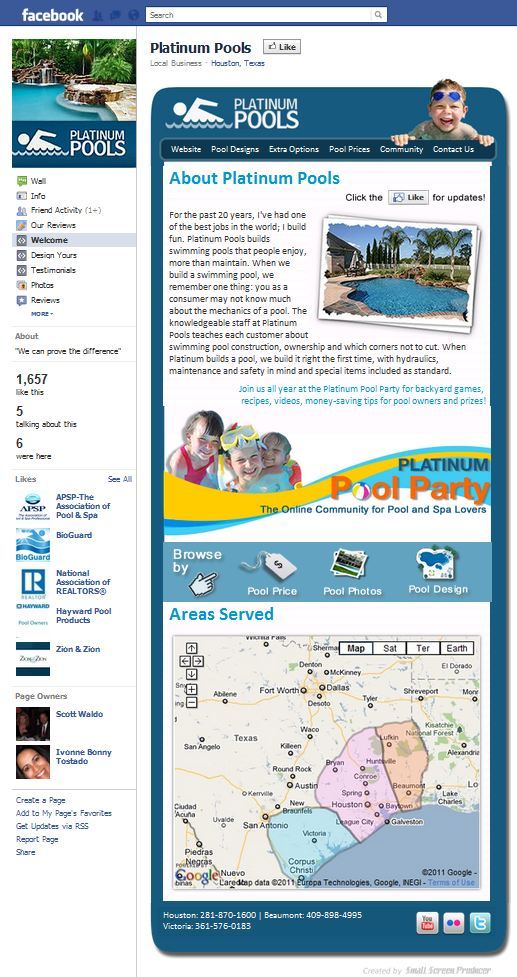 One of the first things you see is the cute, little boy peeking over the graphic. Endearing, isn't it? Pool moms LOVE this.
You'll also see a mini-website navigation menu.  These menu items link to the real web page on the site to help drive traffic where they want. There is also an instruction to "like" the page for updates.  This helps in keeping Platinum Pools top of mind all year round because it will add them to their fans' daily news feed.
Below the navigation menu, you'll see an "About Us" write-up to help communicate their branding, an invitation to join their interactive community, or their blog, some quick links to their photo galleries and a giant map of their service area.
Ask yourself, what question didn't they answer with the branded Welcome page? We sure can't think of any. A potential consumer knows or has access to any piece of information they're looking for, all within a few clicks from Facebook.  They never had to step foot on their website to access this information.  They found it all within Facebook.  Click here to view some more of our custom, designed Facebook pages.
Engagement
What do we mean when we say "engagement?" Take a look at Platinum Pools' Facebook wall, and then we'll discuss.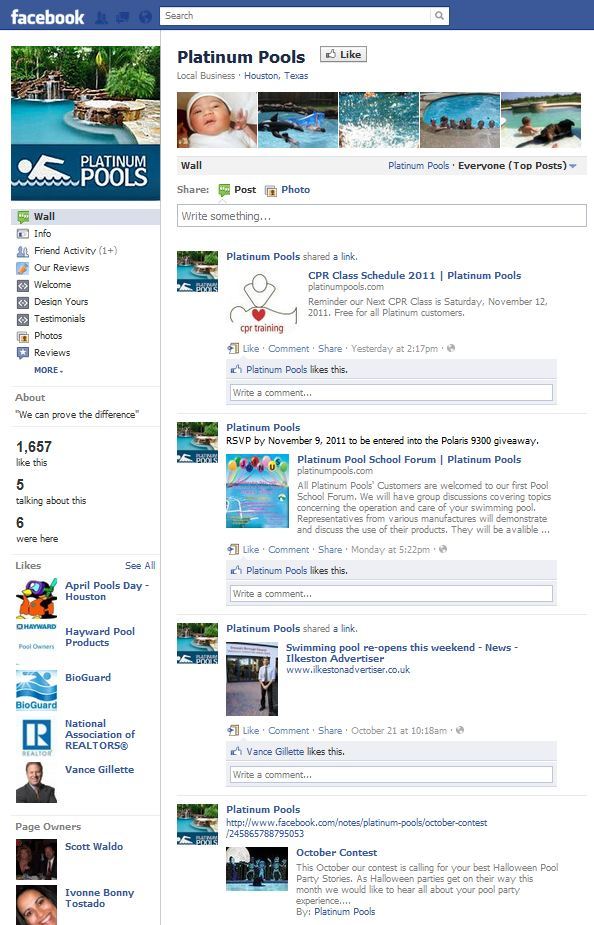 CPR classes, school forums, relevant articles and October contests….it's all engagement! Every single post on their wall has meaning and value for their fans.
If you want fans but can't figure out how to get any, first you need to take a step back and think about whether you're offering anything worth looking at or interacting with on your page.
If every post you write is about yourself, there's a red flag.
If you post once every four months, there's a red flag.
If you post grammatically incorrect updates, there's a red flag.
Your content needs to be relevant and consistent.  If you want to be known as a service expert, post tips on how the maintain a pool.  If you want to be family-friendly, like Platinum Pools, post content that a pool mom would be interested in that is backyard-centered.
Interaction
Facebook isn't just for talking at your fans.  Facebook is for talking with your fans.  Take a look at how Platinum Pools connected with one of its customers: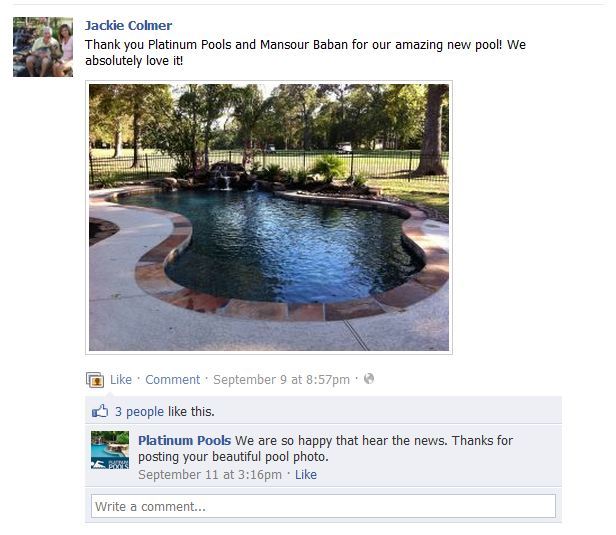 Interacting with your fans can further your branding efforts and transform your business away from just another name in the phone book.  Your business can now become likable, literally.
Your fan interaction can also help position you as an industry leader.  Share your pool knowledge and let your business come across as helpful and honest.
We at the Pool Marketing Site LOVE Facebook marketing and appreciate the opportunity to work with you even more.  Please let us know if you need help or guidance in this process, and we'll be happy to help.
About Small Screen Producer
Small Screen Producer is dedicated to create and optimize your company's total online presence. As a leading innovator of digital media marketing since 2008, we have the experience to capitalize on your unique strengths to help your business succeed. Our goal is to help you Position, Pursue, Promote, and Protect your business. We offer a complete line of digital marketing solutions to get this done. They include website design, Google Ad services, Facebook and Instagram Ad services ,website lead capture tools and automation, social media marketing, reputation management, technical services, , graphic design, video production and monthly service plans. We take your online marketing and advertising off your to-do list, so you can focus on your core business.
Contact us today to learn more about boosting your company's revenue through our four pillars of success that will Position, Pursue, Promote, and Protect your business.