Client Profile: Laguna Pools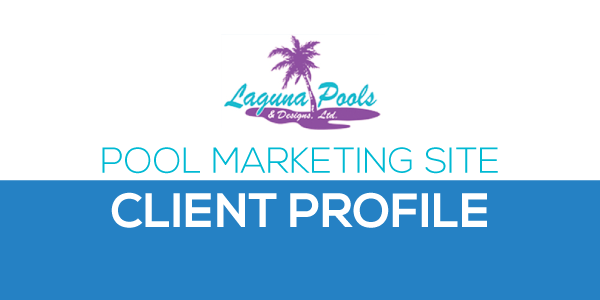 Websites have become more than just an online brochure, they've become an interactive representation of your brand on the web and social world. A website should now offer information about your services and represent your brand personality in a way that attracts and engages site visitors.
As native Houston pool builder with a knack for quality workmanship and a stellar community reputation, Laguna Pools has become the ultimate custom pool designer for homeowners, realtors, and homebuilders all over the Houston area. And the company takes pride in placing a bit or personality into designs to transform a dull and boring backyard space into the paradise getaway of your dreams.
Laguna Pools specializes in custom pool design – think beach entries, Roman-chic, resort-style or something entirely different you've dreamed up. In addition, Laguna can spice up an existing pool with outdoor kitchens, custom spas, new decking and landscaping.
The Pool Marketing Site team set out to build a custom WordPress site for the company, build with fun in mind to match Laguna's personality. The homepage offers the visitor an organized navigation bar set with all the services Laguna offers for custom pool design and pool services.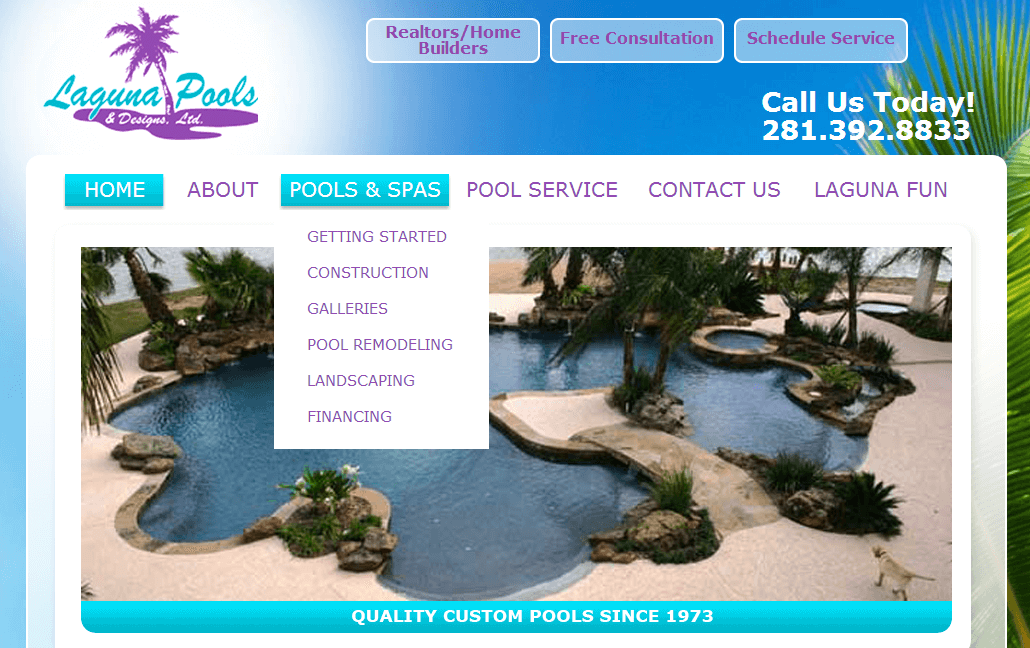 On a side panel, get inspired by the categorized photo galleries for all pool features. What we created especially for Laguna was a separate video idea gallery, which takes visitors away to see all the possibilities for their backyard oasis in action.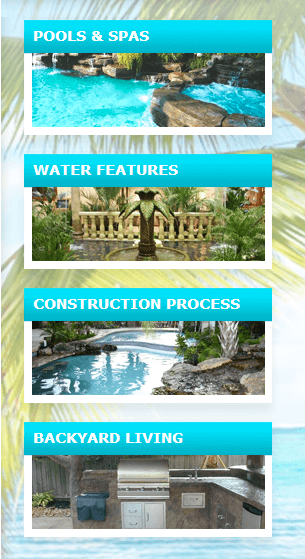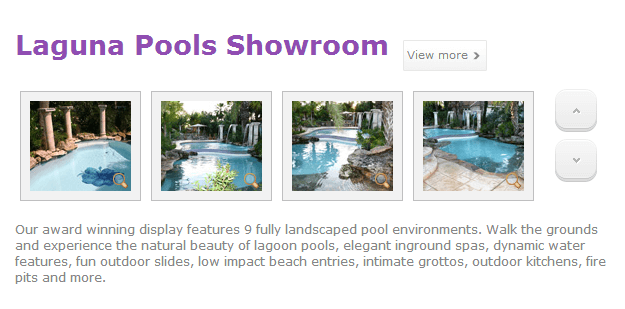 There's a lot to know about Laguna, a company that's been around since 1973, so we went ahead and embedded custom video production that visitors can view to get to know the company, its history, and its many awards and recognitions.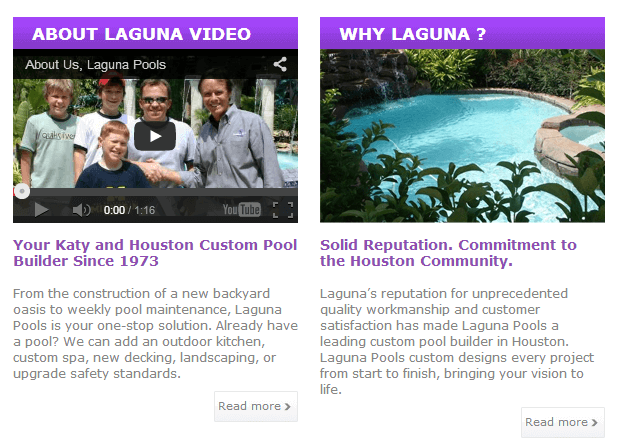 An FAQ page was added for an extra touch as well as a whole section for client testimonials and five star ratings to show off the company's experience and reputation.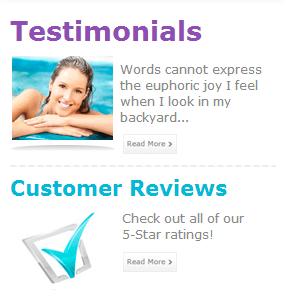 Points-of-contact add a huge boost in lead generation with free eBook downloads and a place to subscribe to their e-newsletter.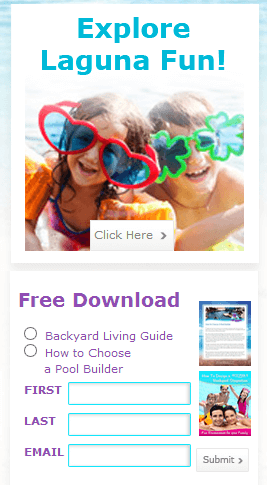 Fun with Laguna doesn't just stop at the pool design process, so we created an editorial-style blog chalk-full of fun backyard living ideas to enjoy in new backyard spaces.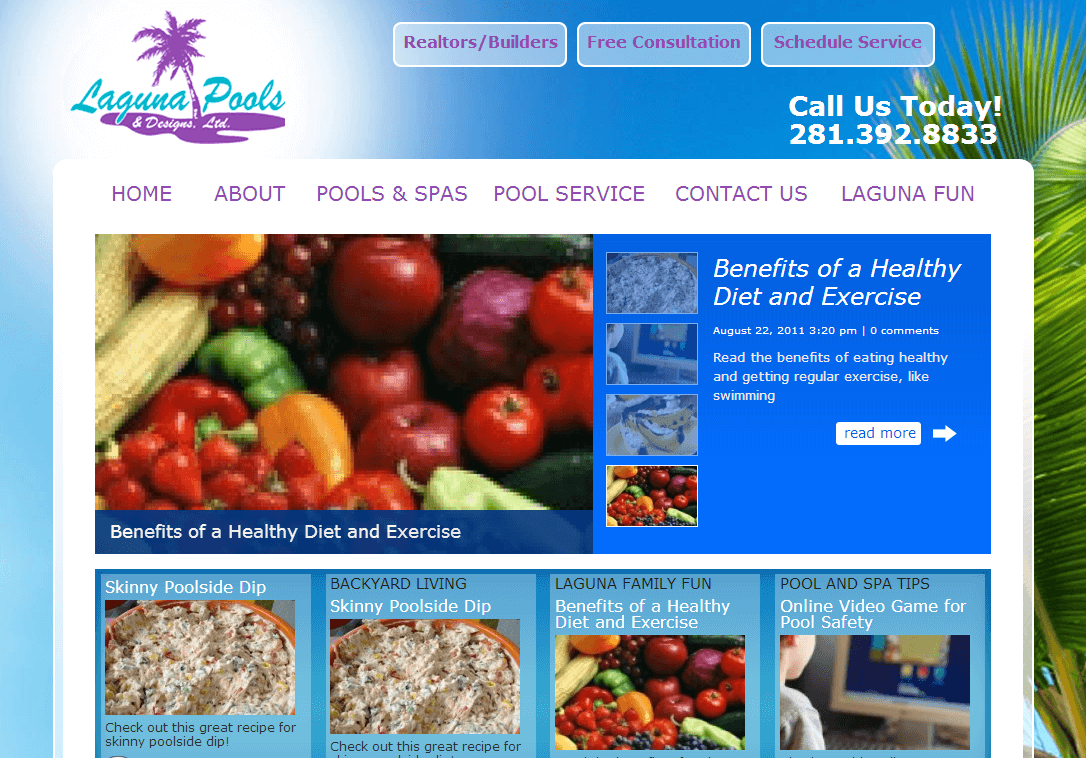 It's important for any website to not only offer the basic information that's expected on an everyday website, but a little twist that shows off a brand's personality, experience, leadership, and customer satisfaction as well. On top of that, our vision for the Laguna site was to only create a place to be informed, but one to be pleasantly inspired.
About Small Screen Producer
Small Screen Producer is dedicated to create and optimize your company's total online presence. As a leading innovator of digital media marketing since 2008, we have the experience to capitalize on your unique strengths to help your business succeed. Our goal is to help you Position, Pursue, Promote, and Protect your business. We offer a complete line of digital marketing solutions to get this done. They include website design, Google Ad services, Facebook and Instagram Ad services ,website lead capture tools and automation, social media marketing, reputation management, technical services, , graphic design, video production and monthly service plans. We take your online marketing and advertising off your to-do list, so you can focus on your core business.
Contact us today to learn more about boosting your company's revenue through our four pillars of success that will Position, Pursue, Promote, and Protect your business.