Client Profile: Poolside Designs Inc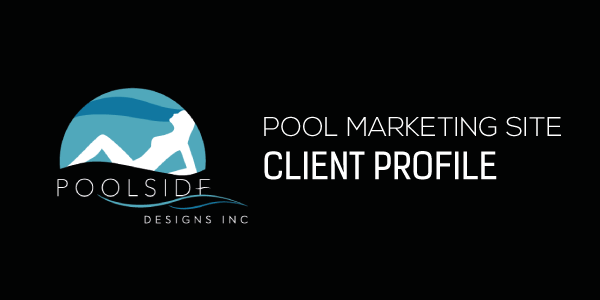 Poolside designs is this week's featured client! The family-owned, custom pool builder is known for envisioning and creating one-of-a-kind swimming pool designs and pool water features. Owner Yadira Beccera grew up watching her father create sought-after, spectacular pool designs and features in the backyards of many families over the years. She continues her father's legacy today by offering the highest-quality design backed by her team of qualified experts and contractors that have been in the field for over 24 years. She focuses on providing family-friendly customer service, honesty, and a unique craftsmanship for building the ideal backyard oasis.
Poolside Designs approached the Pool Marketing Site team wanting to enhance their current web presence and enhancing their position in the Houston-area market. The team strategically created a website that highlighted the company's taste as well as their one-of-a-kind talent and expertise for creating beautiful pieces of art for family pools.
The first thing you'll notice when you visit the website is the gorgeous high-resolution photo slider that captures the essence of the gorgeous pieces designed by the pool builder. Scroll down on the sleek, modern website design and you'll discover a short intro video about the Houston-based custom pool company on the right side and table of rich, categorized photo galleries of all their services on the left. In addition to a chic introduction, visitors can access and read client testimonials, news, and updates directly from the home page.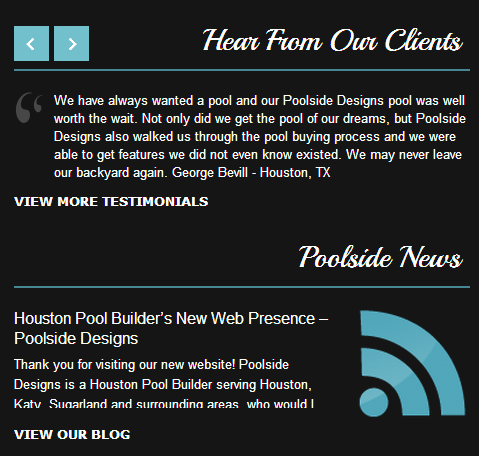 Contact information and social media integration provide an immediate way for visitors to get in touch with the pool designer to get started. The site's contact page lists areas served and an interactive map.
Poolside designs are lavish, attention-grabbing pieces custom-made to fit the many different lifestyles in the Houston area. Not one design made by the builder is the same. By positioning their stunning portfolio as the very first thing site visitors see, we were able to first capture the visitors' attention and then tell a powerful, short story about the Poolside Designs team – a group of individuals committed to offering personalized and professional service backed by years of experience, knowledge, and family tradition. 
Need some help with enhancing your pool builder or retailer site? Contact our team! We'll run a free marketing report that will provide tips and recommendations on how you can enhance your business's overall web strategy. 



About Small Screen Producer
Small Screen Producer is dedicated to create and optimize your company's total online presence. As a leading innovator of digital media marketing since 2008, we have the experience to capitalize on your unique strengths to help your business succeed. Our goal is to help you Position, Pursue, Promote, and Protect your business. We offer a complete line of digital marketing solutions to get this done. They include website design, Google Ad services, Facebook and Instagram Ad services ,website lead capture tools and automation, social media marketing, reputation management, technical services, , graphic design, video production and monthly service plans. We take your online marketing and advertising off your to-do list, so you can focus on your core business.
Contact us today to learn more about boosting your company's revenue through our four pillars of success that will Position, Pursue, Promote, and Protect your business.