Client Profile: Splash Pools and Construction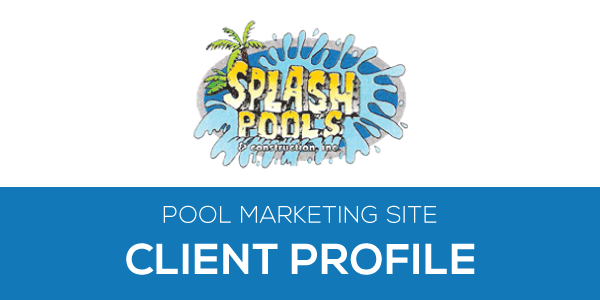 For this week's client profile, we're bringing some California sunshine into your winter week with family owned and operated Splash Pools and Construction.
Splash Pools serves San Bernadino, Riverside, Orange County and surrounding areas. Backed by 30 years of experience, Jim Stephenson focuses on building custom pools that cater to every individual taste and personality. Splash Pools strives on not only building beautiful pools, they also build a personal atmosphere for each customer and treats everyone as family.
Splash Pools not only designs and builds your pool, they focus on your entire backyard. This means they focus on the pool, the landscaping, and the outdoor living patio furniture – the whole package. Visit their homepage and the first thing you'll notice is the huge high-resolution slider, intuitive navigation bar, and three main categories. Calls-to-action and social branding are set on the main header at the top where visitors can click on at anytime, which helps Splash build leads and online engagement.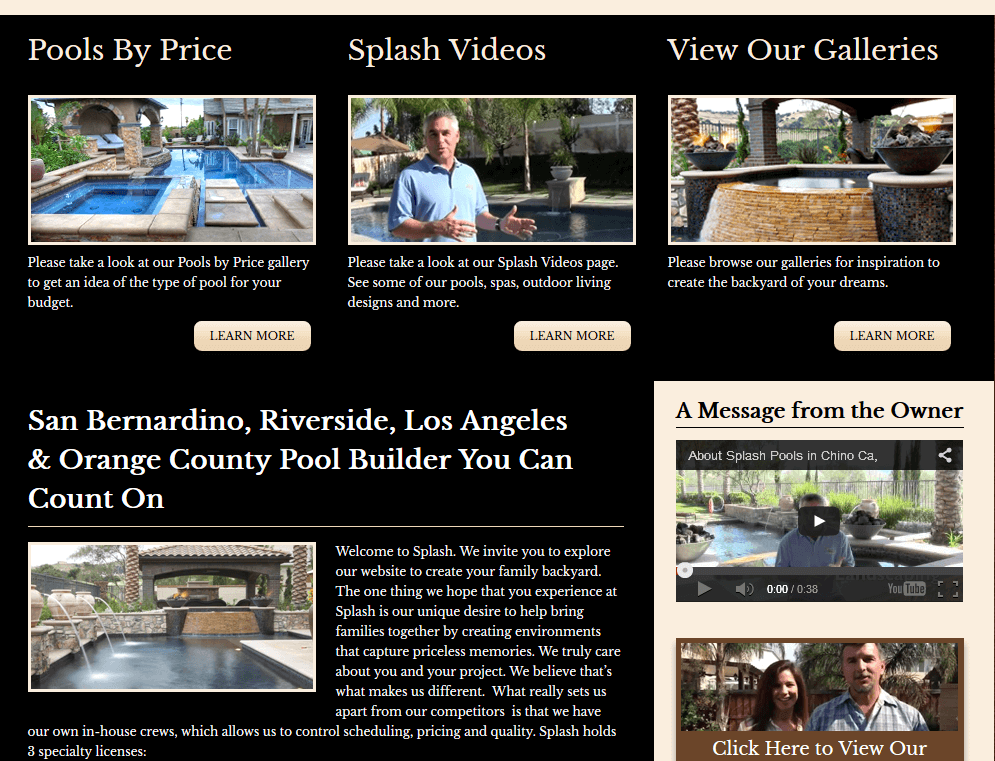 Splash Pools focuses a big commitment on communication, personal attention, and professional integrity. The user-friendly website provides information on pricing, design inspiration, and features custom videos and stories, not only show their work, but the company's personality and philanthropy both locally and worldwide.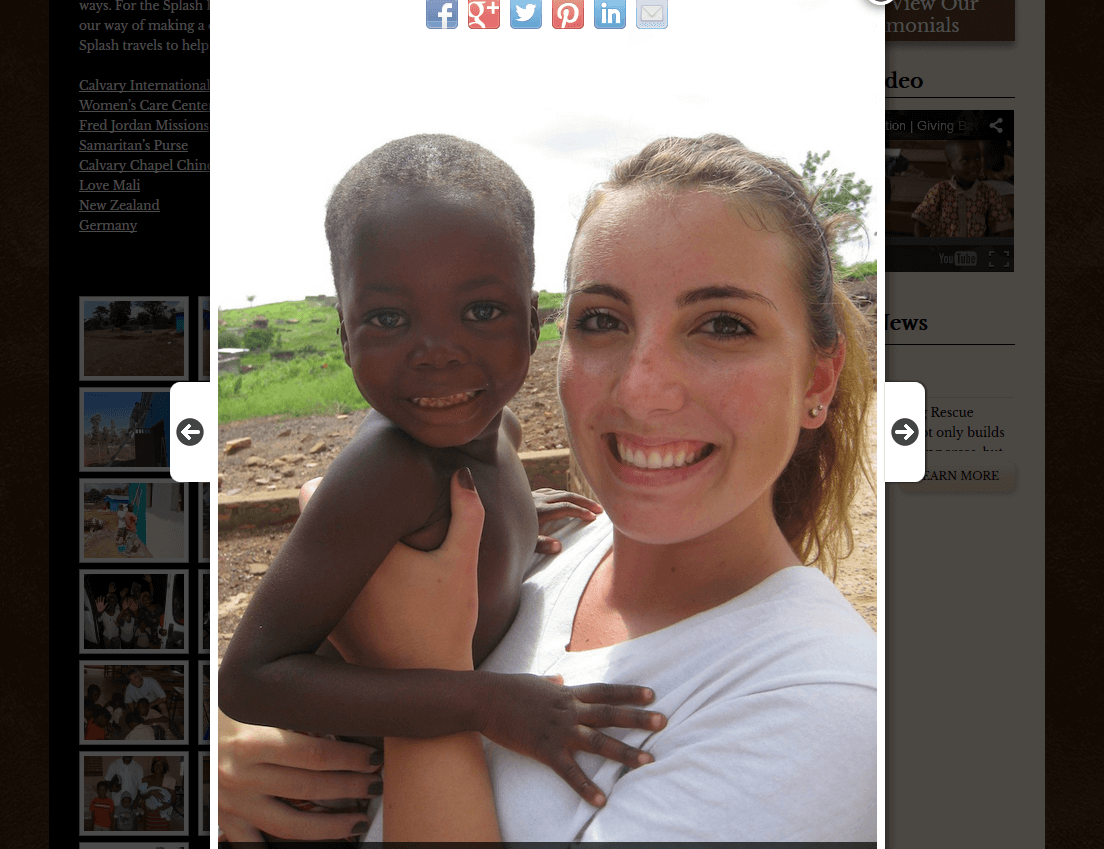 The side panel adjusts to each page. Depending on the specific page you're on, the website will change out videos and information accordingly. The panel also includes real-time widgets with the latest news and finance options.
Wanting to build a pool, spa, remodel or backyard design, but not sure what you'd like? Click on each page under the navigation and see a categorized lightbox gallery on each of the pages to give you some inspirational ideas.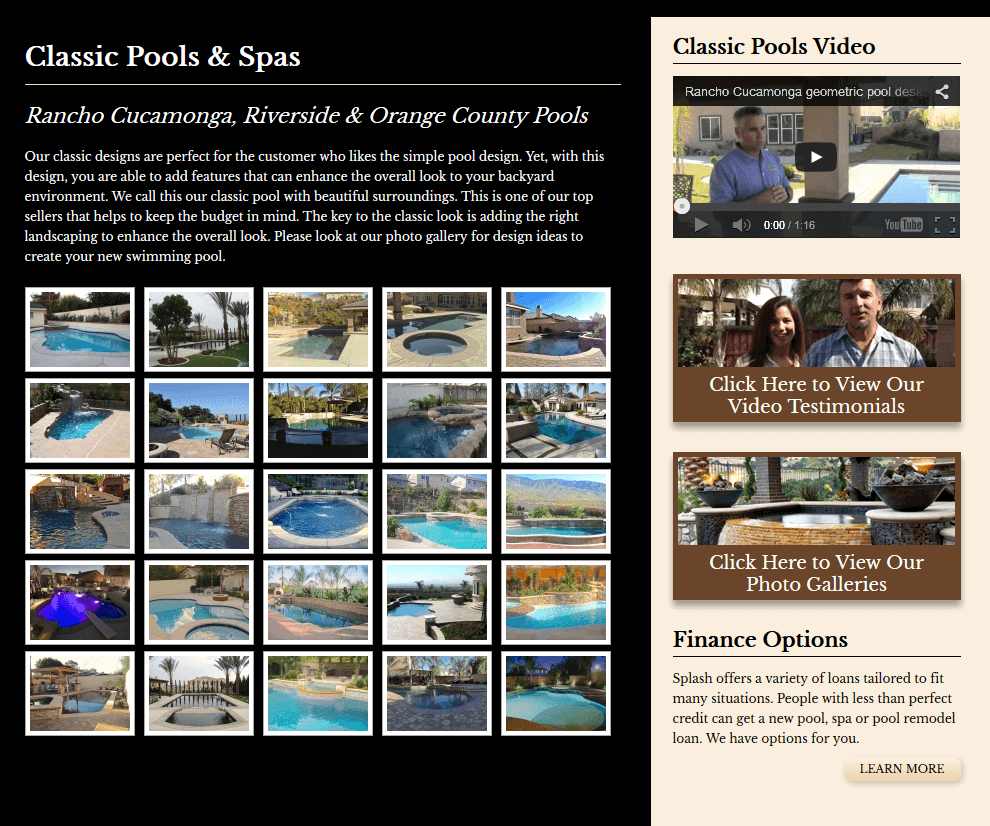 Lastly, the "Contact Us" section features four separate pages for each of the four areas served, complete with associated integrated Google Map and contact information.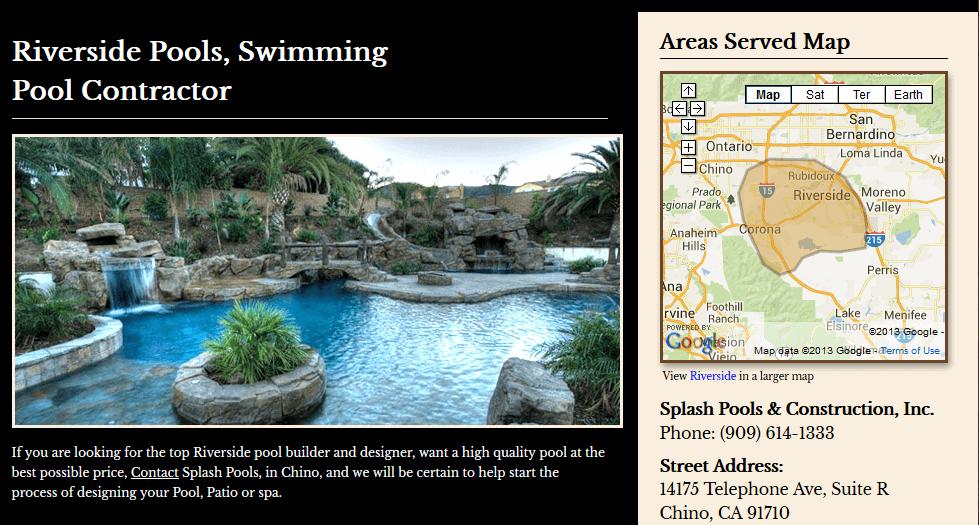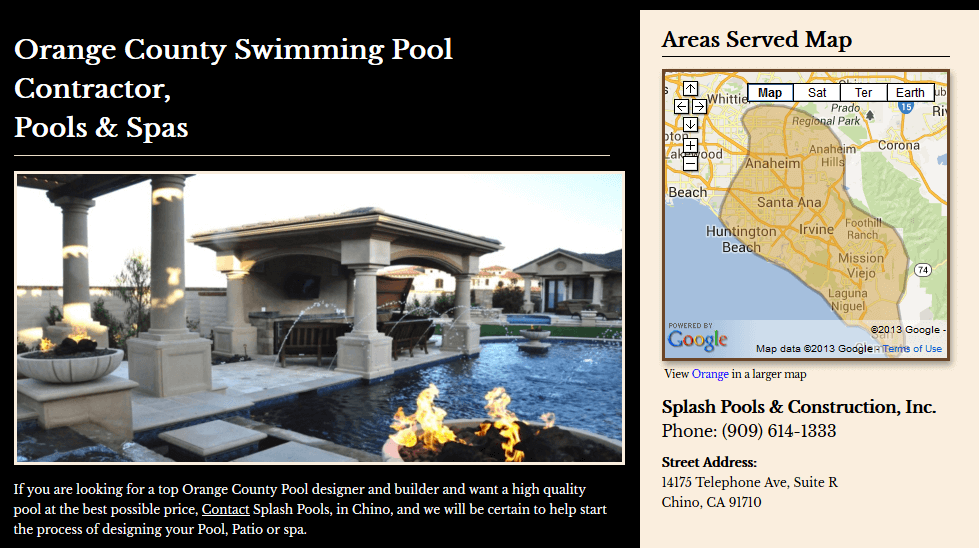 Do you need help building a brand new web presence or refreshing your current one? Sign up for our free 32-page comprehensive marketing report, which will give you information about your current presence and how if favors against competitors. 
About Small Screen Producer
Small Screen Producer is dedicated to create and optimize your company's total online presence. As a leading innovator of digital media marketing since 2008, we have the experience to capitalize on your unique strengths to help your business succeed. Our goal is to help you Position, Pursue, Promote, and Protect your business. We offer a complete line of digital marketing solutions to get this done. They include website design, Google Ad services, Facebook and Instagram Ad services ,website lead capture tools and automation, social media marketing, reputation management, technical services, , graphic design, video production and monthly service plans. We take your online marketing and advertising off your to-do list, so you can focus on your core business.
Contact us today to learn more about boosting your company's revenue through our four pillars of success that will Position, Pursue, Promote, and Protect your business.