Client Profile: Backyard Creations, Inc.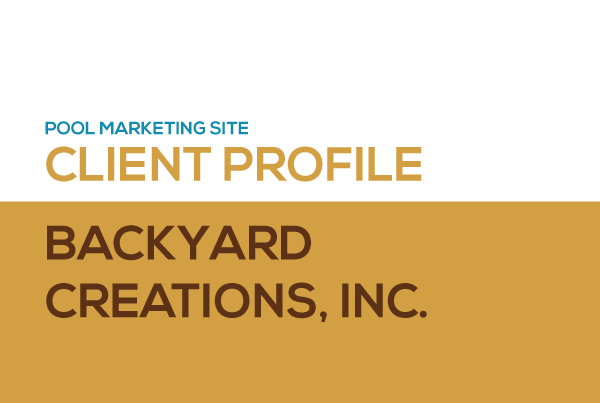 100% Custom Satisfaction.
That's what Backyard Creations, a Central Arkansas Pool Builder, strives for.  What better way to keep your customers happy and satisfied than with a beautiful, easy-to-navigate, searchable, mobile-friendly website?  Small Screen Producer created a Total Web Presence for Backyard Creations, a Hayward dealer, to match their complete customer satisfaction philosophy.
Backyard Creations creates family-friendly pool environments that reflect their family-owned business.  Their stunning, custom pools fit any budget and any yard; big or small.
The family-owned and operated swimming pool builder in Arkansas works with clients to build the highest quality pool that is affordable to each family.  Backyard Creations cares about their customers and complete satisfaction, striving for a lasting relationship with each pool owner by designing quality pools, outdoor living areas, and spas.
Keeping client usability in mind, Pool Marketing Site created a Total Web Presence for the client.  The WordPress responsive design delights with warm, inviting tones and pictures, showcasing their stunning work.
Backyard Creations specializes in three types of outdoor services: new swimming pools, outdoor living features, and spas and hot tubs.  Site visitors can quickly find information about these three services directly on the home page, or at the top of the inclusive navigation.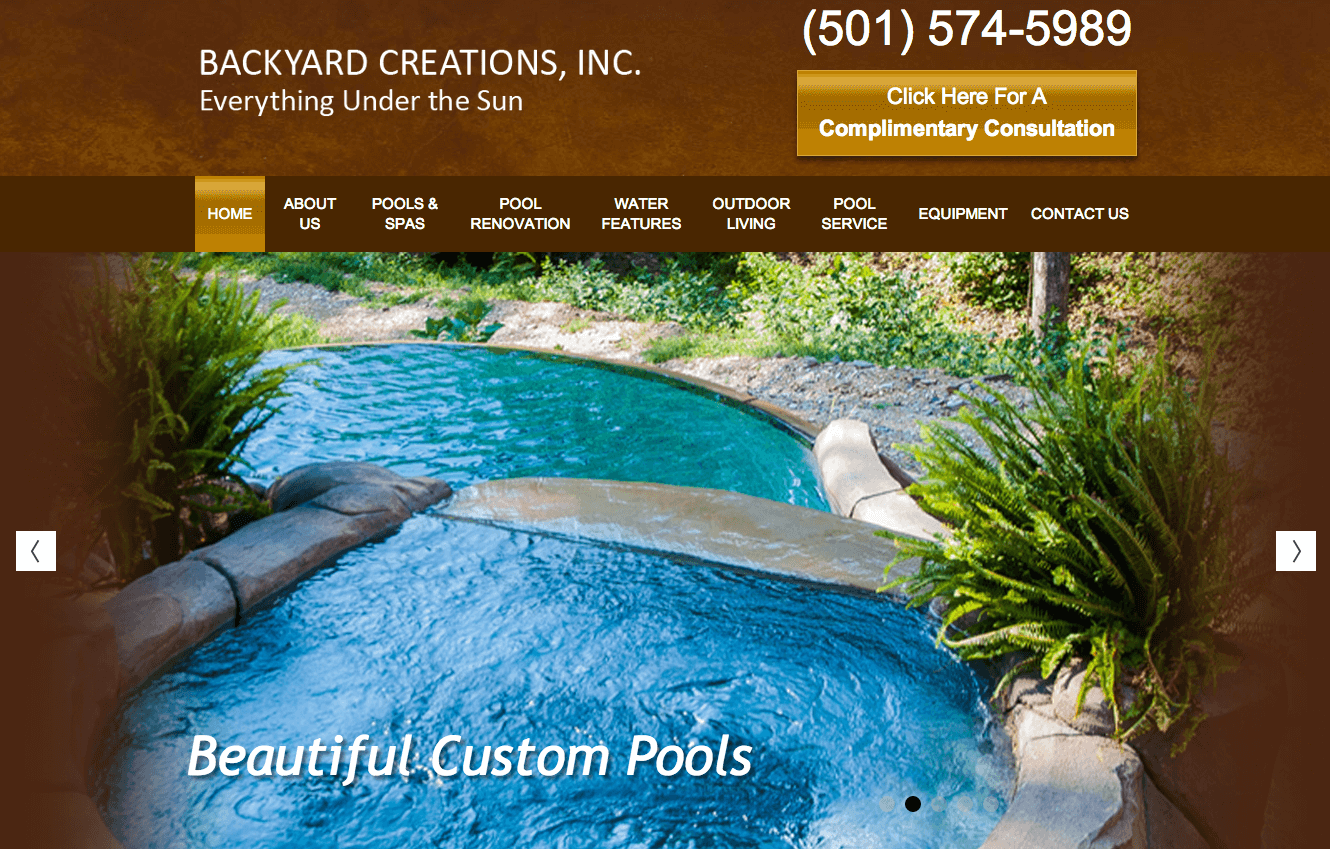 We wanted to showcase their stunning, family-friendly pool designs in an easy-to-access gallery.  Each pool, water feature, and hot tub comes with its own overview and high-resolution responsive, socially shareable gallery.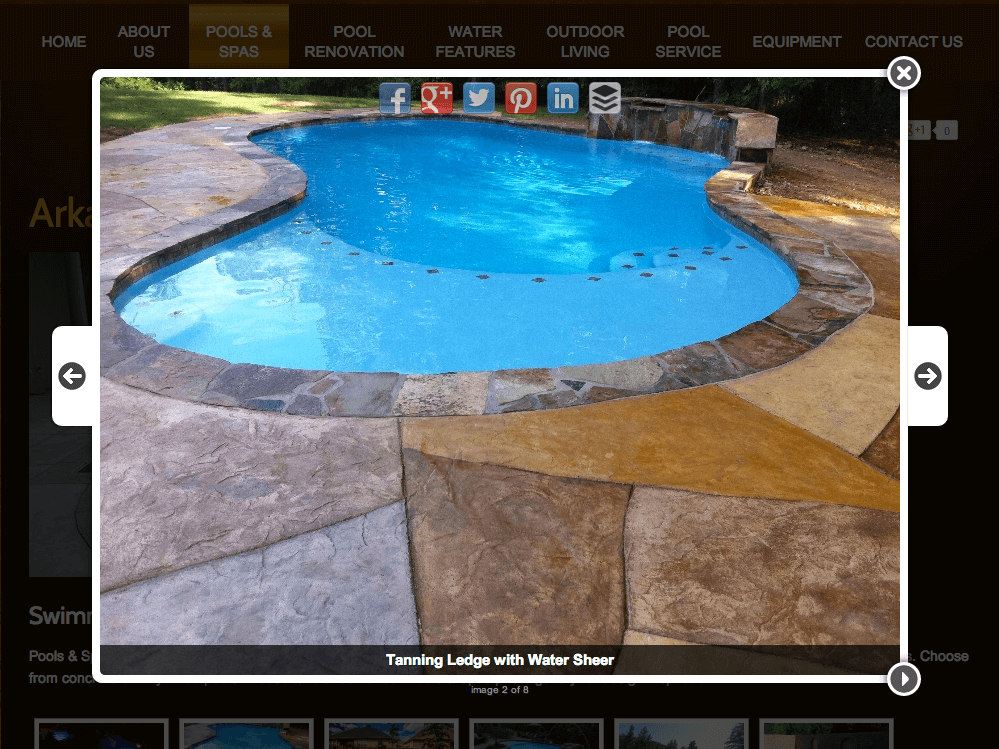 Backyard Creation's old site was already highly ranking with Search Engine Optimization.  We took their existing information and made it even better.  Their galleries are tagged, and we built out strong local keywords.  Check it out!  They rank on the first page of a Google search for many local keyword phrases!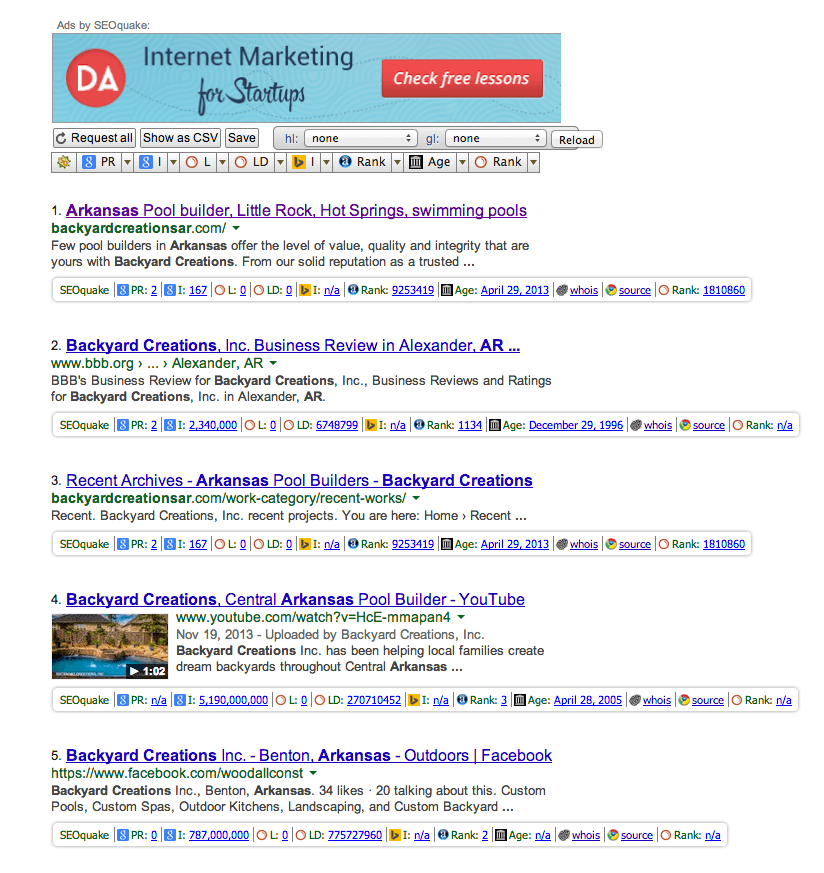 Social media integration, a contact form, and a "Click Here For A Complimentary Consultation" CTA were designed to capture prospective customers.


With an easy-to-understand navigation bar, SEO on-page copy emphasizing customer service, and stunning galleries, Backyard Creations caters to complete customer satisfaction.  Visit their brand new web presence to learn more about a  family-friendly company who aims to please!

Do you need help building a custom new web presence of your own? Sign up for our free 32-page comprehensive marketing report, which will give you information about your current presence and how if favors against competitors.
About Small Screen Producer
Small Screen Producer is dedicated to create and optimize your company's total online presence. As a leading innovator of digital media marketing since 2008, we have the experience to capitalize on your unique strengths to help your business succeed. Our goal is to help you Position, Pursue, Promote, and Protect your business. We offer a complete line of digital marketing solutions to get this done. They include website design, Google Ad services, Facebook and Instagram Ad services ,website lead capture tools and automation, social media marketing, reputation management, technical services, , graphic design, video production and monthly service plans. We take your online marketing and advertising off your to-do list, so you can focus on your core business.
Contact us today to learn more about boosting your company's revenue through our four pillars of success that will Position, Pursue, Promote, and Protect your business.