Easy Ways to Advertise Pool & Spa Company Events on Facebook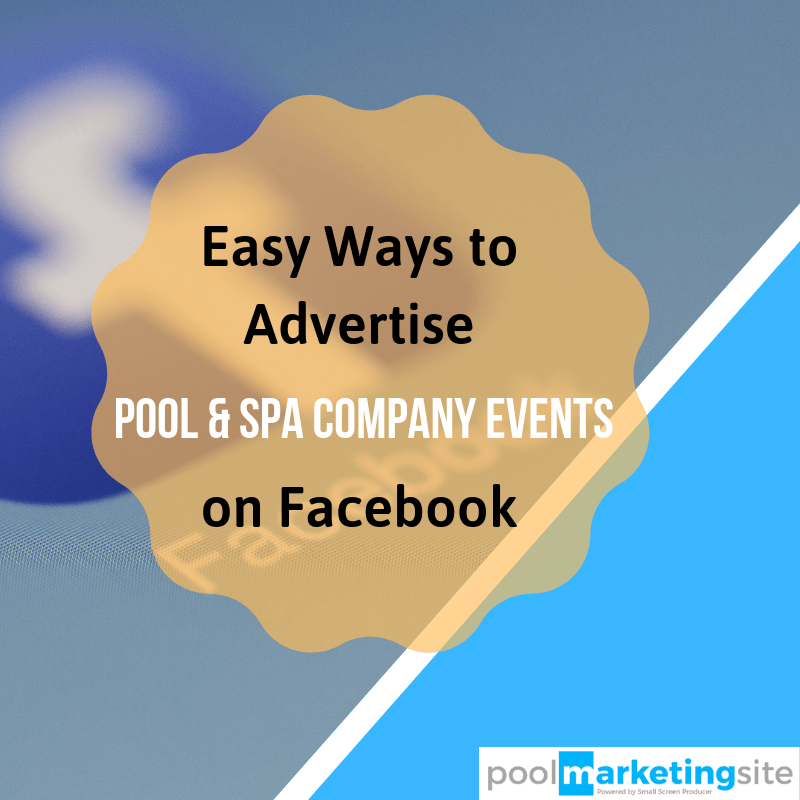 Pool and spa companies attend a lot of events throughout the year. From trade shows and outdoor living expos to local sales and promotions, it's a business where your calendar is likely loaded with affairs demanding your attendance.
But do your customers know where you're going to be?
The best way to get the word out about the different events your pool and spa company can be found at is Facebook. With there being well over 2 billion active monthly users on the social network, there's a good chance that the bulk of your current and potential customers are using it on a regular basis.
The great thing about Facebook is that you don't even need to spend a lot of time and money for it to be effective! Get started by checking off the following steps below!
Make an Event Page
Facebook makes this easy by providing you with all of the fields necessary to create an event.
Select a gorgeous photo of a recent pool project. Choose a relevant category. Consider throwing in some keywords (like "[Your City Name] pool builder") to increase your chances of showing up in targeted searches. Then, once your event is up and running, go ahead and share it at every opportunity!
Create Posts About The Event
Ramp up attendance by posting little tidbits about the event frequently during the weeks leading up to it. You can:
Share behind the scenes shots of how you're preparing for the event

Teasers about what they can expect to learn, see and/or do

Explain why they have to attend
Follow each post up with a call-to-action to check out your Facebook Event page.
Run Ad Campaigns
Facebook and Instagram Ads are the leading choices for social media ads. Running ad campaigns on either platform with Pool Marketing Site will allow your event to be seen by as many people as possible, effectively increasing your visibility, engagement, and event attendance.
Explore Your Facebook Marketing Options with Pool Marketing Site
Pool Marketing Site does more than build beautiful websites. We offer a variety of services, including Facebook and Instagram marketing! Click here to preview what we have to offer and call us with any questions you have (281) 940-3798.
About Small Screen Producer
Small Screen Producer is dedicated to create and optimize your company's total online presence. As a leading innovator of digital media marketing since 2008, we have the experience to capitalize on your unique strengths to help your business succeed. Our goal is to help you Position, Pursue, Promote, and Protect your business. We offer a complete line of digital marketing solutions to get this done. They include website design, Google Ad services, Facebook and Instagram Ad services ,website lead capture tools and automation, social media marketing, reputation management, technical services, , graphic design, video production and monthly service plans. We take your online marketing and advertising off your to-do list, so you can focus on your core business.
Contact us today to learn more about boosting your company's revenue through our four pillars of success that will Position, Pursue, Promote, and Protect your business.