3 Tips for Getting the Best ROI on Your Local Marketing Budget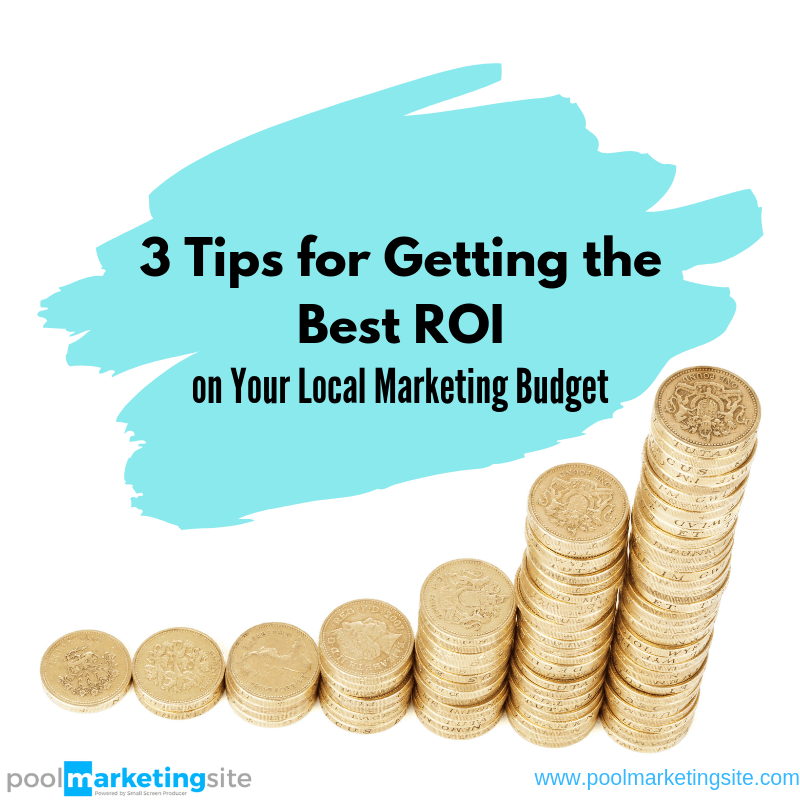 Pool and spa companies deserve the best value for their money, which is why Pool Marketing Site ventured into this space. But with online marketing budgets growing thinner for many, it can be difficult to know which marketing investments will deliver the best returns.
This is one of the reasons why we promote location based marketing. Location based marketing (or local SEO) can easily give pool and spa businesses the greatest ROI for the least amount of money.
But don't just take our word for it. Here are a few stats from Google and Ipsos MediaCT & Purchased:
Half of people who search for a local business will visit that business within 24 hours

78 percent of mobile local searches result in at least one in-store purchase

Nearly 56 percent of local searches are performed while people are out and about on their smartphones
Interested in boosting your local presence in the online world? Here are some great ways to get started:
1. Optimize Your GMB Profile
The best thing you can do for your pool and spa company is to open up a Google My Business (GMB) profile. You can then optimize that profile to increase your chances of claiming the top spot in your local search engine results.
Our talented online marketing experts here at Pool Marketing Site help pool and spa marketing companies set up their GMB listing the right way. We make sure that your listing helps rather than hurts your ranking in the local search results.
2. Secure Your Website
Did you know that cyberattacks occur every 39 seconds?
Here's another shocking statistic: 43 percent of these attacks are targeted at small businesses.
Make sure your web host company is regularly updating their CMS and check into additional content delivery network (CDN) services. These will give your site a much needed additional layer of security which can protect your site from malicious intrusions and activity.
3. Be Proactive with Reputation Management
Don't let business outsiders control how others perceive your company. Regularly patrol the World Wide Web for negative reviews, concerning remarks, and positive comments (though not everything requires commenting – read our post here to determine which posts need your attention).
If you're like most businesses and don't have a lot of time to spare, we've got your back. We offer affordable reputation management packages that will monitor reviews, notify you of comments, and which can ultimately help you generate more positive reviews while neutralizing negative ones.
For more information on our online marketing services and solutions, call us directly at (281) 940-3798.
About Small Screen Producer
Small Screen Producer is dedicated to create and optimize your company's total online presence. As a leading innovator of digital media marketing since 2008, we have the experience to capitalize on your unique strengths to help your business succeed. Our goal is to help you Position, Pursue, Promote, and Protect your business. We offer a complete line of digital marketing solutions to get this done. They include website design, Google Ad services, Facebook and Instagram Ad services ,website lead capture tools and automation, social media marketing, reputation management, technical services, , graphic design, video production and monthly service plans. We take your online marketing and advertising off your to-do list, so you can focus on your core business.
Contact us today to learn more about boosting your company's revenue through our four pillars of success that will Position, Pursue, Promote, and Protect your business.