Facebook & Instagram Outage Highlights Importance of Multi-Channel Marketing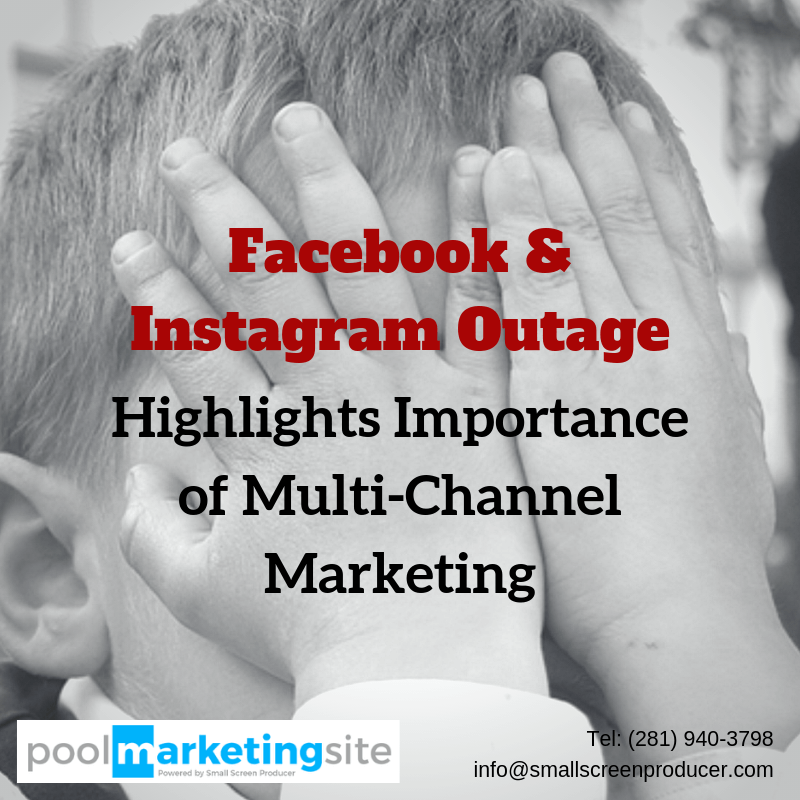 If you attempted to upload a photo or video to Facebook or Instagram last week, chances are it wasn't a success.
Users were greeted with blank images and video placeholders on July 3, 2019, across multiple social media networks. Instagram took the most significant hit as the inability to upload and view images as well as video rendered the network unusable.
Facebook recently revealed the cause behind the widespread outage. The network states that during a routine maintenance run, an issue with the image and video uploads was triggered.
The problem lasted several hours and was eventually resolved by late evening. It served as an important reminder to advertisers, however, that having a multi-channel marketing strategy is a necessity to protect your brand.
The Top 3 Marketing Channels to Prioritize in 2019
It isn't necessary to be present on each and every marketing channel in existence today. Here is where you should be focusing your efforts:
Website
A pool and spa company's website is easily the most important marketing channel of them all. This is where the majority of interested pool owners will go to learn more about your company, check out your past pool projects, and locate your contact information.
Instagram and Facebook
Being an industry that thrives on aesthetics, pool and spa companies do remarkably well on visual-based social media networks. Instagram and Facebook are must-haves, though depending on your target market you may also consider other networks.
Email Marketing
Personalized email marketing is a great way to nurture leads. Because they have willingly opted to hear more from you, recipients are more willing to learn about the pool construction process, how much they can expect to invest in their pool, your latest products, and more.
If you're on a tight budget, start with one marketing channel and scale as you go. For more ideas on how to grow your pool business, call Pool Marketing Site today at (281) 940-3798.
About Small Screen Producer
Small Screen Producer is dedicated to create and optimize your company's total online presence. As a leading innovator of digital media marketing since 2008, we have the experience to capitalize on your unique strengths to help your business succeed. Our goal is to help you Position, Pursue, Promote, and Protect your business. We offer a complete line of digital marketing solutions to get this done. They include website design, Google Ad services, Facebook and Instagram Ad services ,website lead capture tools and automation, social media marketing, reputation management, technical services, , graphic design, video production and monthly service plans. We take your online marketing and advertising off your to-do list, so you can focus on your core business.
Contact us today to learn more about boosting your company's revenue through our four pillars of success that will Position, Pursue, Promote, and Protect your business.