Short-Form Videos (Two Minutes or Less) are Top Content Marketing Performers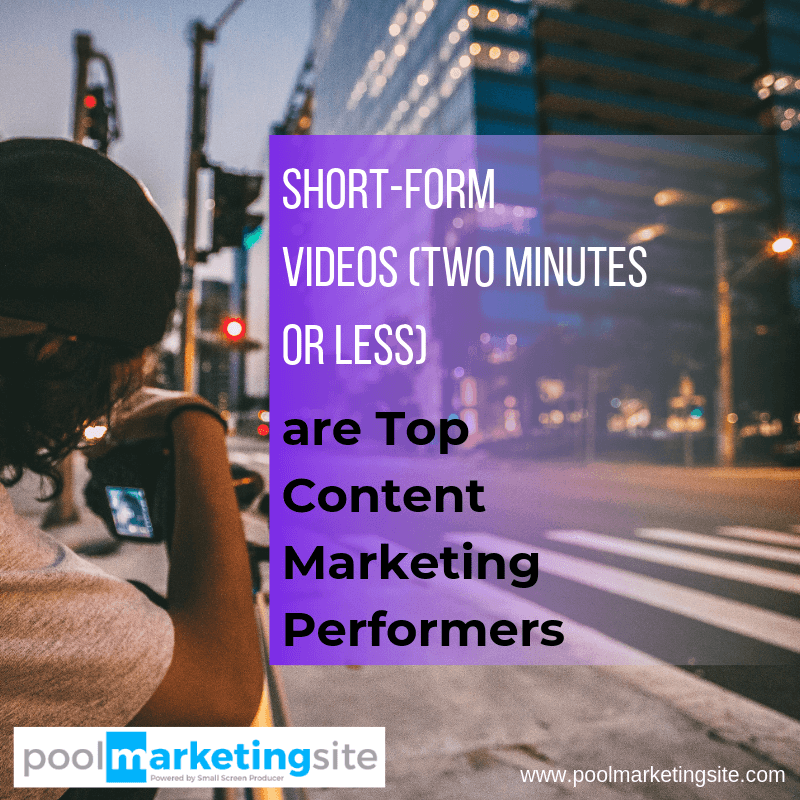 When online, how much time do you like to devote to watching a single video? If your answer was two minutes or less (also known as short-form videos), you're in the majority.
Altimeter recently took note of all of the major emerging trends this year, and the short-form video was among their top 5 list. The results were compiled in their annual publication, the State of Digital Content, and involved over 400 respondents from North America, Europe, and China who ran a company with a minimum of 1000 employees.
Other trends on the list included product-focused content outperforming thought leadership pieces and businesses tracking the impact of their content marketing efforts.
On-Location Short-Form Video Is Ideal for Pool Companies
On-location short-form videos are ideal for almost anyone in the pool and spa industry. From pool builders setting out to establish themselves as experts to service providers, retailers, and industry pros, on-location videos can be used to nurture leads at any point throughout the sales funnel.
Being at a specific location has drawn the attention of viewers since the earliest days of television. Instead of sharing a breaking news story on local news, you can tell the tale behind your pool company, share one of your latest pool projects, and you can educate consumers about the benefits of using your products and services.
Work with a Video Production Company You Can Trust
Pool Marketing Site has years of experience in working specifically with those involved in the pool and spa industry. We've grown to become a leading digital media marketing firm for pool builders, designers, retailers, and other pool professionals because of our quality work, our communication skills and our affordable short-form video production services.
Discover the Pool Marketing Site difference today by browsing our website or give us a call at (281) 940-3798.
About Small Screen Producer
Small Screen Producer is dedicated to create and optimize your company's total online presence. As a leading innovator of digital media marketing since 2008, we have the experience to capitalize on your unique strengths to help your business succeed. Our goal is to help you Position, Pursue, Promote, and Protect your business. We offer a complete line of digital marketing solutions to get this done. They include website design, Google Ad services, Facebook and Instagram Ad services ,website lead capture tools and automation, social media marketing, reputation management, technical services, , graphic design, video production and monthly service plans. We take your online marketing and advertising off your to-do list, so you can focus on your core business.
Contact us today to learn more about boosting your company's revenue through our four pillars of success that will Position, Pursue, Promote, and Protect your business.