Facebook Rolling Out Facebook Video Poll Ads and AR Ads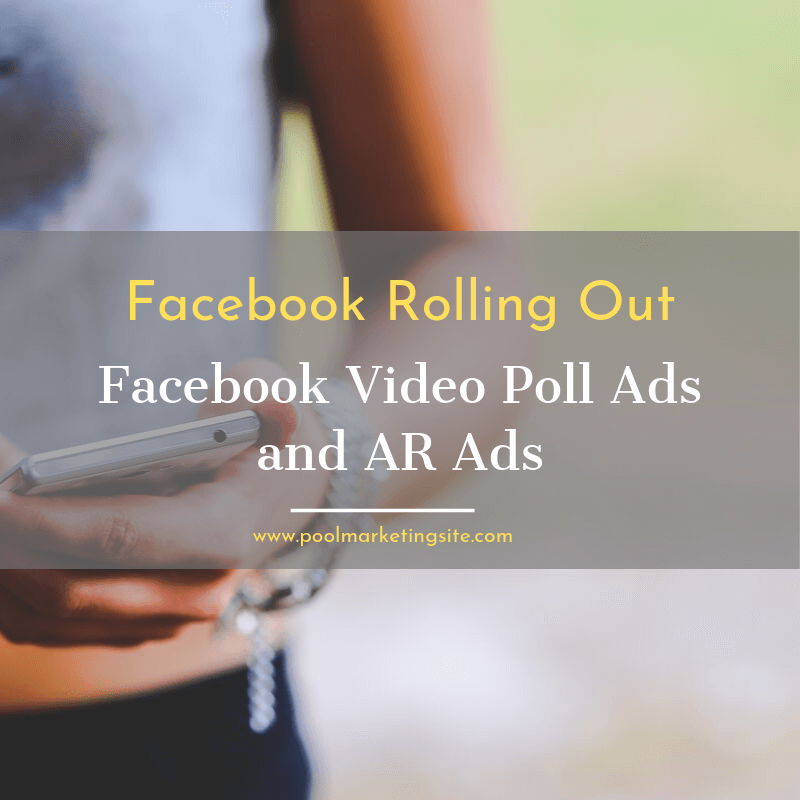 As Facebook Ads continue to grow in popularity, so do their advertising offerings. Earlier this week the social network announced that two new types of mobile Facebook Ads are going to be available to pool companies: Facebook video poll ads and augmented reality (AR) ads.
It was also announced that playable ads would be expanding.
As Facebook stated, these new ad formats are being introduced to increase engagement and to encourage brands and their audiences to become more "intertwined." The network believes that with fewer words and through greater innovation (such as Facebook Live videos, GIFs, stickers and emojis), companies will be able to move away from one-way dialogues and will be able to enter into more meaningful discussions with their followers.
Facebook Video Poll Ads Inspired by Instagram
The success of poll stickers for Instagram Stories ads led to its parent company Facebook looking into how they can bring the same type of feature to their network. They are now introducing Facebook video poll ads to mobile feeds and expect this type of ad format to both increase brand awareness and drive conversions.
Through Facebook video poll ads, pool companies have the opportunity to ask their audience questions which can help you determine where to steer future marketing campaigns, product development, and more. You can ask questions about favorite water features, pool designs and outdoor living options, all of which will give you greater insight and understanding into what your customers want from you.
Beta AR Ads Available Later This Year
Recently Facebook allowed a select few companies to test out AR ads. According to their research, this innovative form of advertising (such as animations and face filters) has proven to be successful. One company, WeMakeUp, found that their AR test group ads had a click-through rate that was 53 percent higher and resulted in 38 percent more purchases than their non-AR advertisements.
Playable Ads Go Global
Facebook also announced that playable ads will also be available worldwide. By giving audiences the opportunity to test out games before downloading them, the network has found that there has been an increase in downloads and dialogue between companies and users.
Getting started with Facebook ads can seem overwhelming. With new formats like Facebook video poll ads and AR joining old proven favorites like domain ads and video ads, it can be difficult to know where your focus should be.
Learn more about the opportunities that await your pool company by scheduling a discovery call with an online marketer at Pool Marketing Site! Contact us online or call us at your convenience at (281) 569-4370.
About Small Screen Producer
Small Screen Producer is dedicated to create and optimize your company's total online presence. As a leading innovator of digital media marketing since 2008, we have the experience to capitalize on your unique strengths to help your business succeed. Our goal is to help you Position, Pursue, Promote, and Protect your business. We offer a complete line of digital marketing solutions to get this done. They include website design, Google Ad services, Facebook and Instagram Ad services ,website lead capture tools and automation, social media marketing, reputation management, technical services, , graphic design, video production and monthly service plans. We take your online marketing and advertising off your to-do list, so you can focus on your core business.
Contact us today to learn more about boosting your company's revenue through our four pillars of success that will Position, Pursue, Promote, and Protect your business.