Are You Committing One (Or More) of These Email Marketing Campaign Mistakes?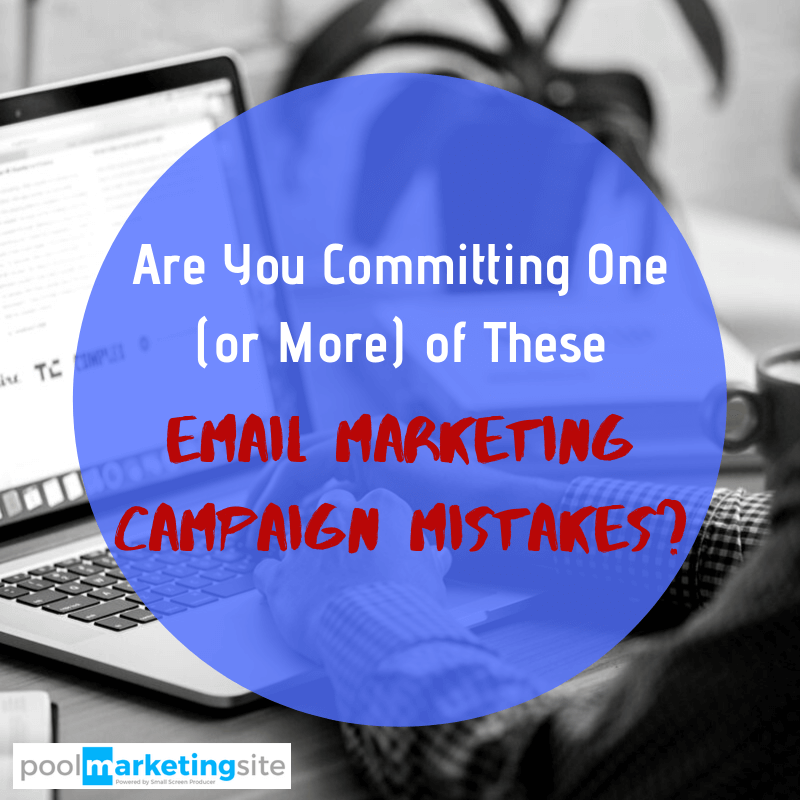 Did you know that for every dollar you invest in an email marketing campaign you can see a $44 average return? Email advertising is one of the most effective ways to attract and acquire new leads and customers – that is, if you're doing it right.
If you haven't been seeing fantastic returns on your pool and spa company's email marketing campaigns, then it may be because you're committing one of the mistakes below.
1. Not Testing an Email Marketing Campaign
Chances are your email marketing data will reveal email headlines that have substantially outperformed all over emails in many areas including open rates, clickthrough rates and conversions.
It's important to continually test what works and what doesn't in order to create top performing emails. Here are some areas you can look into changing and testing over the upcoming months:
Subject lines

Images (with and without, and what type)

Copy length (short versus long)

Content angles or intention
The data you receive will be incredibly telling as to why your email marketing campaign is successful or failing. For example, if you have low open rates you know that your subject lines need to be tweaked. If conversion rates are low, then it's time to take a closer look at the associated landing pages and your funnel.
2. Not Optimizing Emails for Mobile
Emails not optimized for mobile devices are deleted within three seconds. This is significant considering over 50 percent of emails are being opened on mobile phones and tablets. Be sure to test your HTML designs and make sure that your emails look just as great on a small screen as they do on a desktop computer monitor, as the majority of today's consumer operates via their mobile device. 
3. Not Going Beyond the Pool & Spa Industry
Channeling all of your energy (and resources) into just one industry limits your ability to scale. As with all industries, there are several others that share a similar audience to the pool and spa industry. Some examples of where you can find overlap include:
Home improvement

Real estate

Health-related (fitness, medical, etc.)
If you're in the initial stages of building an email marketing campaign, start with a more targeted list. Once you have more resources and have had success with your initial campaign, start exploring other areas where you can scale.
Need help with your email marketing campaign? Pool Marketing Site offers a number of solutions including in-ground pool email campaigns, hot tub workflows, and more! Check out your options online or call us for more details at (281) 569-4370.
About Small Screen Producer
Small Screen Producer is dedicated to create and optimize your company's total online presence. As a leading innovator of digital media marketing since 2008, we have the experience to capitalize on your unique strengths to help your business succeed. Our goal is to help you Position, Pursue, Promote, and Protect your business. We offer a complete line of digital marketing solutions to get this done. They include website design, Google Ad services, Facebook and Instagram Ad services ,website lead capture tools and automation, social media marketing, reputation management, technical services, , graphic design, video production and monthly service plans. We take your online marketing and advertising off your to-do list, so you can focus on your core business.
Contact us today to learn more about boosting your company's revenue through our four pillars of success that will Position, Pursue, Promote, and Protect your business.