The Latest Research on Why Google My Business Listings Matter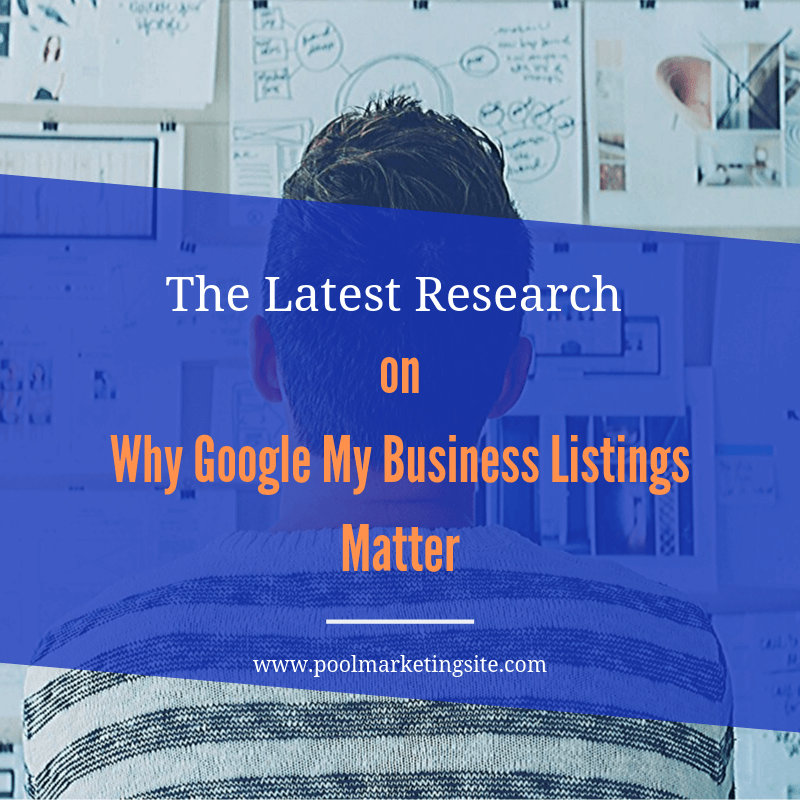 The latest research on Google My Business listings has proven once again the importance of claiming your pool company's business listing on the network.
Bright Local spent over a year and a half analyzing 45,000 Google My Business listings across 36 industries. The findings can be found in their 2019 The Google My Business Insights Study.
As a busy pool company owner, we know you're likely short on time. So we're sharing some of the key highlights from this interesting study below.
1. Images Mean Greater Engagement with Google My Business Listings
The number of listing views resulting in customer action increased from 3.9 percent in 2017 to nearly 5 percent in 2018. It turns out that images play a key role in this statistic.
The study found that the average listing in all industries had a total of 11 photos. While that was the norm, it was the listings with over 101 photos that got the most action.
Researchers found that listings with over 100 images received as much as 20 times more website clicks than the average listing. Listings with only one image (which ended up being 6 percent of businesses in this study) received 65 percent fewer clicks than the average listing.
2. Users Don't Need to Know Who You Are to Find You
Think Google My Business is only useful when a user knows who you are? Think again.
As it turns out, a stunning 84 percent of Google My Business listing views came from discovery searches (listings which show up for non-branded searches). So should someone type in "pool company near me" or "hot tubs in Houston" if you're within that proximity, there's a good chance your listing is going to appear.
3. A Website Is Still a Must-Have
Contrary to what some may believe, having a website is essential for pool and spa firms. The study found that among all of the actions customers took when engaged with a Google My Business listing, website clicks ranked in the top spot in nearly every industry on a global scale.
Make the Most out of Your Google My Business Listing with Pool Marketing Site
The most effective Google My Business listings are those which have been optimized to help you reach your business goals. Give the talented marketing team at Pool Marketing a shout to discover how we can help you claim and fine-tune your Google My Business listing today by calling us at (281) 569-4370!
About Small Screen Producer
Small Screen Producer is dedicated to create and optimize your company's total online presence. As a leading innovator of digital media marketing since 2008, we have the experience to capitalize on your unique strengths to help your business succeed. Our goal is to help you Position, Pursue, Promote, and Protect your business. We offer a complete line of digital marketing solutions to get this done. They include website design, Google Ad services, Facebook and Instagram Ad services ,website lead capture tools and automation, social media marketing, reputation management, technical services, , graphic design, video production and monthly service plans. We take your online marketing and advertising off your to-do list, so you can focus on your core business.
Contact us today to learn more about boosting your company's revenue through our four pillars of success that will Position, Pursue, Promote, and Protect your business.