5 Tips for How a Pool Company Can Blog like a Pro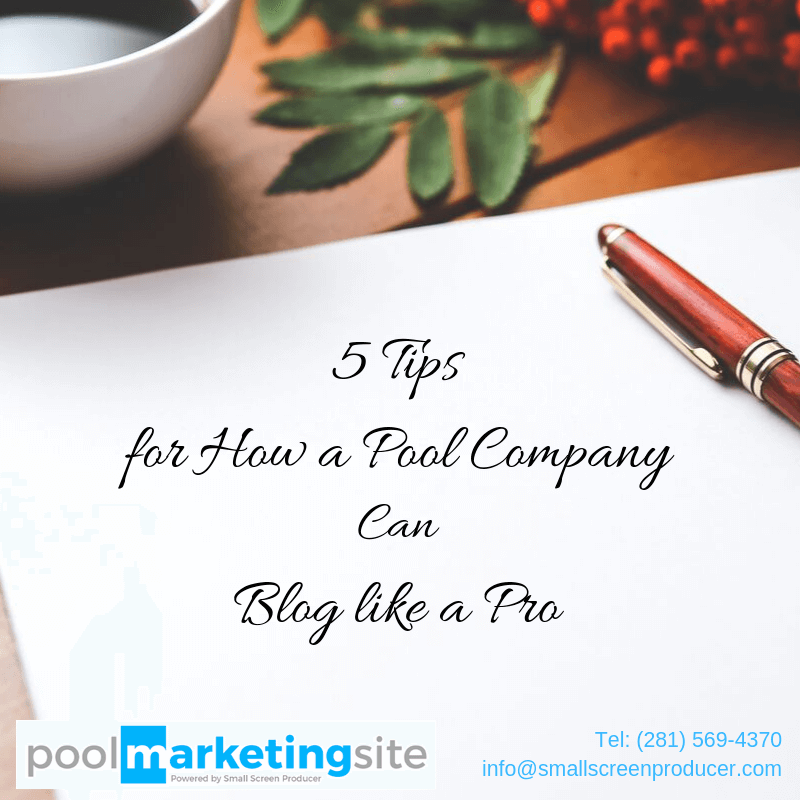 Since the inception of the Internet, the blog has existed. From day one the number of blogs has continued to grow to the point where millions now exist across the vast online landscape.
Which has led to many to question whether or not blogs are still relevant in 2019. After all, with that much content out there, what chance does your pool and spa company have when it comes to standing out and getting noticed?
The truth is that while content is becoming increasingly visual, blogging still has its place. In fact, one study by Data Box revealed that 68 percent of marketers are finding blogging today to be more effective than it was two years ago.
Getting started with a blog isn't easy. But with these five pointers in mind, your pool firm will be blogging like an expert in no time.
1. It's All About Quality
Research has shown that the more blogs you put out into the Webosphere, the more likely you'll be discovered by search engines. But don't let those numbers force you into churning out subpar or poorly researched content.
The key to building trust and engagement with your audience is to produce well-investigated and informative posts. Choose topics that will help your audience. Provide them with valuable advice. This will transform your pool company into a team of knowledgeable local industry experts.
2. Create Content That's Unique
There will be some topics your audience will ask and seek answers to time and time again, like how to close their pool or how to properly balance their spa water chemistry. You can start to break down these general topics and create more in-depth posts, like "How to Close a Pool Before a Hurricane," "The Importance of Winterizing Your Pool with Algaecide," and "Why Maintaining Proper pH in a Spa is Important."
Tapped out on ideas? Use the Internet to eavesdrop on common questions and complaints among pool owners. There are a number of websites, social media groups, and forums where you'll be able to uncover hot topics and great blog ideas.
3. Readability Is Everything
Other data have suggested that blogs should be around 2,000 words in order to deliver the best results for your pool company. But that doesn't mean that you should be stuffing words and topics into a well thought out blog simply to hit a certain word count.
Time is of the essence. Make the blog easy for your audience to read, and it won't matter how many words are in your post. Get to the point, stick to one thought per sentence, and make your paragraphs short.
4. Respond to Comments
Imagine meeting a potential client in person. You've spent time learning about what pool features they want, what their lifestyle is like and you know whether they prefer porcelain or glass tiling. Now imagine they ask for your help. Are you going to reach out and re-engage? Or are you going to turn and walk away?
If you want your business to thrive, you're going to answer their question (or at least spend time finding an answer to it).
Once your pool company blog starts to receive regular attention, people will be commenting and asking questions related to your content. See your blog as a way to enter into a two-way conversation rather than a single person dialogue.
5. Suggest They Subscribe
Make it easy for people to subscribe to your blog so they receive regular updates on your posts. You'll be able to nurture your audience and continue to build your relationship with them with little to no extra effort on your part.
There are a lot of different ways you can "push" the subscription option. Many industry experts suggest having an opt-in box on your website that is triggered by scrolling.
No Time for a Blog? Let Pool Marketing Site Do It for You!
Pool Marketing Site has years of pool and spa industry experience. We are experts in creating all types of content that is sure to pique the interest of your audience and build trust in your pool company.
Click here to learn more about how our creative blogging wordsmiths can help you with your online content today!
About Small Screen Producer
Small Screen Producer is dedicated to create and optimize your company's total online presence. As a leading innovator of digital media marketing since 2008, we have the experience to capitalize on your unique strengths to help your business succeed. Our goal is to help you Position, Pursue, Promote, and Protect your business. We offer a complete line of digital marketing solutions to get this done. They include website design, Google Ad services, Facebook and Instagram Ad services ,website lead capture tools and automation, social media marketing, reputation management, technical services, , graphic design, video production and monthly service plans. We take your online marketing and advertising off your to-do list, so you can focus on your core business.
Contact us today to learn more about boosting your company's revenue through our four pillars of success that will Position, Pursue, Promote, and Protect your business.