Google Chrome to Start Blocking Pool Websites with Mixed Content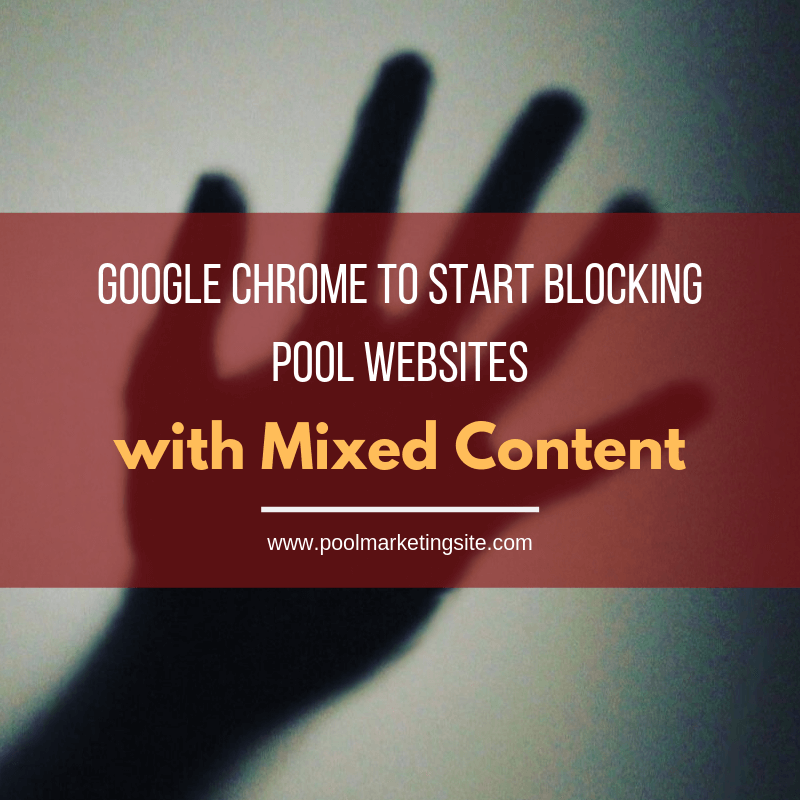 Last week Google stated that they will begin blocking mixed content on its Google Chrome browser. The update – known as Chrome 79 – is set to take place in December 2019.
This is a big deal considering Google Chrome is largely the most popular web browser in existence today.
So what exactly is "mixed content?" Mixed content is a resource that includes both secure (HTTPS) and insecure (HTTP) protocol. A web page itself may be secure, but other linked content on that web page including images, styles and scripts may be insecure.
Google Chrome is making this move to protect the safety and security of those who visit your pool and spa company website.
What's Going to Happen to Pool Websites with Mixed Content
If your pool company website currently has mixed content, it will continue to load properly through Google Chrome until the December update. When the update goes live, two things will happen:
Google will automatically upgrade the HTTP content on your website to HTTPS (if the resource exists on HTTPS)

Google will give Google Chrome users who are visiting a "mixed content" website the opportunity to unblock the website after being warned that it is insecure
While Google won't be outright blocking mixed content websites at first (the full-on blocks will begin in January 2020), it's likely that users won't proceed to a website that has been marked as "insecure" by Google. This means leaving visitors with a bad experience and the block will likely result in less visitors, sales and ad views.
How Pool Marketing Site Can Help
Pool Marketing Site offers a variety of affordable website maintenance and service packages. These packages often include:
Professional website updates

Database optimization

Monthly reporting

Monthly WordPress & Plugin updates
We will catch your insecure content and make sure that your pool company website looks great across all browsers and devices.
Interested in learning more? Contact us online or feel free to give us a call at (281) 569-4370.
About Small Screen Producer
Small Screen Producer is dedicated to create and optimize your company's total online presence. As a leading innovator of digital media marketing since 2008, we have the experience to capitalize on your unique strengths to help your business succeed. Our goal is to help you Position, Pursue, Promote, and Protect your business. We offer a complete line of digital marketing solutions to get this done. They include website design, Google Ad services, Facebook and Instagram Ad services ,website lead capture tools and automation, social media marketing, reputation management, technical services, , graphic design, video production and monthly service plans. We take your online marketing and advertising off your to-do list, so you can focus on your core business.
Contact us today to learn more about boosting your company's revenue through our four pillars of success that will Position, Pursue, Promote, and Protect your business.