Google Ads for Pool Companies: Worth It or a Money Waster?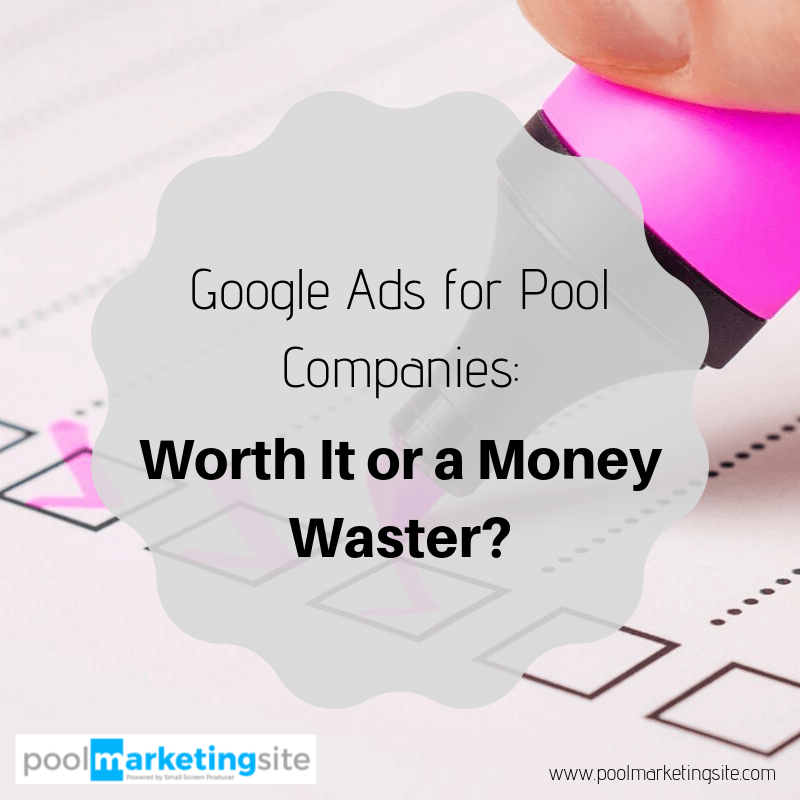 Pool advertisers and business owners who have spent any amount of time in the digital media marketing space have likely tinkered with the idea of Google Ads for pool companies. But while there are loads of benefits – like attracting new leads and driving sales – the horror stories about failed campaigns, loss of revenue and negative returns on investments can scare anyone away.
Google Ads for pool companies can be tricky for anyone not experienced with the platform to successfully navigate and launch. To help you out, we've put together a quick checklist to help you determine whether this ad type is right for you.
1. What Does Your Advertising Budget Look Like?
Your first step is to look into how much the average cost per click in your geographical location is. Depending on where you live, the cost of Google Ads for pool companies may range anywhere from $1 to $4. Other sources say that it takes on average 36 clicks for companies in general to generate one conversion.
2. Do You Have Time for Google Ads?
Managing your pool company's Google Ads account can be incredibly time-consuming. After spending some time with the platform, see how many hours you're dedicating to the platform and consider outsourcing it to a cost-effective and affordable online marketing team like Pool Marketing Site.
3. Are You Familiar with SEO?
Google Ads for pool companies still relies heavily on search engine optimization (SEO). This means understanding the top performing keywords in your location and industry, creating quality content, and managing to generate Google reviews and testimonials.
4. Can You Afford Not To?
Google Ads gives advertisers the opportunity to pay for the top spot in Google's search ranking. This means not needing to spend countless hours tinkering with SEO and other organic search methods.
Another real benefit is that Google Ads provides pool companies with tangible data including how many clicks an ad received and how many phone calls resulted from a specific ad.
It's also a great way to draw attention to special promotions. Pool closing deals, pool maintenance promotions, and early pool and spa building discount packages are all sure to drive traffic to your pool company website.
Whether its a single or multi-channel online marketing strategy you're after, Pool Marketing Site is here to help. We offer standalone Google Ads for pool companies as well as packages that harness the power of multi-channel marketing and campaigning. Contact us today to learn more at (281) 569-4370!
About Small Screen Producer
Small Screen Producer is dedicated to create and optimize your company's total online presence. As a leading innovator of digital media marketing since 2008, we have the experience to capitalize on your unique strengths to help your business succeed. Our goal is to help you Position, Pursue, Promote, and Protect your business. We offer a complete line of digital marketing solutions to get this done. They include website design, Google Ad services, Facebook and Instagram Ad services ,website lead capture tools and automation, social media marketing, reputation management, technical services, , graphic design, video production and monthly service plans. We take your online marketing and advertising off your to-do list, so you can focus on your core business.
Contact us today to learn more about boosting your company's revenue through our four pillars of success that will Position, Pursue, Promote, and Protect your business.