Is Hiding Facebook Like Counts a Big Deal for Pool Companies?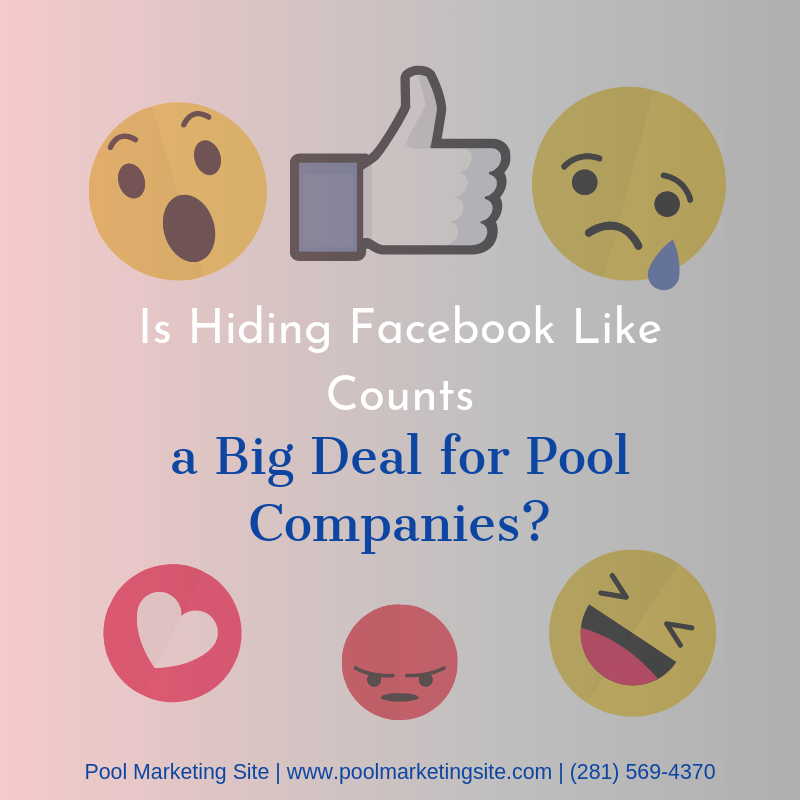 Earlier this year, Instagram announced that it was removing public "like" counts from its platform for seven countries. Now its parent company, Facebook, has announced that it has begun hiding Facebook like counts in a test throughout Australia as of late September.
Many suspect that Facebook will be hiding Facebook like counts throughout many other nations once the initial testing is completed.
Why Facebook Like Counts are Being Concealed
One key piece of information many are overlooking is the fact that the publisher of a post can still see the number of Facebook like counts on his or her content. The general public, however, will only be able to see if and which mutual friends have "liked" the post.
Facebook decided to move ahead with this change to prevent users from comparing themselves to others on the platform. The network is concerned that like counts have had a destructive impact on its community, leaving individuals feeling inadequate if their content doesn't receive as many "likes" as the next person or business.
What This Means For Pool Companies
Understandably the removal of Facebook like counts has sent many advertisers into a tizzy. But the fact of the matter is that concealing the number of likes a piece of content has received can help weed out the mediocre or poor content and give the good content the attention it deserves.
Human beings are generally strongly influenced by the actions of others. By not being able to see how many "likes" a piece of content has received, they will be more compelled to go beyond the headline and read the piece before handing over a "like" or another emotion of choice.
So what does this mean for pool companies?
Catchy, relevant and descriptive headlines are a must-have

Content should be succinct and to-the-point

Creating engaging and helpful high-quality content (text, graphic and video content) is paramount

All content must be accompanied by a scroll-stopping image, GIF or video

Brand personality will help you establish a strong audience
Having a positive presence online is going to become increasingly important with this potential upcoming change to North American pool companies. There is no better time than the present to start building a credible presence on Facebook and Instagram.
Expert Help with Every Aspect of your Marketing Campaigns
The pool and spa online marketing experts at Pool Marketing Site know just what it takes to elevate your presence in this exciting and challenging industry. From blogs and video content to social media and brand reputation management, we have customizable solutions that are sure to meet the needs and budget of your pool company.
Contact us today to arrange for a discovery call with a member of our digital media marketing team!
About Small Screen Producer
Small Screen Producer is dedicated to create and optimize your company's total online presence. As a leading innovator of digital media marketing since 2008, we have the experience to capitalize on your unique strengths to help your business succeed. Our goal is to help you Position, Pursue, Promote, and Protect your business. We offer a complete line of digital marketing solutions to get this done. They include website design, Google Ad services, Facebook and Instagram Ad services ,website lead capture tools and automation, social media marketing, reputation management, technical services, , graphic design, video production and monthly service plans. We take your online marketing and advertising off your to-do list, so you can focus on your core business.
Contact us today to learn more about boosting your company's revenue through our four pillars of success that will Position, Pursue, Promote, and Protect your business.