Google Reveals Top Trends to Incorporate Into Your Holiday Marketing Plan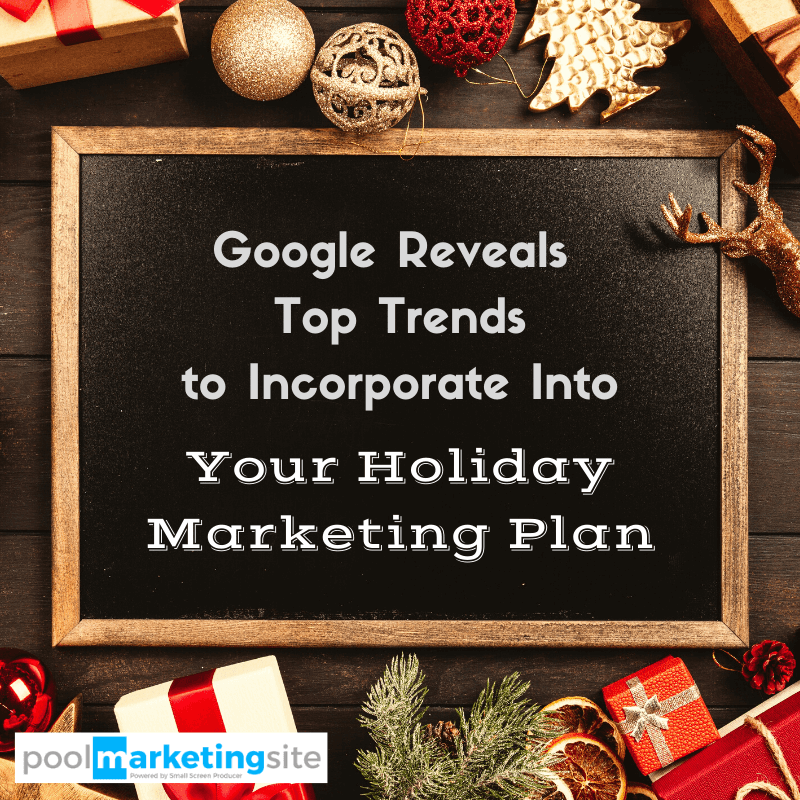 Putting together a holiday marketing plan isn't easy. But Google has given us some hints into what will and won't work with audiences this year.
Last week Google released behavioral insight data about what will drive conversions this year.
One interesting piece of information is the number of mobile searches that are clearly on the hunt for a good deal. According to Google, the number of mobile searches involving the words "best deals" has increased by 90 percent.
Another neat tidbit is the number of people searching for "Black Friday Deals." Though the day is still a couple of weeks away, the number of searches for "Black Friday Deals" has grown by 200 percent.
Google's Data and How to Incorporate It into Your Holiday Marketing Plan
Google's data has highlighted the importance of making sure that your pool company remains competitive this year through optimized terms, phrases and campaigns. Some of the most influential factors that drive US consumer behavior and actions include:
Lowest prices

Sales, discounts, and promotions

Free shipping

Fast delivery

Customer reviews

Product availability

Cross-store product comparison
The list also included what drives US consumer behavior the least. Some of these include:
A company's popularity on social media

The ability to chat directly with a merchant

Family and friend reviews

Loyalty rewards programs

National background of a company
What This Means for Your 2019 Holiday Marketing Plan
This data will help you decide what you should emphasize in your holiday marketing plan this year. For example, stressing that your pool company has the lowest prices on above ground pools is more important than stating that you are an American-made company. Promoting a special holiday deal on your hot tubs will work more to your advantage than trying to get more reactions, comments and shares on Facebook and Instagram.
Need help with your pool company's holiday marketing plan this year? It's never too late to get started! We welcome you to give the digital media marketing consultants at Pool Marketing Site a call at (281) 569-4370.
About Small Screen Producer
Small Screen Producer is dedicated to create and optimize your company's total online presence. As a leading innovator of digital media marketing since 2008, we have the experience to capitalize on your unique strengths to help your business succeed. Our goal is to help you Position, Pursue, Promote, and Protect your business. We offer a complete line of digital marketing solutions to get this done. They include website design, Google Ad services, Facebook and Instagram Ad services ,website lead capture tools and automation, social media marketing, reputation management, technical services, , graphic design, video production and monthly service plans. We take your online marketing and advertising off your to-do list, so you can focus on your core business.
Contact us today to learn more about boosting your company's revenue through our four pillars of success that will Position, Pursue, Promote, and Protect your business.