Yelp Online Reviews Play Key Role in Purchase Decision Making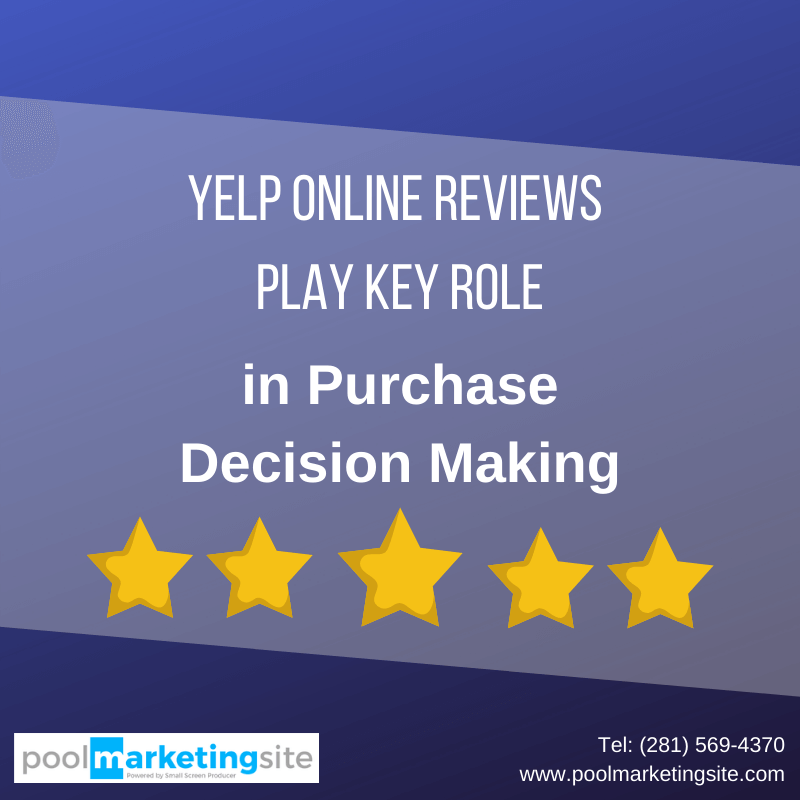 When people talk about online reviews, Google is likely what first comes to mind. As it turns out, Yelp reviews for pool companies may be just as – if not more – influential. In fact, one study by FreshChalk showed that Yelp reviews appear in the top 5 results for 92 percent of local Google queries.
A Yelp-commissioned study carried out by Survey Monkey involving more than 6,000 adult reviewers revealed that 97 percent of adults will do business with a company they find on Yelp. 93 percent of the same respondents also said that they use Yelp to compare businesses before making a purchase decision.
More Important Highlights from the Study
The study also found that people who read online reviews on Yelp have a high purchase intent.
51 percent made a purchase within a day

90 percent made a purchase within a week

98 percent made a purchase within a month
These numbers have increased since a 2016 Nielsen study where only 42 percent said they'd make a purchase within a day, 79 percent within a week, and 92 percent of respondents "sometimes, frequently or almost always" made a purchase after visiting Yelp.
Online Reviews Not the Only Information Consumers Value
Having a solid star rating and glowing reviews is one thing. The study's respondents also shared that they were looking for other key pieces of company information, including:
If the business has a trade or business license (75 percent of respondents)

If the business makes it easy to request a price estimate online (71 percent of respondents)

If the business has posted images of completed projects and their cost (69 percent)

What makes the business unique, such as being family-owned or having multiple locations (58 percent)
Attract and Keep Loyal Customers with Pool Marketing Site
You've spent a lifetime building your pool company's positive image. Don't let a bad online review tear you down. Call Pool Marketing Site today to chat with a digital media marketing consultant about your reputation management options at (281) 569-4370.
About Small Screen Producer
Small Screen Producer is dedicated to create and optimize your company's total online presence. As a leading innovator of digital media marketing since 2008, we have the experience to capitalize on your unique strengths to help your business succeed. Our goal is to help you Position, Pursue, Promote, and Protect your business. We offer a complete line of digital marketing solutions to get this done. They include website design, Google Ad services, Facebook and Instagram Ad services ,website lead capture tools and automation, social media marketing, reputation management, technical services, , graphic design, video production and monthly service plans. We take your online marketing and advertising off your to-do list, so you can focus on your core business.
Contact us today to learn more about boosting your company's revenue through our four pillars of success that will Position, Pursue, Promote, and Protect your business.