Guidelines for Building the Best Pool Company Landing Page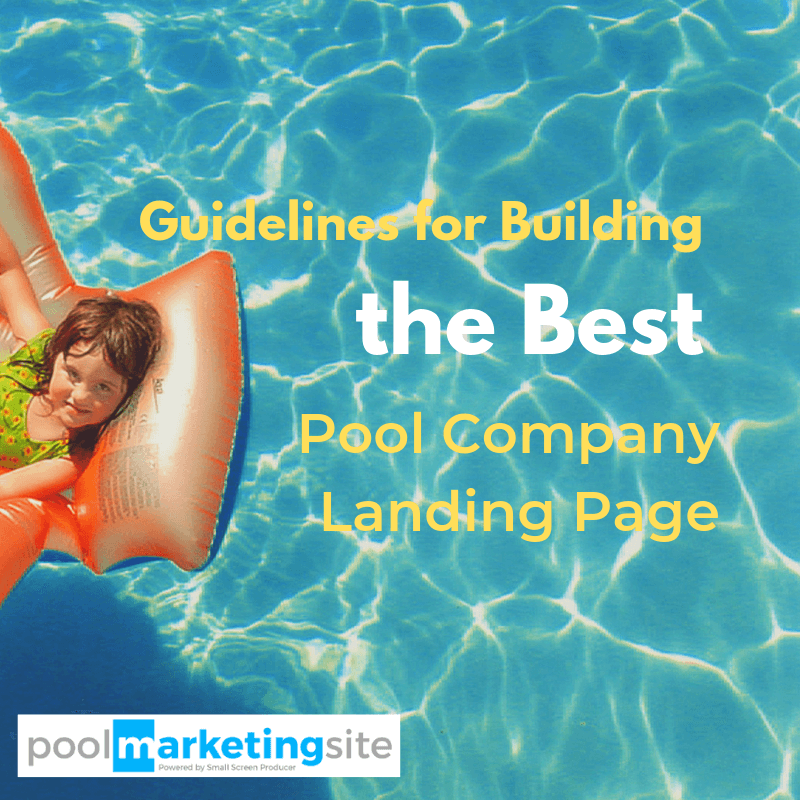 A pool company landing page serves many purposes. In an instant, a landing page can transport a visitor to your website, it acts as a funnel so you receive the best quality leads available, and they ultimately increase conversions.
There are many benefits to having one or more landing pages. But if they aren't done right, then it may end up being a waste of an investment.
For your landing page to be effective, it must be:
Relevant
Pool company landing page visitors aren't casual observers. They've arrived there with direction and intention in mind.
Your landing page should include a clear headline that is relevant to what the page is about. It should include the experience, information, deal, brand or product they are expecting to find within the first five seconds of their arrival.
Another good tip is to include information about who you are, what you're about, where you're located and why you should be trusted. Round it all up at the end with either a "Contact Us" or "About Us" option.
Direct
A landing page isn't a "Choose Your Own Adventure" journey where you want your visitors to navigate and explore. It should have one purpose, and that purpose should be clear and to the point (remember, the more clicks a visitor has to make to get somewhere, the less likely they will stick around). This means:
Limit a visitor's options

Use clear and decisive language

Consider having a "save form" function
Visual
Images are an important component of any pool company landing page. While you likely have a plethora of gorgeous pictures at your disposal, the graphic you choose for your landing page has to be consistent with your campaign while also generating an empathetic response from your visitors.
Attractive
Your pool company landing page has to look slick, clean and professional. The second a visitor lands on a landing page that looks old and dated, you can be sure that they will be either closing their browser or hitting the "Back" button on their computer or mobile device.
If you aren't familiar with web design and development, there are some free tools available to get started. For a more polished and professional website or pool company landing page, don't hesitate to reach out to our digital marketing gurus here at Pool Marketing Site at (281) 569-4370.
About Small Screen Producer
Small Screen Producer is dedicated to create and optimize your company's total online presence. As a leading innovator of digital media marketing since 2008, we have the experience to capitalize on your unique strengths to help your business succeed. Our goal is to help you Position, Pursue, Promote, and Protect your business. We offer a complete line of digital marketing solutions to get this done. They include website design, Google Ad services, Facebook and Instagram Ad services ,website lead capture tools and automation, social media marketing, reputation management, technical services, , graphic design, video production and monthly service plans. We take your online marketing and advertising off your to-do list, so you can focus on your core business.
Contact us today to learn more about boosting your company's revenue through our four pillars of success that will Position, Pursue, Promote, and Protect your business.