How Much Do New Websites Really Cost?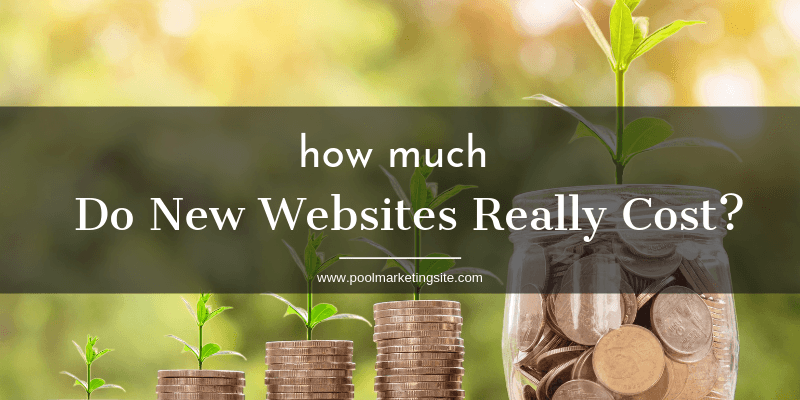 The cost of building a new website depends on a number of factors. The first factor is whether you plan on building the website yourself or if you're going to hire a professional.
The next factor to consider is the customization of the website. The more custom-built the website, the more money you can expect to spend.
Complexity is the final factor that will affect the cost. Just like customization, complex websites have a greater potential to offer audiences the best user experience possible, which can lead to the greatest return on your website investment.
Let's dig in and take a look at the numbers.
Option 1: Doing It Yourself
This option is best left to those who have at least a basic understanding of website technology and who have some extra time on their hands.
Here is what you can expect to pay for the following in 2019:
Time: 20 to 40 hours minimum (if you're new to building websites, it may take double to triple the amount of time).
Domain Name: Approximately $10/year.
Web Hosting: $100/year for standard hosting, $500+ from "premium" hosts (only necessary if you're experiencing high web traffic).
SSL Certificate: Anywhere from $10-$300/year (some web hosting companies offer this for free)
Website Theme: Free to $150.
Plugins: Free to $200 for premium plugins (the extra expense is usually worth it).
Stock Photos: Free, and you're likely have some great photos of your past and present pool projects.
If you don't regularly build websites, there's a good chance that you'll also need to spend a couple of hundred dollars on educational materials.
Don't forget that websites aren't a "set it and forget it" type of asset. Once built, it will need routine updates, an offsite backup, security patches, and other technical maintenance.
Small businesses are among the most highly targeted by hackers, so protect your website regularly. That's why we offer website protection packages ranging from $39 to $140 per month.
Option 2: Hiring a Professional
Not tech-minded? Already busy enough running your own pool and spa company? Then hire someone to build a website for you.
This is easier said than done given the amount of research and pricing differences you've likely encountered online.
As a rule of thumb, if the web developer you're interested in is offering lower than competitive rates, you'll likely end up with a low-quality website. On the other hand, you probably don't need to spend $20,000 or more to end up with a custom-built website loaded with features that will give audiences the best impression of your brand and drive sales.
These are the factors that will determine the cost of your website:
Time: A few hours investigating web developers.
Page Volume: The more pages you need, the more you can expect to spend. We offer a one-page HTML website for as little as $499 while our gold package includes 20 responsive website pages for $4,999. Our Custom Web Presence Package allows for unlimited pages and several other incredible features for $9,999.
Custom Layout: Much like the page count, the more custom the theme or template, the more you can expect to pay. How much it will cost you will vary widely.
Custom Images & Graphics: Quality images and graphics are part of what will help you build a memorable one-of-a-kind website. We include images including static banner photos, page cover artwork, slideshow videos and more in many of our comprehensive web presence packages.
Content Creation: Website content serves as the foundation of all great websites. Pool Marketing Site has a team of professional copywriters with experience in the pool and spa industry. We create standard copy as well as custom copy tailored specifically to your business.
The Verdict: What You Spend Depends on What You Need
A DIY website can be built for as little as $100 or so. But this largely depends on your technical know-how, experience, and availability.
The average five to 10-page website built by a website designer will cost anywhere from $3,000 to $10,000 or more. Remember to ask about what other features are included in the package, as often the price only covers building a bare-bones website and doesn't include custom themes, images, and content.
Pool Marketing Site are experts in building affordable branded websites for companies in the pool and spa industry. We offer straight-forward web building and design packages which include everything you need to establish yourself as a leading pool builder in your community.
To learn more, we invite you to click here or call us today to speak with a talented pool and spa company website designer at (281) 940-3798.
About Small Screen Producer
Small Screen Producer is dedicated to create and optimize your company's total online presence. As a leading innovator of digital media marketing since 2008, we have the experience to capitalize on your unique strengths to help your business succeed. Our goal is to help you Position, Pursue, Promote, and Protect your business. We offer a complete line of digital marketing solutions to get this done. They include website design, Google Ad services, Facebook and Instagram Ad services ,website lead capture tools and automation, social media marketing, reputation management, technical services, , graphic design, video production and monthly service plans. We take your online marketing and advertising off your to-do list, so you can focus on your core business.
Contact us today to learn more about boosting your company's revenue through our four pillars of success that will Position, Pursue, Promote, and Protect your business.