How to Get More Leads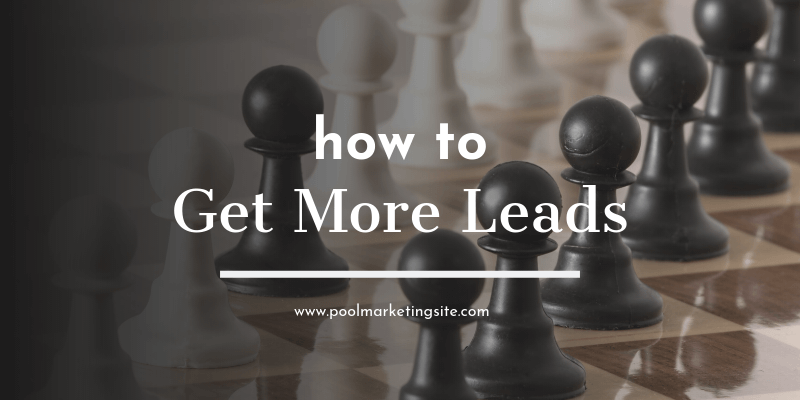 It's no secret that you have to get more leads for a successful business model. Even companies with average products and services are regularly deemed successful simply because they know what to do to generate more and better prospects.
Being in the pool and spa industry has its own set of unique challenges. Your audience may not be as wide as some, but it certainly isn't too narrow. We're going to unpack some of the best ways you can start generating more leads for your business today.
Encourage eBook Downloads
There's a reason why the term "Content is King" has become a cliche – because it's true.
Go beyond the blog posts and offer your audiences something that they really want. Allowing audiences to download a free and informative eBook on some of the most compelling topics for pool and spa ownership will elevate your brand to the point where it is recognized, trusted and coveted.
Find Leads on Facebook
It's never too late to open up a company page on Facebook. Even if you already have an account, there are many strategies you can use to make the most out of your Facebook presence.
Pool Marketing Site offers a wide selection of options so that you can target qualified leads with relevant advertisements and offers. First, there are:
Facebook Ads: One of the most effective ways to reach the right people at the right time.
Facebook Messenger Automation: Interact with leads the instant they contact your company – without you even needing to be present!
Specialized Facebook Retargeting: You choose who you want to reach and we'll make sure you get noticed with retargeted ads.
Facebook Instant Experiences: Get more leads by giving audiences a fully immersive online experience through videos, photos, carousels, tagged products and more!
We can even provide you with an exceptional banner ad for your Facebook page that will impress audiences and help put you on the social media map on beyond!
Focus on Local Marketing
As a pool and spa company, you want to reach the people who are within close proximity to your business. That's why we offer a number of local marketing options, like geotargeting, geofencing and location-based Google Adwords.
Help Leads and Sales Teams with Calculators
Investing in a pool or a spa is a serious commitment. People want to know how much they can expect to spend before going a step further.
Our calculators make it easy for your visitors to find out how much they can expect to spend without the stress or the hassle of speaking to someone. These customizable calculators will be loaded with all of the info your potential customers need to build their ideal pool, spa or both. Then we will send that information directly to your sales team so that they can continue to work with that lead, increasing the chance of a sale.
Don't Forget Tested & True Marketing Methods to Get More Leads
Online may be where it's mostly at, but old-school mail can be just as effective depending on a variety of factors.
Before you rule out tangible marketing efforts, try our Postcard Remarketing Services. This form of marketing, while offline, will encourage audiences to visit your online website and will entice them to take action.
Regardless of your goals and budget, Pool Marketing Site has a solution for you to grow your pool and spa business. We welcome you to contact us at your convenience to learn more about the exciting and avant-garde marketing opportunities we have in store for your company.
About Small Screen Producer
Small Screen Producer is dedicated to create and optimize your company's total online presence. As a leading innovator of digital media marketing since 2008, we have the experience to capitalize on your unique strengths to help your business succeed. Our goal is to help you Position, Pursue, Promote, and Protect your business. We offer a complete line of digital marketing solutions to get this done. They include website design, Google Ad services, Facebook and Instagram Ad services ,website lead capture tools and automation, social media marketing, reputation management, technical services, , graphic design, video production and monthly service plans. We take your online marketing and advertising off your to-do list, so you can focus on your core business.
Contact us today to learn more about boosting your company's revenue through our four pillars of success that will Position, Pursue, Promote, and Protect your business.